Nothing brightens and makes a room feel welcoming quite like sunlight. Both skylights and Sun Tunnel skylights are great ways to bring crisp, natural light into a home. However, while they are similar in purpose — to add natural light and awe-inspiring beauty to our spaces — there are a few key differences that distinguish the two.
Here's what you need to know.
What are the main differences between Sun Tunnel skylights and traditional skylights?
VELUX Sun Tunnel Skylights, also known as tubular skylights, extend from the roof through the ceiling using a highly reflective aluminum tube to direct daylight exactly where you want it. They make it possible to bring natural light to dark spaces where traditional windows and skylights aren't an option. VELUX Sun Tunnel skylights are made of a prefabricated light tube, which makes them more cost effective as well as quick and easy to install.
Traditional VELUX® skylights are fixed or venting windows that are installed on your roof. They provide more light, a sky view and can visually expand rooms in your home. Whether your ceiling is flat or vaulted, there are a variety of options for different budget, lifestyle and aesthetic preferences.
How much does it cost to install a Sun Tunnel skylight vs. a traditional skylight?
The best way to determine the cost of your skylight installation is to have an installer look at your roof structure. Installation prices vary based on whether your home has flat or vaulted ceilings, how steep your home's roof is and the height of the roof. Our price ranges cover installation labor for a single new skylight, including product and materials for interior and exterior finishing. Of course, costs vary depending on the type of skylight and the number you plan to install.
Ready to create a design statement?
Find an installer near you for expert advice on choosing Sun Tunnel skylights and traditional skylights for your home.
How easy is it to install a Sun Tunnel skylight vs. a traditional skylight?
Compared to Sun Tunnel skylights, traditional skylights require more time and labor to install. To properly install a skylight, the installer cuts a hole in the ceiling drywall and adds framing. Then they go up on the roof to remove roofing material and cut a hole in the roof. The skylight is attached to the roof and finished using the VELUX three layers of protection that back the No Leak Promise. Back inside, the installer will finish the light shaft by installing insulation, drywall panels and trim, applying drywall mud, adding trim and painting. A standard skylight installation can take as little as half a day for vaulted ceiling installations to three days for flat-ceiling installations.
On the other hand, a typical VELUX Sun Tunnel skylight installation by an experienced installer takes only about 90 minutes to complete from start to finish. Steps include cutting a hole into the roof from the outside of your home and another hole in your ceiling from the inside. The reflective aluminum tube will then be inserted to connect the two holes, the lens installed on the roof and the ceiling fixture attached inside.
How much light does a Sun Tunnel skylight provide?
Sun Tunnel skylights provide ample sunlight to small spaces, such as hallways, bathrooms and closets. Many homeowners report that after installing a single Sun Tunnel skylight in a small bathroom, they frequently forget and try to turn off the light, thinking the electrical light has been left on. For larger rooms, such as kitchens and living rooms, two or three Sun Tunnel skylights can provide enough light to keep the electric lights off on sunny days.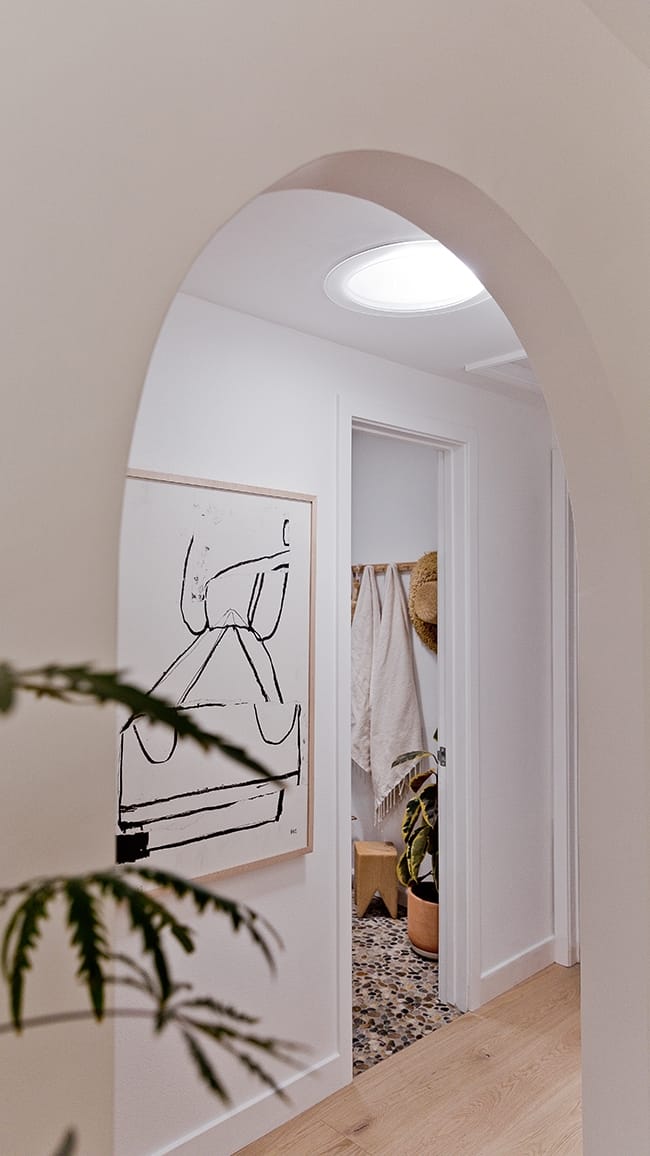 Remember that the light provided by Sun Tunnel skylights will be affected by the orientation of the roof where they are located (south is optimal), the season, tube length and whether other parts of the roof or nearby trees shade the lens during certain times of the day.
Do Sun Tunnel skylights qualify for the solar tax credit?
Several VELUX products qualify for the 30% federal tax credit on solar property and its installation. The credit applies to the cost of the product and installation and can be claimed through December 31, 2032. Rigid VELUX Sun Tunnel skylights with a preinstalled solar-powered night light qualify for the credit, along with the following products:
Solar Powered Fresh Air Skylights
Fixed or Manual Fresh Air Skylights with factory-installed solar-powered shades
Solar-powered shades
To estimate your potential solar tax credit, use the solar tax credit calculator, which shows a direct debit of your total tax liability.
What else should I consider when choosing between traditional skylights and Sun Tunnel skylights?
A portal to sunshine, Sun Tunnel skylights are most effective at brightening up isolated spaces, such as hallways and closets, and small rooms, such as home offices and small bathrooms. Traditional skylights are most effective at opening up rooms with natural light, fresh air and sky views, whether you're in a duplex, in a new home or giving your space a sun-filled upgrade.
When deciding between skylights and Sun Tunnel skylights, it's important to consider the following:
The room: Sun Tunnel skylights can effectively brighten small or large rooms, so the determining factor is whether the room needs only natural light or whether it would benefit from fresh air too. If it needs additional ventilation, choose traditional skylights.
Roof configuration: If you have mechanical systems, such as a furnace, air ducting or plumbing vents in the way or roof trusses that block a clear path between the roof and ceiling, Sun Tunnel skylights could be a better fit.
Ceiling type: While traditional skylights can be installed on flat ceilings, sometimes Sun Tunnel skylights are the most efficient solution to adding a big punch of natural light to a flat-ceiling room. Vaulted ceilings already give the room height, so choose traditional skylights to amplify the effect.
Design goals: If truly opening up a room is a must-have, go with traditional skylights and consider exposing the trusses or creating an extremely flared light shaft. If adding natural light is solely a functional upgrade, choose Sun Tunnel skylights.