With 17 VELUX skylights and Sun Tunnels®, this year's HGTV® Smart Home is filled with natural light and fresh air. In addition to helping colors appear true and making the porch more versatile, they bring a new level of innovation to the home.
Let's count the ways these innovative skylights boost the home's design IQ.
1. Naturally lit rooms
Because they're installed on the roof, skylights can capture up to 30% more sunlight than traditional windows. That means one lucky winner of the HGTV Smart Home 2022 can keep electric lights off longer.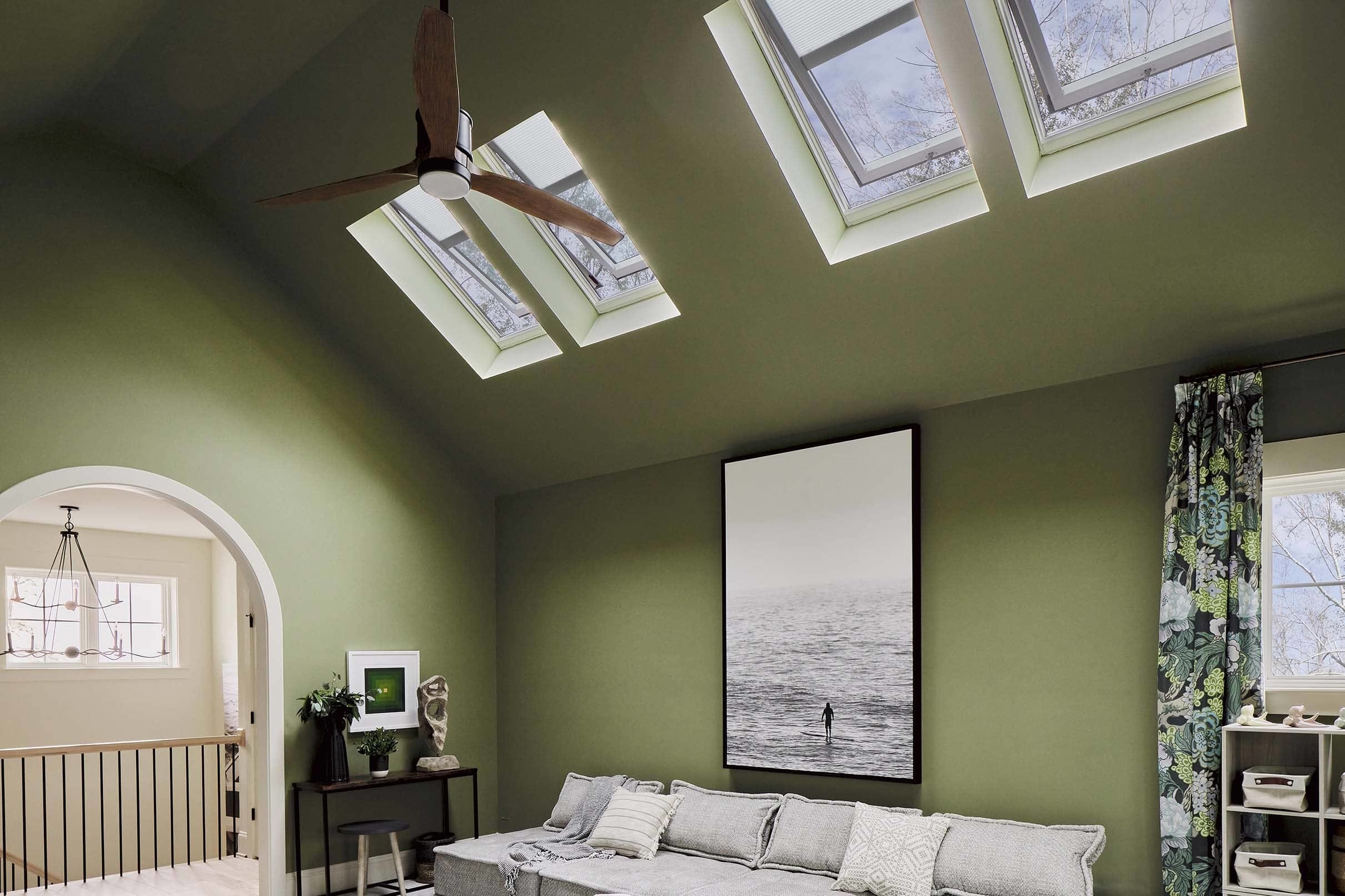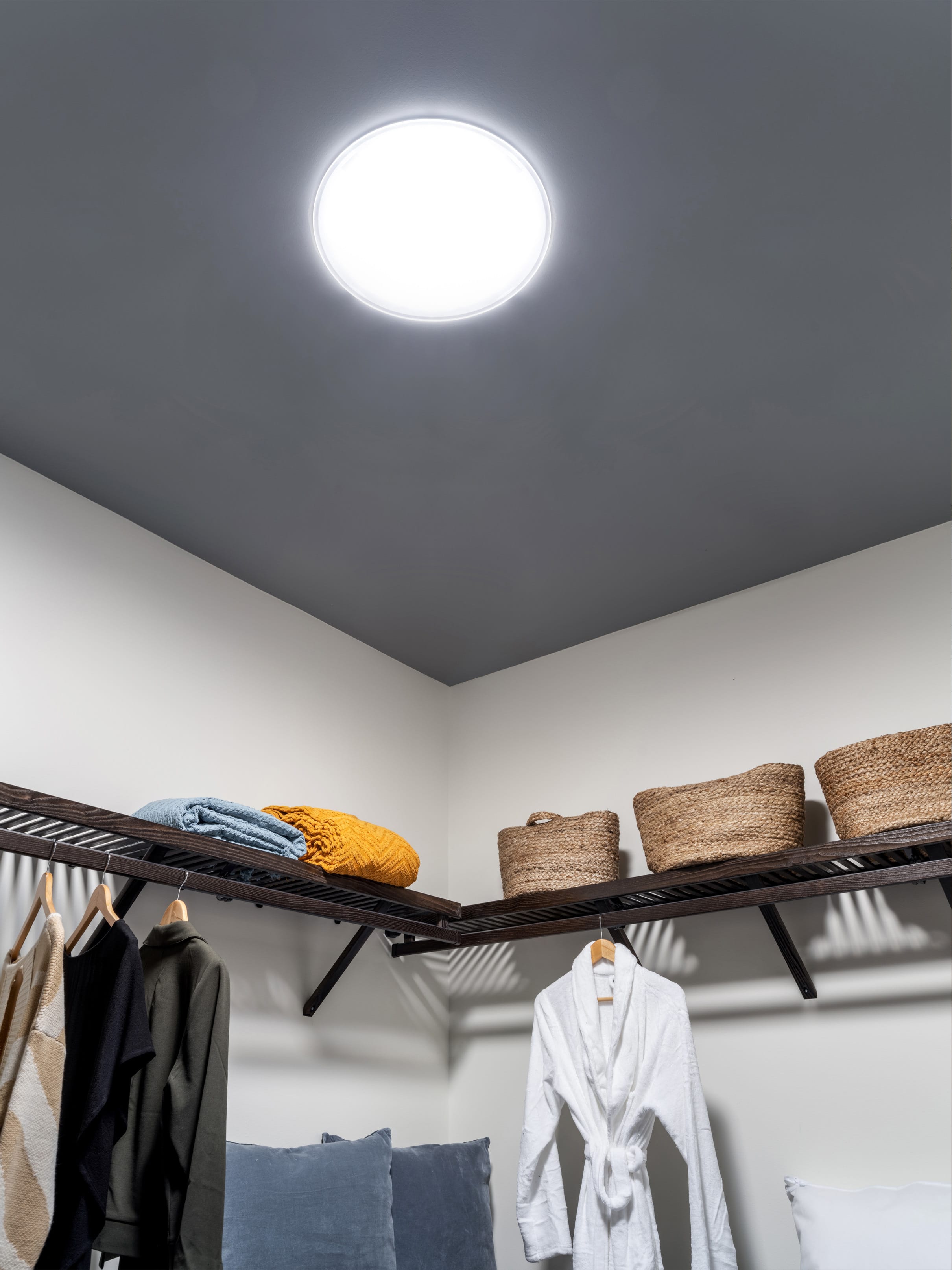 2. Fresh air circulation
Open the VELUX No Leak Solar Powered Fresh Air Skylights in the HGTV Smart Home 2022 kitchen, bedroom, and imagination lounge to enjoy a refreshing breeze inside while also clearing out indoor air pollutants. It's as easy as tapping a button on the VELUX app.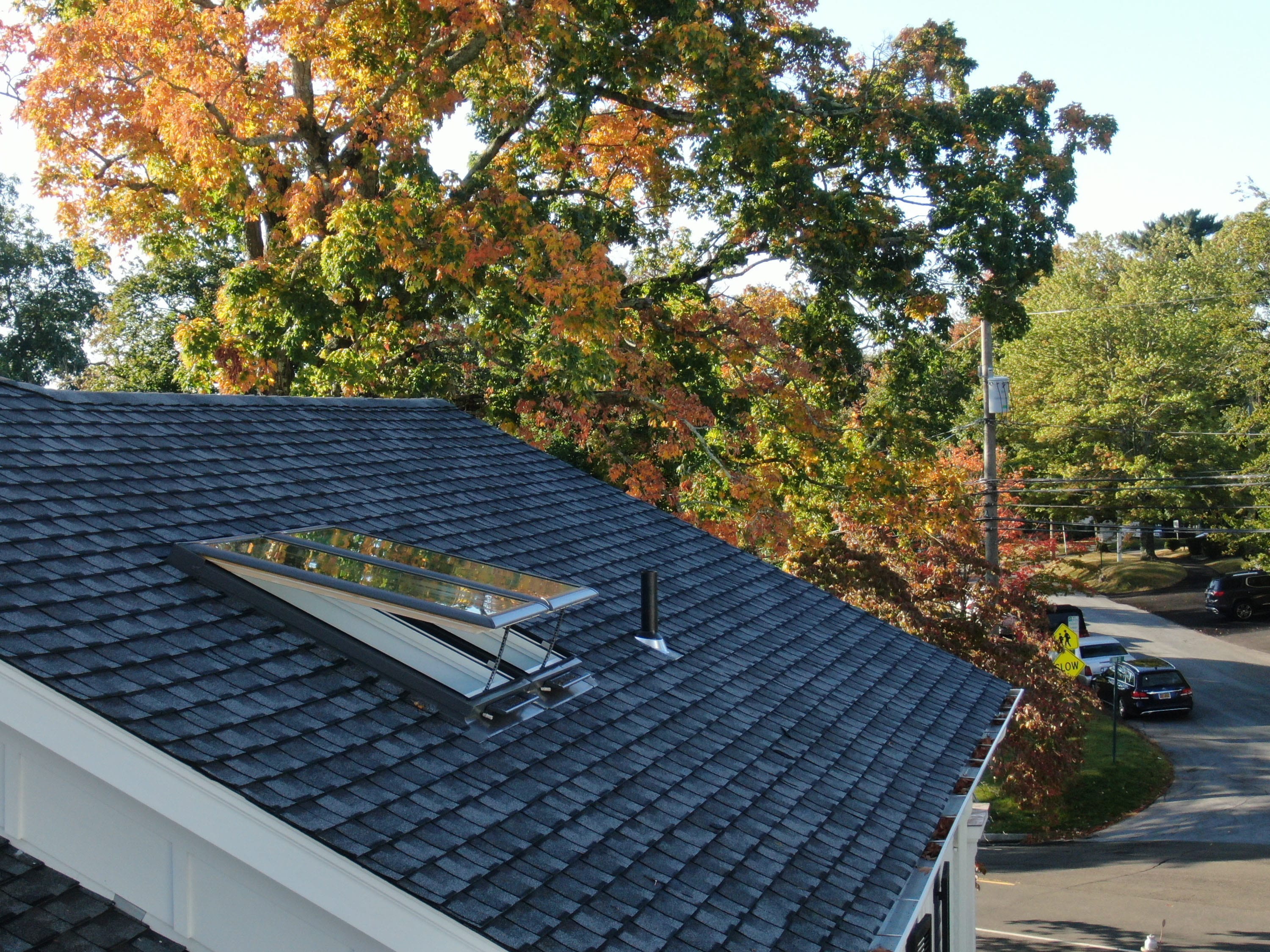 3. Solar-powered operation
Instead of being wired into the home's electrical system, the skylights and shades are solar-powered, a smart way to save on electricity. A photovoltaic solar panel mounted on the exterior frame of the skylight captures sunlight that powers a battery concealed in the skylight frame.
The shade has a separate solar panel on its cartridge that converts sunlight into energy stored in the shade's battery.
4. Integrated rain sensor
The VELUX No Leak Solar Powered Fresh Air Skylights in the HGTV Smart Home 2022 come with a built-in rain sensor that automatically closes the skylights at the first sign of rain.
5. App-controlled shades
Sometimes you need to block the light, and that's easy with app-controlled shades. Simply slide the toggle to position the shade where you need it — 30%, 50%, fully covering the skylight or anywhere in between. In bedrooms, room-darkening shades keep the sun at bay for late mornings. In kitchens, light-filtering shades take the sunlight down a notch to keep things comfortable inside.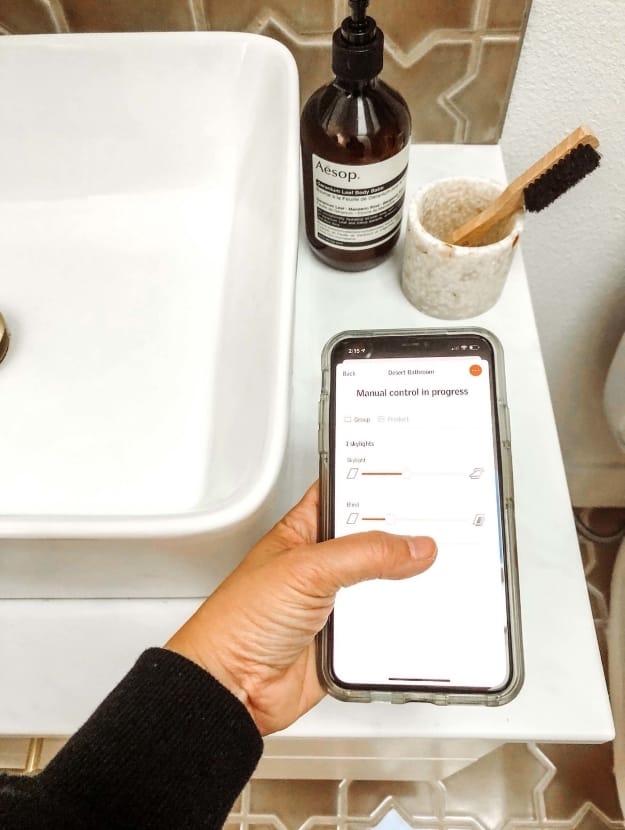 6. VELUX App Control System
Automate the skylights with shades in the HGTV Smart Home 2022 with the VELUX App Control System. Schedule the shades to close at sundown and open again each morning. Keep the home well-ventilated by scheduling the skylights to open for 20 minutes three times a day.
Here's how the VELUX App Control System works:
The system connects to an online weather station.
Indoor climate sensors monitor temperature, humidity, and CO2 levels.
The system compares the indoor data with the online weather forecast to make decisions on whether to open or close the skylights and shades to maintain a comfortable and healthy indoor climate.
For example, if it's too humid in the kitchen, the system will open the skylights to air out the room. If the forecast shows a hot day ahead, the system proactively closes the shades to block the sun. And if rain unexpectedly starts falling, the skylight's rain sensor overrides any command and closes the skylights.
7. Energy-efficient glass
VELUX skylights come standard with energy-efficient, dual-paned, argon-filled LoE3-366® glass that slows down the transfer of heat in the summer and cold in the winter
8. Clean, quiet, safe glass
VELUX skylights come standard with glass that's engineered to stay cleaner, block outside noise and stay in place under impact. Here's how it works:
Clean: Our skylights use Neat® glass, which has two coatings: silicon dioxide to make it exceptionally smooth and titanium dioxide that reacts with UV rays to break down organic debris. When it rains, the combined effect means that water "sheets off," taking dust and other organic debris with it.
Quiet: Because they face the sky and not the neighbor's house, skylights enhance privacy. VELUX Clean, Quiet & Safe glass also keeps outside sound at bay, reducing outside noises such as car and plane engines by up to 25% compared to standard double-pane glass and up to 50% compared to a plastic skylight.
Safe: Like your car's windshield, certain impacts can crack the top pane into tiny pieces like a spider web. Those pieces are then caught by the lower pane, which is laminated.
Ready to make a smart decision for your home? Schedule a virtual consultation with a VELUX skylight expert today!
NO PURCHASE NECESSARY TO ENTER OR WIN. Open to legal residents of the 50 United States and D.C., including territories, possessions, and commonwealths, age 21 or older as of Promotion start date. Void where prohibited. Odds of winning depend on number of eligible Entries received. Promotion ends at 5:00 p.m. ET on June 10, 2022. For full Official Rules and prize disclosures, visit https://www.hgtv.com/sweepstakes/hgtv-smart-home/sweepstakes/rules. To enter, visit https://www.hgtv.com/sweepstakes/hgtv-smart-home/sweepstakes or https://www.foodnetwork.com/sponsored/sweepstakes/hgtv-smart-home-sweepstakes. Sponsored by Discovery Communications, LLC, 230 Park Avenue South, New York, New York 10003.
HGTV, HGTV Smart Home, HGTV Smart Home Giveaway and their associated logos are trademarks of Discovery or its subsidiaries and affiliates. All rights reserved. Photos © 2022 Discovery or its subsidiaries and affiliates. All rights reserved.