Galley kitchens are perfect little workspaces with everything in reach. Originally named for their resemblance to the "galley" kitchens aboard ships, they are characterized by parallel counters and appliances that face each other. Though ergonomically ideal, these long, narrow kitchens can pose certain design challenges including poor lighting and an enclosed feeling.
Luckily, there are many design solutions to make your galley kitchen feel bright and open. Keep reading to see how these homeowners transformed their galley kitchens into vibrant, natural-light-filled spaces unique to their own personal style.
1. Have fun with patterns

If your galley kitchen reminds you more of a hallway than an inviting workspace, explore incorporating patterns to distinguish the room from the rest of your home.
Home décor creator Elena Lohse (informally known as @thishouse5000 on Instagram) added retro pattern tiles to her kitchen floor. Since her kitchen connects to her back door, it was important for Lohse to find a way to make a bold entry-way statement, and these tile floors do just that with the help of the natural light from two VELUX® skylights.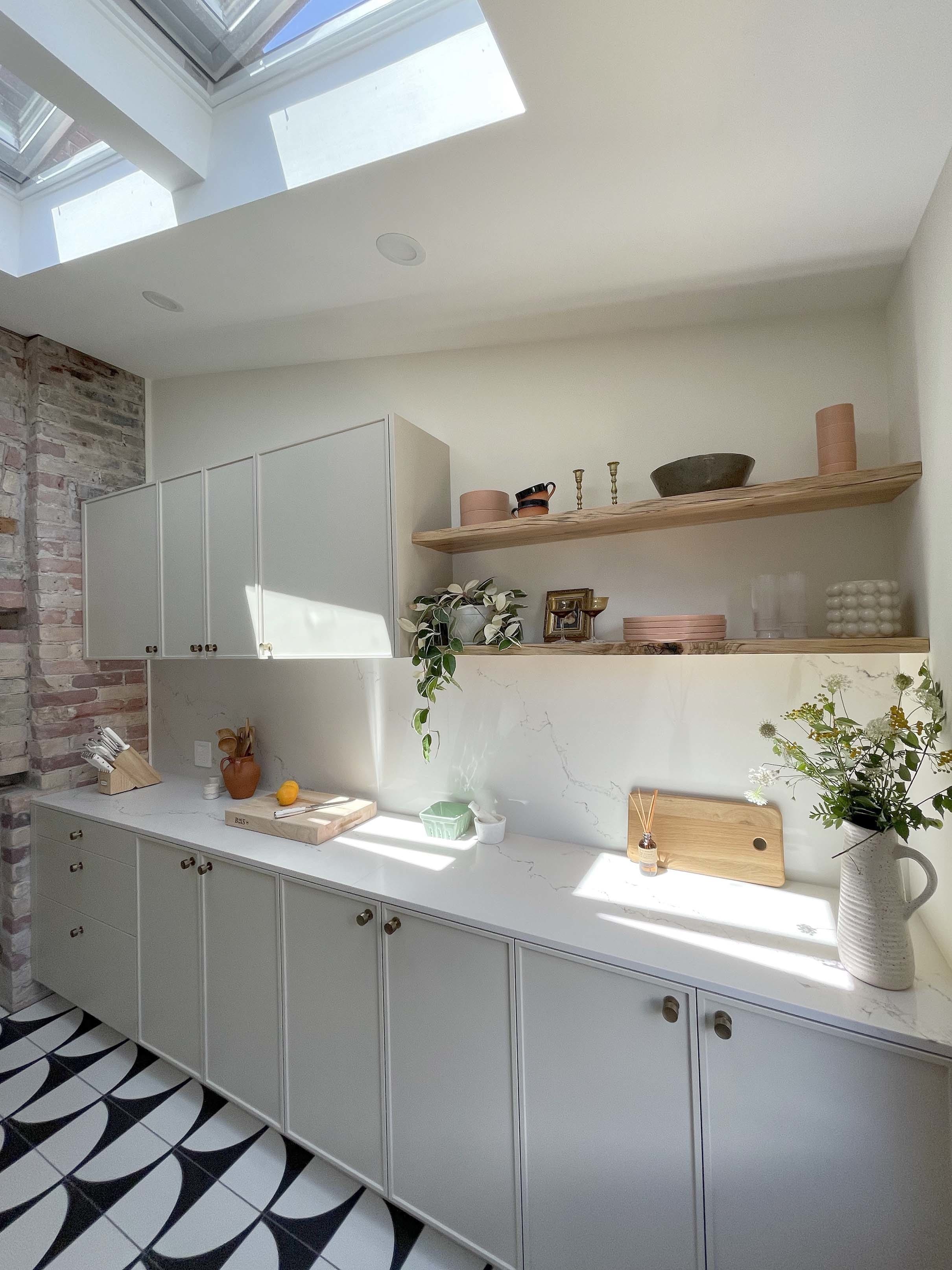 2. Create contrast between your cabinets and countertops
Using contrasting dark- and light-colored cabinets and countertops is a great way to create the illusion of a heightened and elongated workspace.
Indianapolis-based photographer Tessa Tillet transformed her small kitchen into an open, modern space with deep navy blue cabinets and butcher block countertops. The contrast between the dark cabinets and light countertops breaks up the materials, so the counter space feels longer and the cabinets feel taller. And with natural light from the skylights flooding the space, the blue hues and wood accents in this galley kitchen really pop.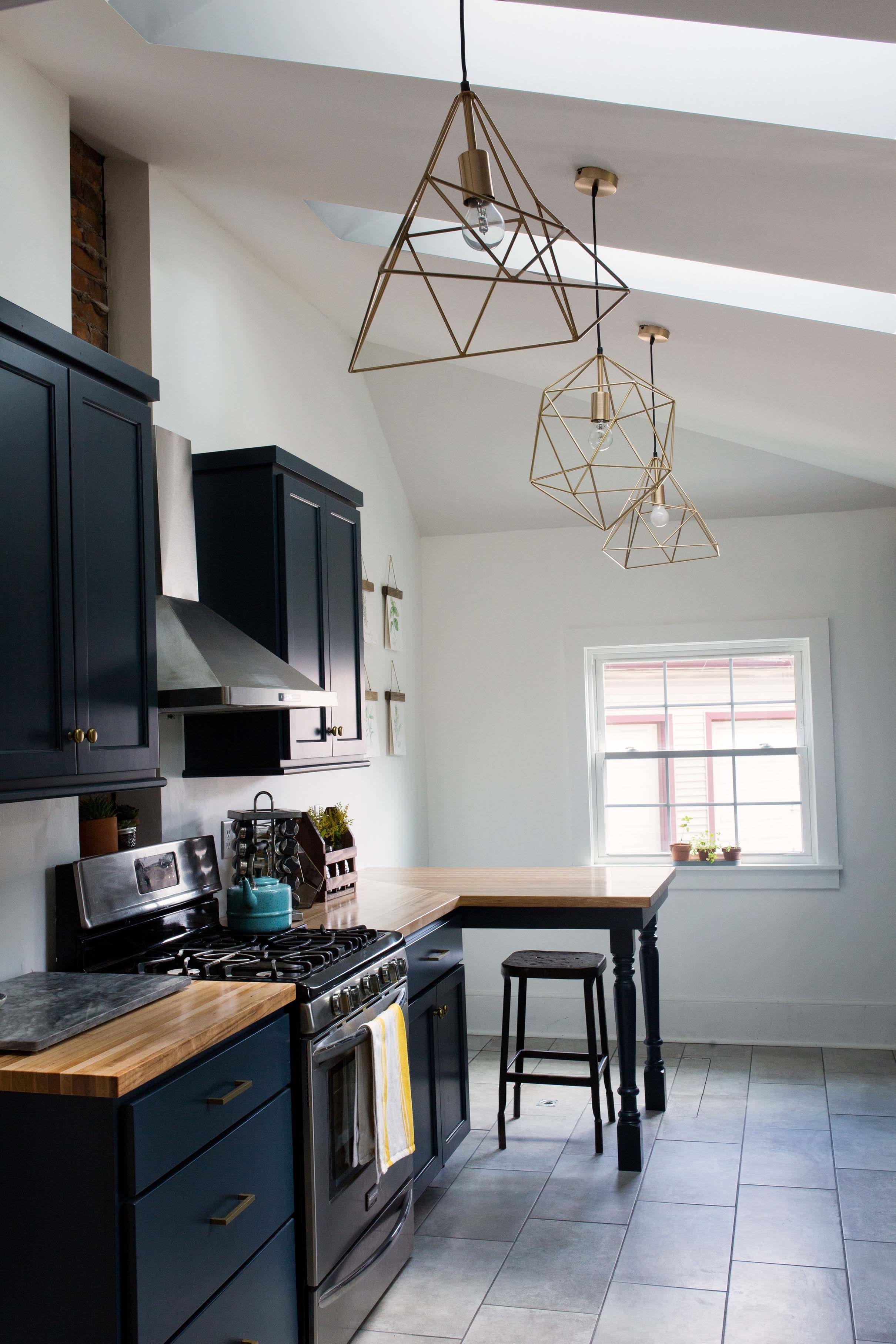 Upper and lower cabinets do not have to be the same color, though. See how interior designer Carmeon Hamilton adds depth with dark lower cabinets and height with bright upper cabinets that bring the eyes toward the ceiling. Additionally, natural light from two skylights accentuates the texture of the dark butcher block countertops, creating a counterpoint between the upper and lower cabinets.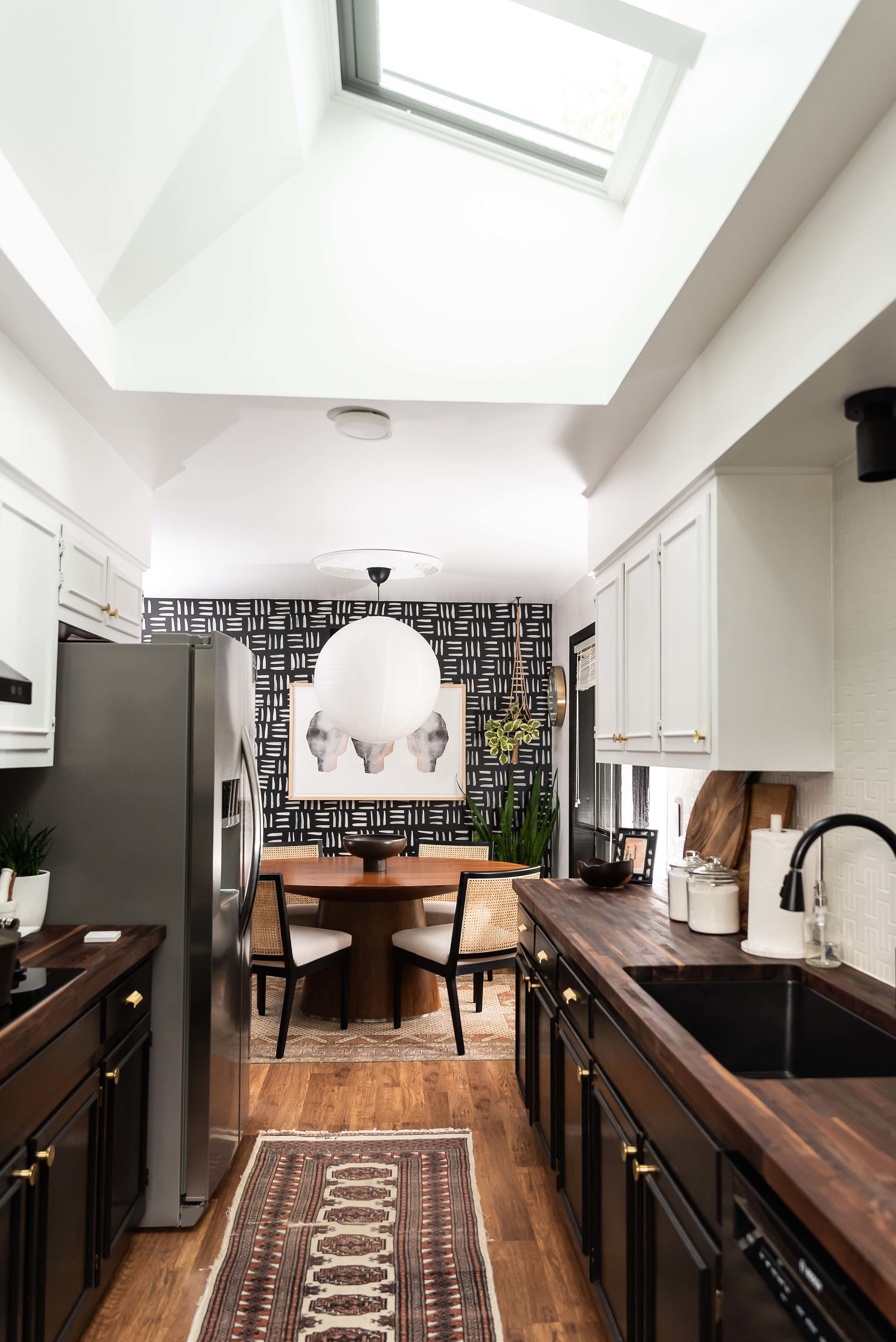 3. Create depth with open shelving
Floating shelves add dimension and enhance the aesthetic appeal of a galley kitchen. See how Lohse's open shelving on both sides of her kitchen creates a sense of increased width in the galley workspace. The open shelving also showcases glassware and accent pieces and creates an inviting home for her plants. With two skylights, the plants in this galley kitchen can enjoy natural light and fresh air all day long, while curated bowls, cups and plates complete the elevated culinary look.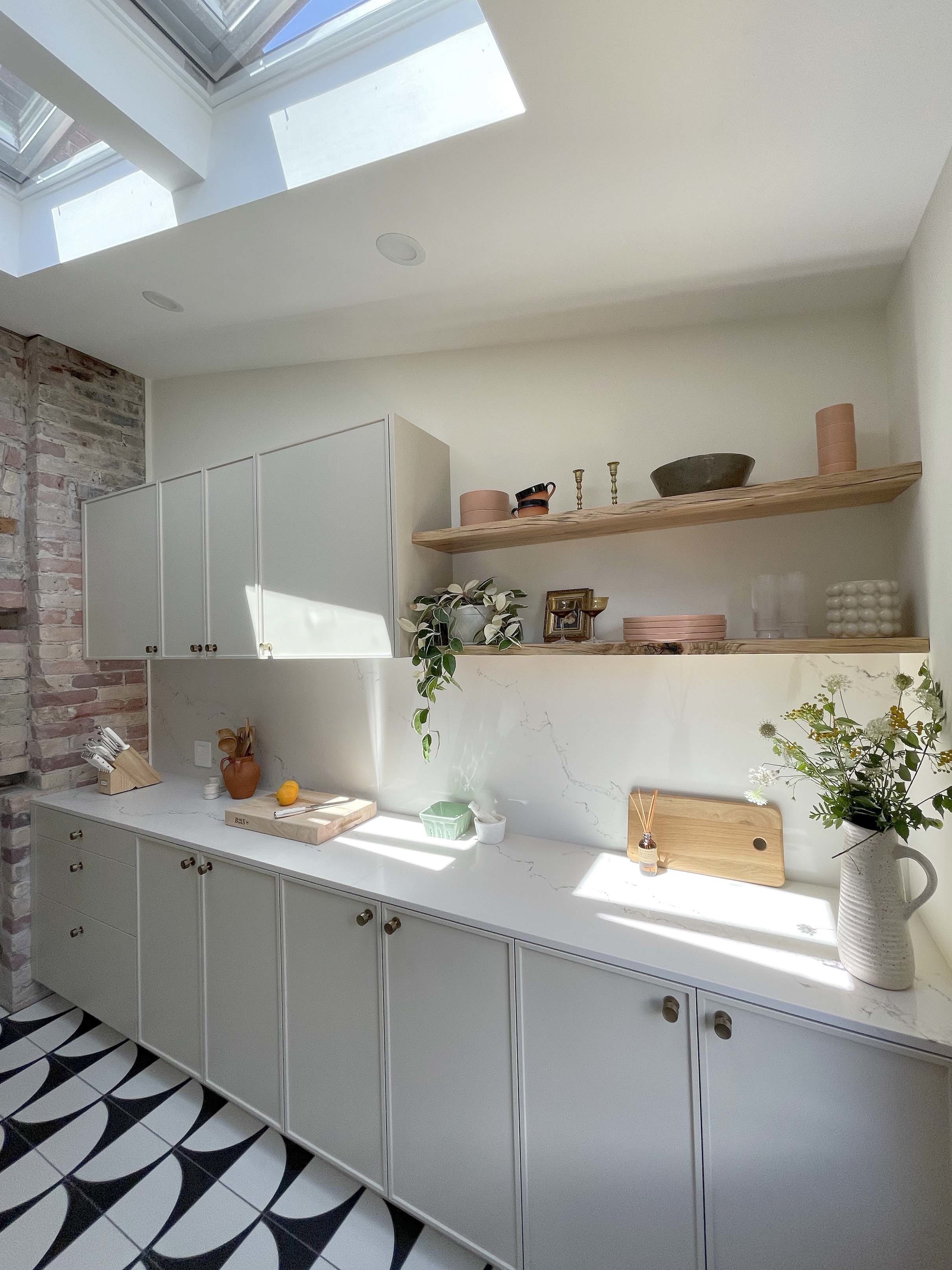 4. Add natural light and height with VELUX skylights
Skylights truly make these kitchens shine, transforming them into modern spaces for cooking and gathering while also giving the perception they've doubled in size without adding any square footage. Plus, with the addition of remote-controlled shades, homeowners have full control of the amount of sunlight in their kitchen throughout the day.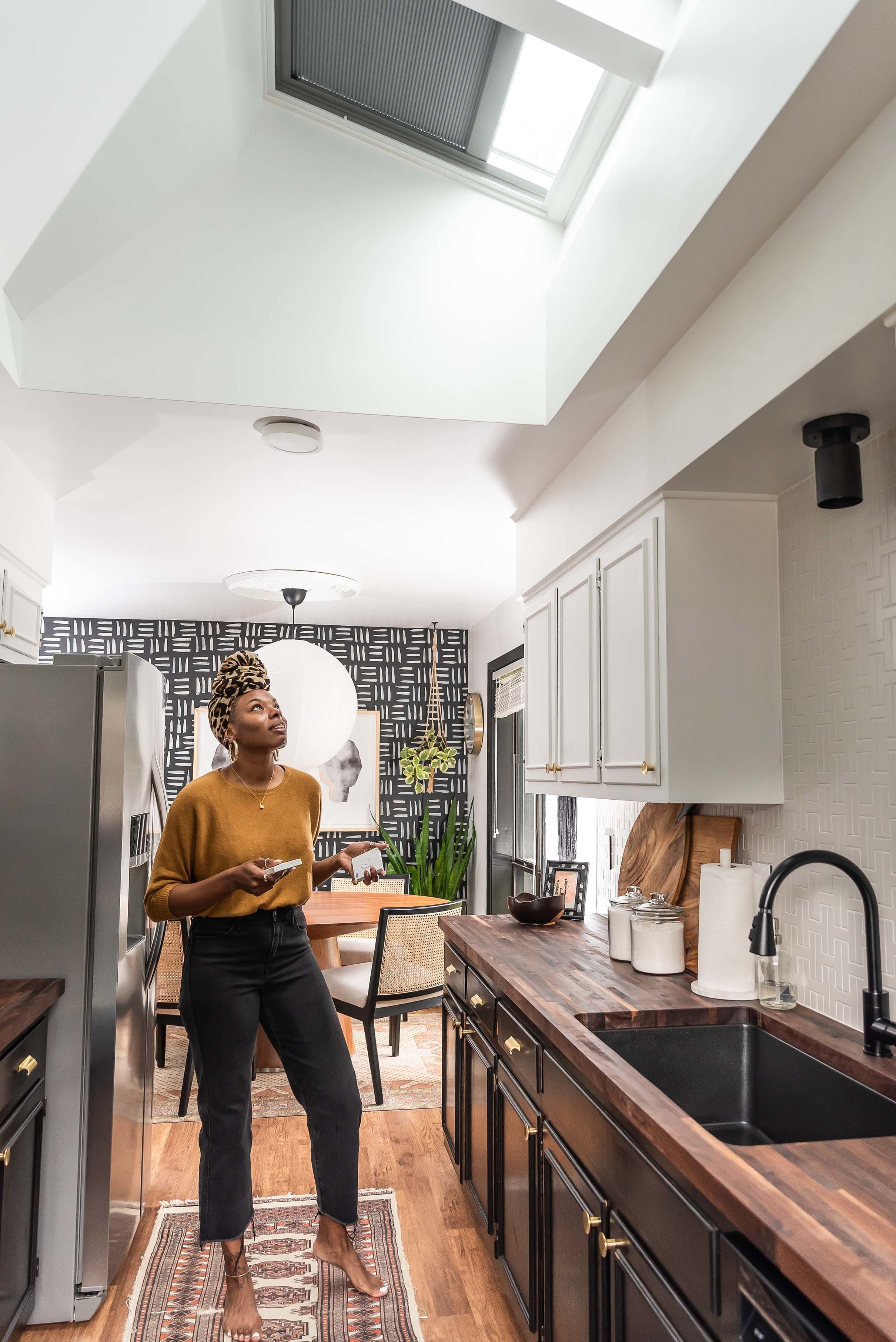 Still on the fence? Take a look at Hamilton's kitchen before and after with the addition of two fresh-air skylights.
Before: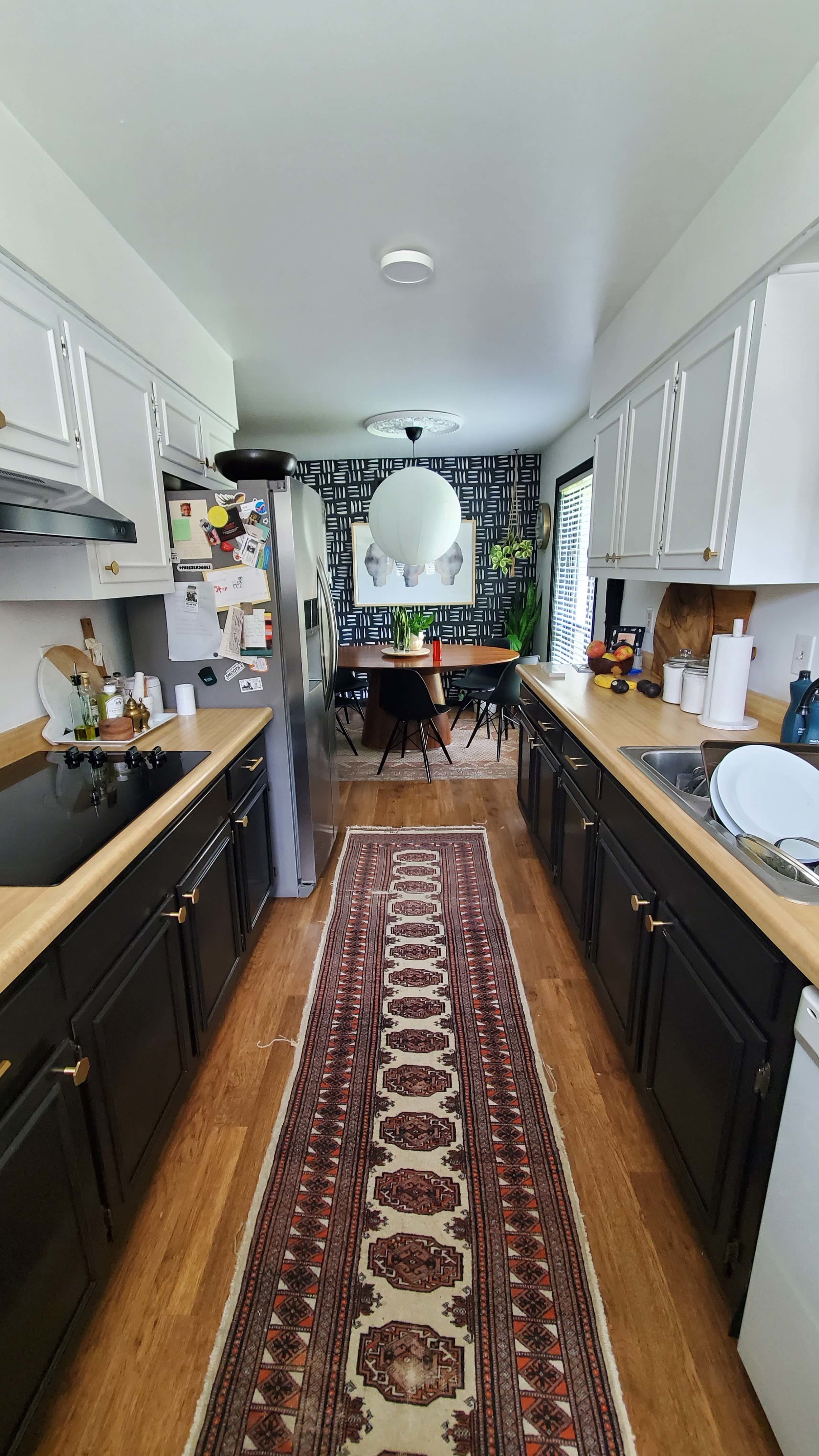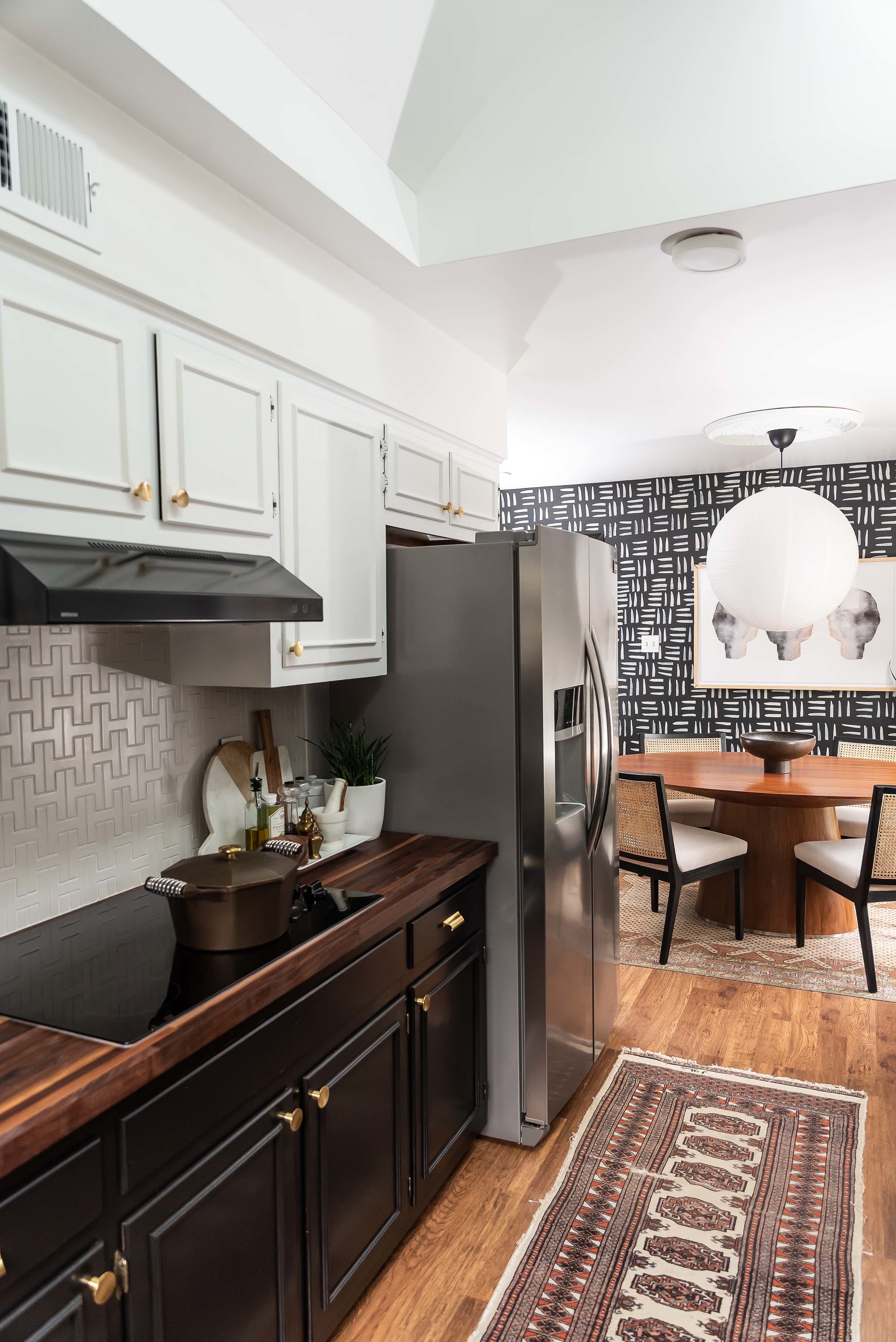 The skylight installer created a large light shaft — the space between the skylight and the ceiling — that flares on one side to allow the sunlight to reach farther into the room.