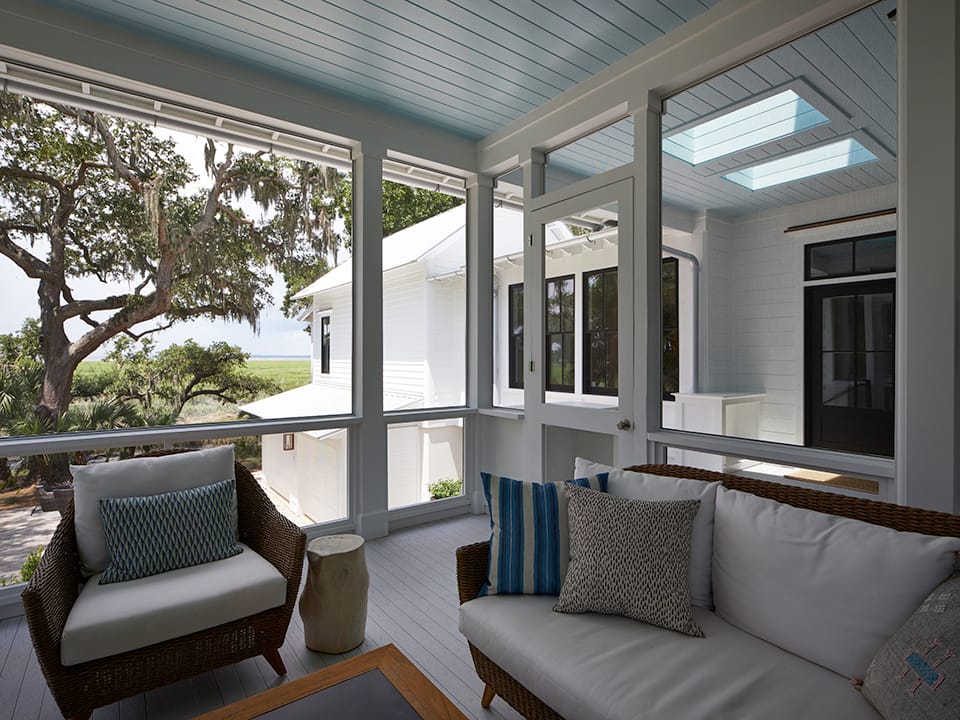 Many homeowners forget their ceiling or fifth wall when it comes to home décor, but in the South porches have long included an overhead pop of color.
In the 2018 Coastal Living Idea House, located in Beaufort, South Carolina, the design team painted the porch ceilings light blue to honor this regional style. On the back porch, the blue sky from two VELUX skylights mixes with a light blue often called "haint" blue applied to the porch ceiling.
Why "haint?" The word is the Gullah pronunciation of the word "haunt," which refers to spirits caught between life and death, and Gullah folklore held that the color repelled "evil spirits."
The Gullah are an African American population located on the coastal plain of North Carolina, South Carolina and Georgia. The community originated from enslaved people from Africa forced to work on rice plantations located on the isolated sea islands. Early Gullah communities painted porches, window shutters and door and window frames light blue to ward off evil spirits, and the tradition eventually gained popularity throughout the South.
Some people speculate that the light blue color prevents mud dauber wasps and birds from building nests under a blue porch, but that hasn't been scientifically proven.
At VELUX we believe that blue overhead is a great idea for any room, not just the porch.