Picture this: double vanities, a rainfall shower, heated floors, a soaker tub, a walk-in closet with built-in floor-to-ceiling shelves. Sounds pretty great, right? A well-appointed main bathroom and closet combination can make a home irresistible, providing a relaxing haven to unwind and recharge.
And nothing can ruin it faster than windows that look out onto a street or directly into a neighbor's house. Curtains and blinds provide privacy, but they block out that all-important natural light. Keep reading to find out how your bathroom and closet can benefit from skylights.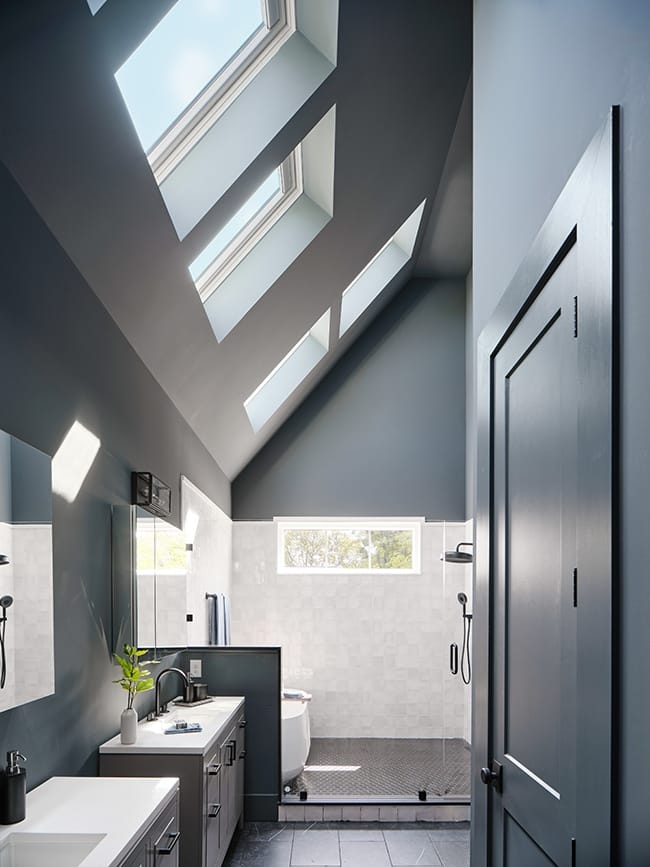 Skylights offer all-day light and privacy
Skylights provide the ideal solution: diffuse lighting throughout the day without the worry of nosey neighbors. This bathroom from the HGTV Urban Oasis® 2022 features five VELUX® skylights: two in a vertical configuration above the shower and three in a horizontal configuration above the vanities. Because sunlight isn't slanted or angled through traditional windows, it remains even throughout the day, providing ideal lighting without the use of electricity. And if you're in the mood for a more serene setting, app-controlled shades allow you to adjust the light level.
Dreaming of showers with a sky view?
Sign up for daily reminders to enter for a chance to win this year's HGTV Urban Oasis®.
Vented skylights provide fresh air and moisture control
Beyond offering an added layer of privacy, vented skylights also quickly freshen the room whenever there is excess humidity. VELUX No Leak Fresh Air Skylights open with the click of a remote, lifting and whisking away any damp or stale air. The VELUX ACTIVE with NETATMO skylight automation system allows you to control your skylights and shades via mobile app, even sensing when your bathroom is too humid and automatically opening to release the muggy air for a reenergized room.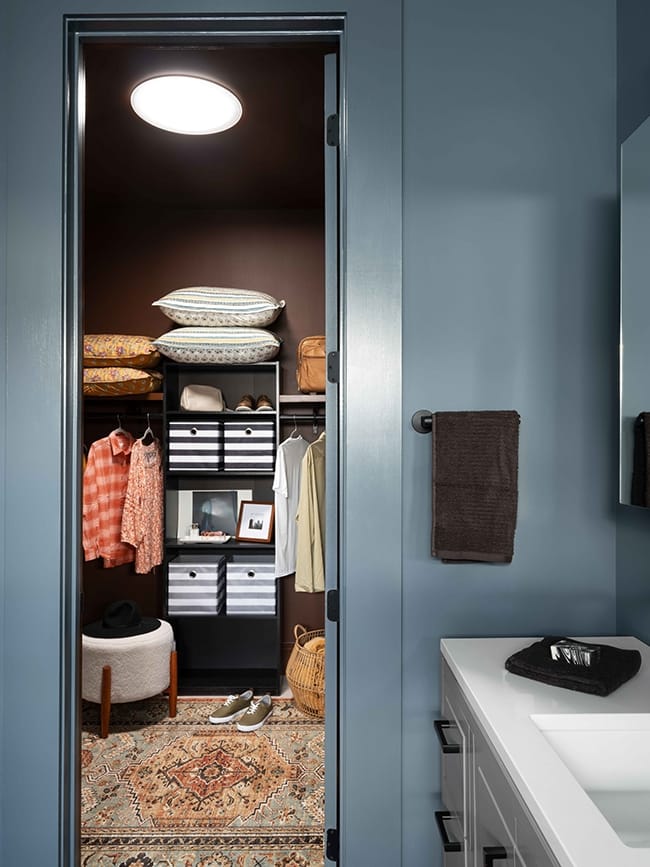 Sun Tunnels bring light to small spaces
Bathrooms aren't the only spaces where windows are unwelcome. Closets can also benefit from natural, overhead lighting. Aside from the privacy concern, windows take up wall space, which is valuable real-estate in any closet, no matter the size. VELUX Sun Tunnel® Skylights provide the optimal solution, bringing in diffuse, natural light without sacrificing shelves in the process.
VELUX Sun Tunnel® Skylights are designed to fit your ceiling like a recessed light and feature adjustable pitch adapters to ensure they capture as much sunlight as possible. And when the sun goes down, the light doesn't have to: the VELUX Solar Night Light Kit provides a moonlit glow.
© 2022 Warner Bros. Discovery, Inc. or its subsidiaries and affiliates. All trademarks are the property of their respective owners. All rights reserved.