In today's world, it's easy to get swept up in the rapid pace of daily life. Whether we're focused on work or family, chores or finances, many of us forget to take a break. And when we do take a break, it's often in the form of looking at our phone, which can lead to zombie scrolling, a phenomenon linked to a sense of disconnection and poor mental health.
Luckily, studies show that there is a way to combat this. Having a hobby offers numerous benefits, from decreased cortisol (the hormone responsible for stress) to improved relationships. So now that you've set down your phone and picked up a new hobby, it's time to design an inspiring lounge space to pursue your interests.
Here are three tips to help you get started:
1. Bring in fresh air for fresh ideas
Studies show that continued exposure to natural light and fresh air throughout the day can improve several wellness measures, from lower blood pressure to increased sleep quality. It can also boost your brain power, allowing for up to 15% greater creativity and 6% greater productivity, which is great news for composing your latest song or penning the next bestselling novel.
This music studio space designed by Brian Patrick Flynn for the HGTV Urban Oasis® 2022 in Nashville, Tennessee, features eight VELUX® No Leak Fixed Skylights and four VELUX No Leak Fresh Air Skylights for ample light and ventilation. Optional shades allow you to adjust the light to your own comfort level.
Envision yourself relaxing in this light-filled lounge.
Enter for a chance to win the bright, airy and music-inspired HGTV Urban Oasis® 2022.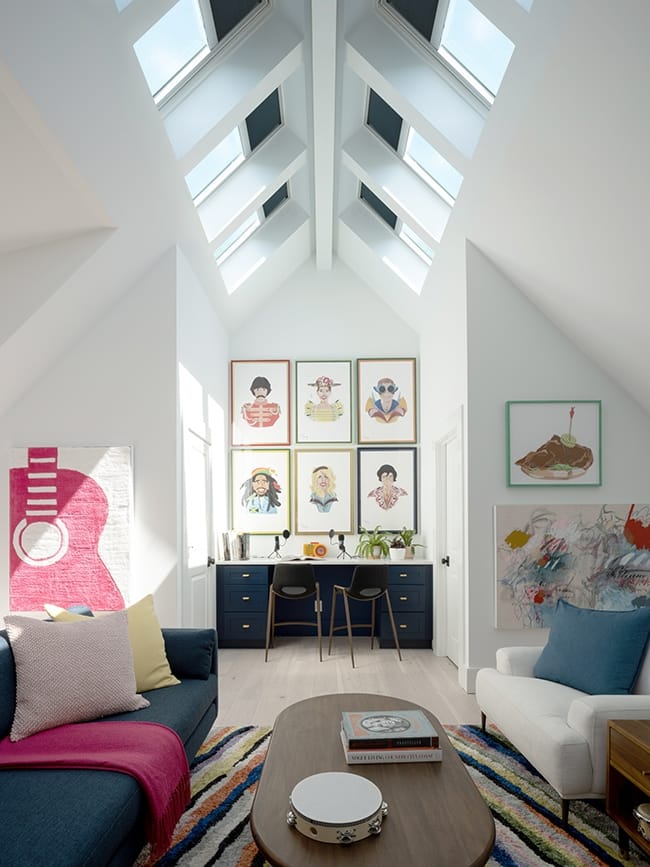 2. Create spaces for focus and collaboration
Some people believe that solitude is the key for productive activities, while others maintain that creativity and progress cannot happen in isolation. In reality, both are important. Whatever your hobby is — whether woodworking or crocheting — create a place for your craft (including material storage, inspiration walls and a dedicated workspace) within your lounge.
Areas for collaboration matter, too. Couches, chairs or a table to gather around allows others who share your interest to participate in your creative space, opening up discussions and new avenues of thought you may not have considered on your own.
3. Make it a place you want to spend time
Putting your personal mark on a room always feels great, and your lounge should be no different. Select a color that matches the mood you want to create. Looking for a serene environment? Opt for soft neutrals and calming earth tones. Want a room that feels invigorating? Utilize bold or bright pops of color.
And don't stop with paint. Art, accent pieces (think throw pillows and rugs) and plants are all ways you can make the space more your own.
© 2022 Warner Bros. Discovery, Inc. or its subsidiaries and affiliates. All trademarks are the property of their respective owners. All rights reserved.
NO PURCHASE NECESSARY TO ENTER OR WIN. Open to legal residents of the 50 United States and D.C., including territories, possessions, and commonwealths, age 21 or older as of Promotion start date. Void where prohibited. Odds of winning depend on number of eligible Entries received. Promotion ends at 5:00 p.m. ET on November 23, 2022. For full Official Rules and prize disclosures, visit https://www.hgtv.com/sweepstakes/hgtv-urban-oasis/sweepstakes/rules. To enter, visit https://www.hgtv.com/sweepstakes/hgtv-urban-oasis/sweepstakes/enter or https://www.foodnetwork.com/sponsored/sweepstakes/hgtv-urban-oasis-sweepstakes. Sponsored by Warner Bros. Discovery, Inc., 230 Park Avenue South, New York, New York 10003.