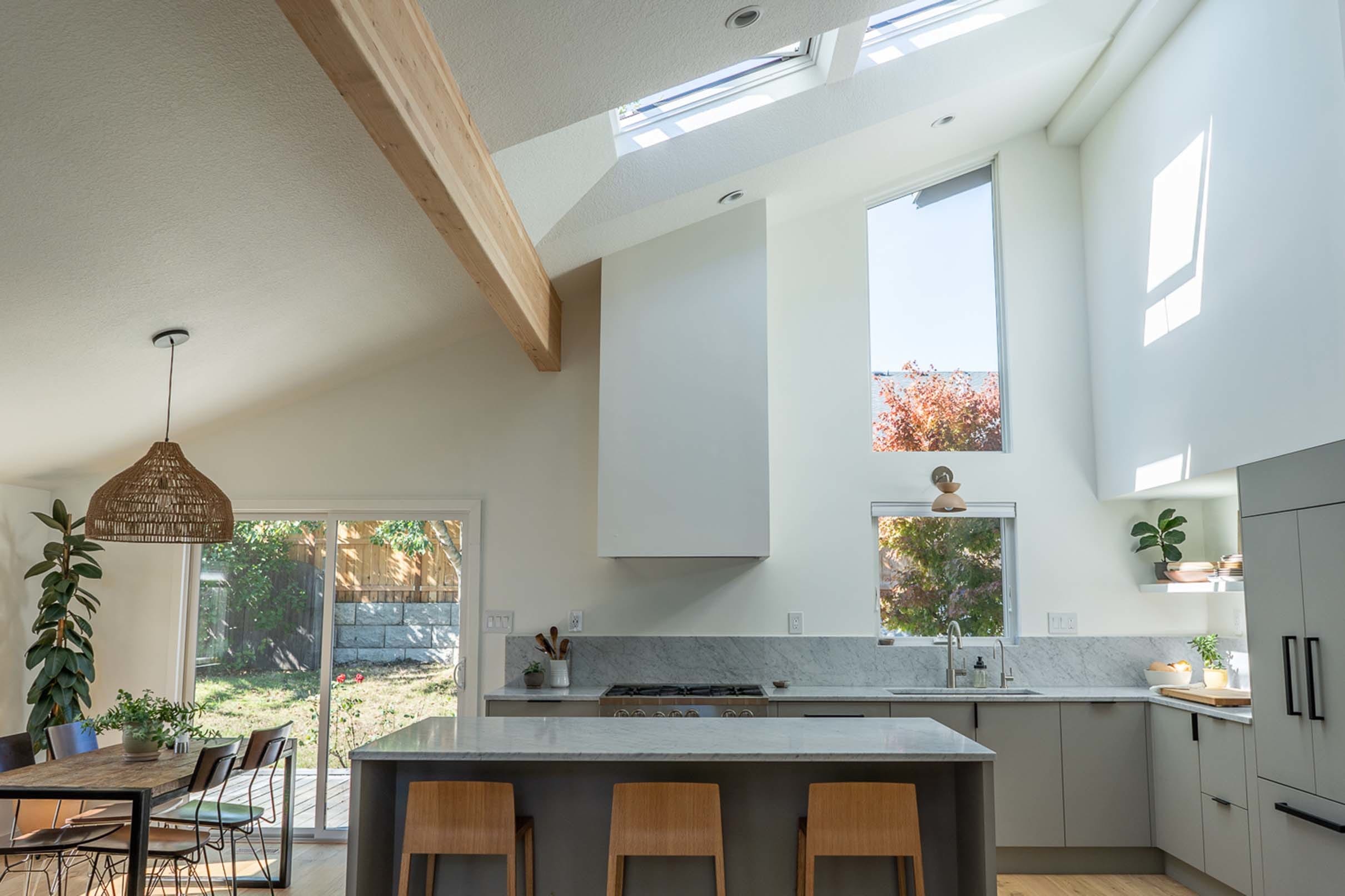 There's nothing quite like a kitchen graced with natural light and fresh air. Skylights bring both in abundance throughout the day to enhance the beauty and comfort of any room where they are present. When it comes to installation, one of the top-of-mind thoughts involves cost. Prices for skylights vary by project and geographic location, but to get a look at what to expect, here are a few factors that may influence the cost of a kitchen skylight installation.
Ceiling style affects skylight installation cost.
If your kitchen has a flat ceiling, more drywall work will need to be completed by the installer. This will increase the installation cost of your project, but the result — beautiful, natural light streaming from above — can be enjoyed for a lifetime. During this type of installation, your installer will need to build a drywall light shaft from the skylight to the ceiling. By doing so, the sides of the light shaft will be intentionally angled to help sunlight spill further into the kitchen.
Installing skylights in vaulted ceilings takes less time and requires less interior finishing work. Because they have little to no attic space between the roof and ceiling, they require less drywall installation and finishing. For this reason, the installation cost for vaulted ceiling skylights will be less than installing skylights on a flat ceiling.
At VELUX®, we believe that every room, no matter what type of ceiling it has, can benefit from additional natural light provided by skylights. Take a look at these kitchen skylight projects to better understand how ceiling style affects the cost of adding skylights.
When Minneapolis food blogger Lee Funke added three VELUX Solar Powered Fresh Air Skylights with shades to her kitchen with a flat ceiling, the installers lined the light shaft with shiplap.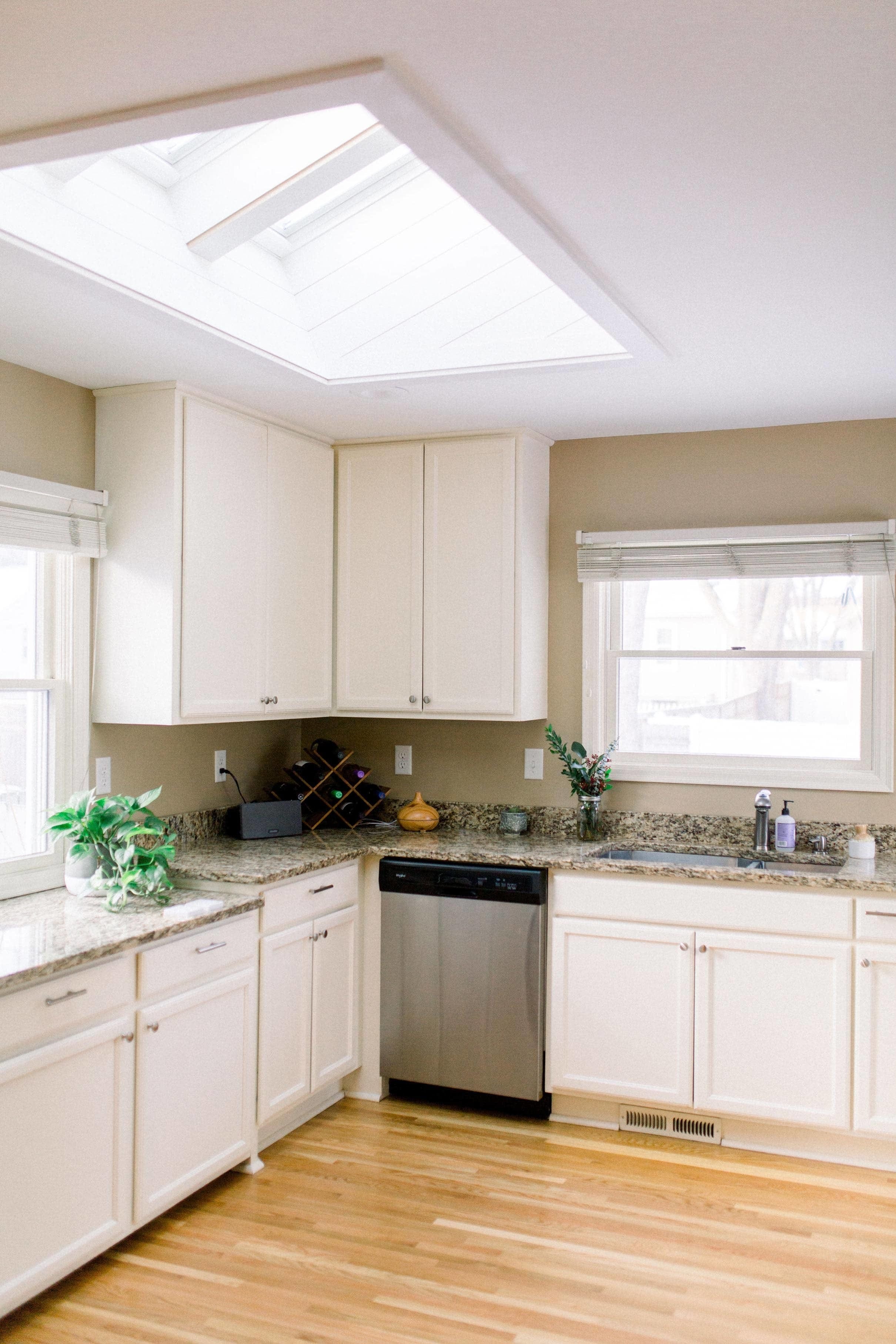 The additional materials needed to create this design element increased the installation cost, but adding shiplap was the perfect complement to the shiplap over her fireplace in the adjoining living room.
Lee Funke's kitchen skylights project cost breakdown:
Skylight Product Cost: $5,067
Installation Labor and Materials: $5,644
Total Project Cost: $10,711
After installing Sun Tunnel® Skylights in her main bathroom, Memphis interior designer Carmeon Hamilton knew she wanted skylights to be part of her kitchen update. So, like Funke, she opted for Solar Powered Fresh Air Skylights, but she went with two instead of three due to the small size of her galley kitchen.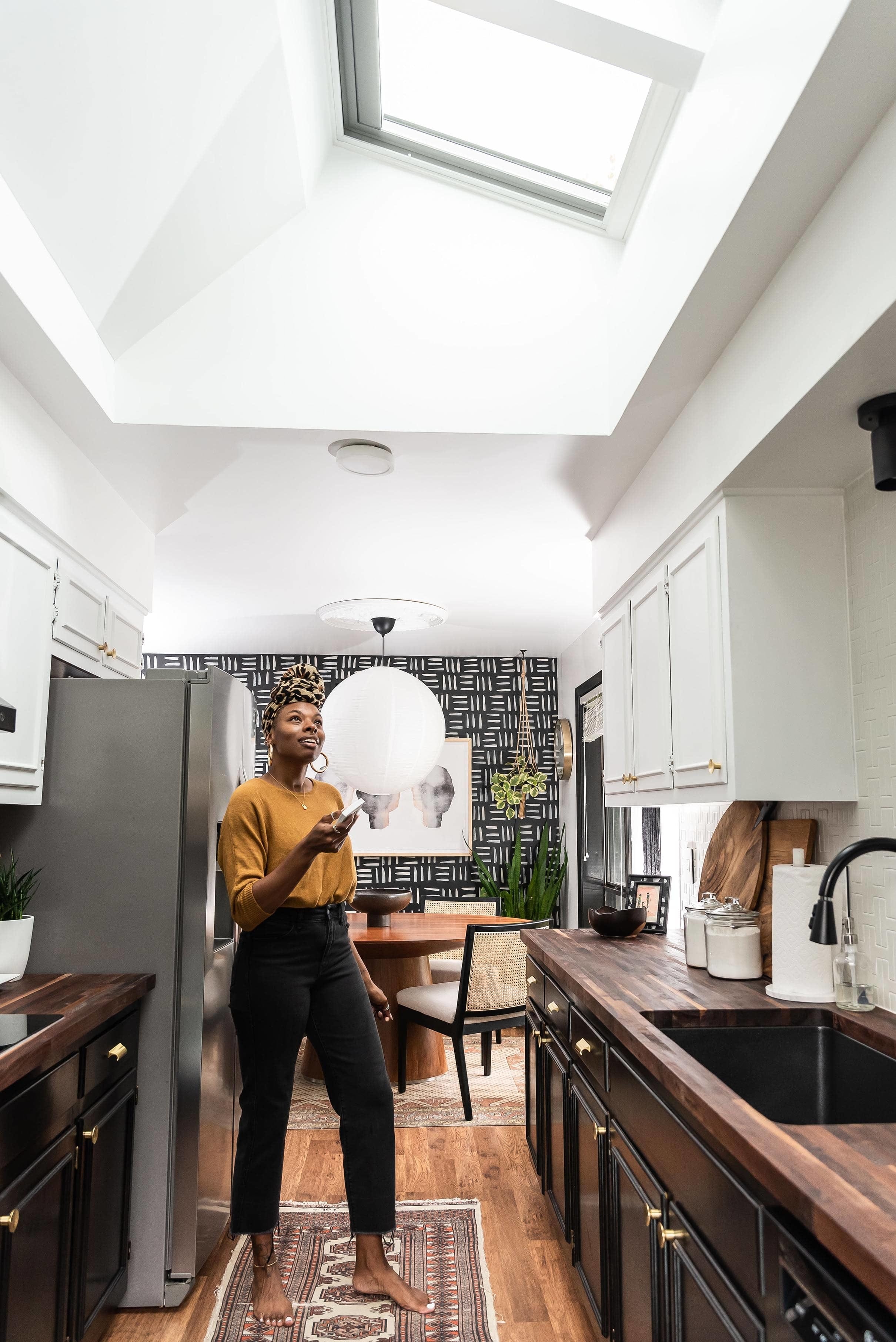 Hamilton asked her installer to flare the sides of the light shaft to create a glass ceiling effect and truly fill the kitchen with natural light.
Hamilton's kitchen skylight project breakdown:
Skylight Product Cost: $3,863
Installation Labor and Materials: $3,515
Total Project Cost: $7,351
During her kitchen renovation, Hawaii-based interior design blogger Sachi Lord enhanced every design detail with natural light from two Solar Powered Fresh Air Skylights.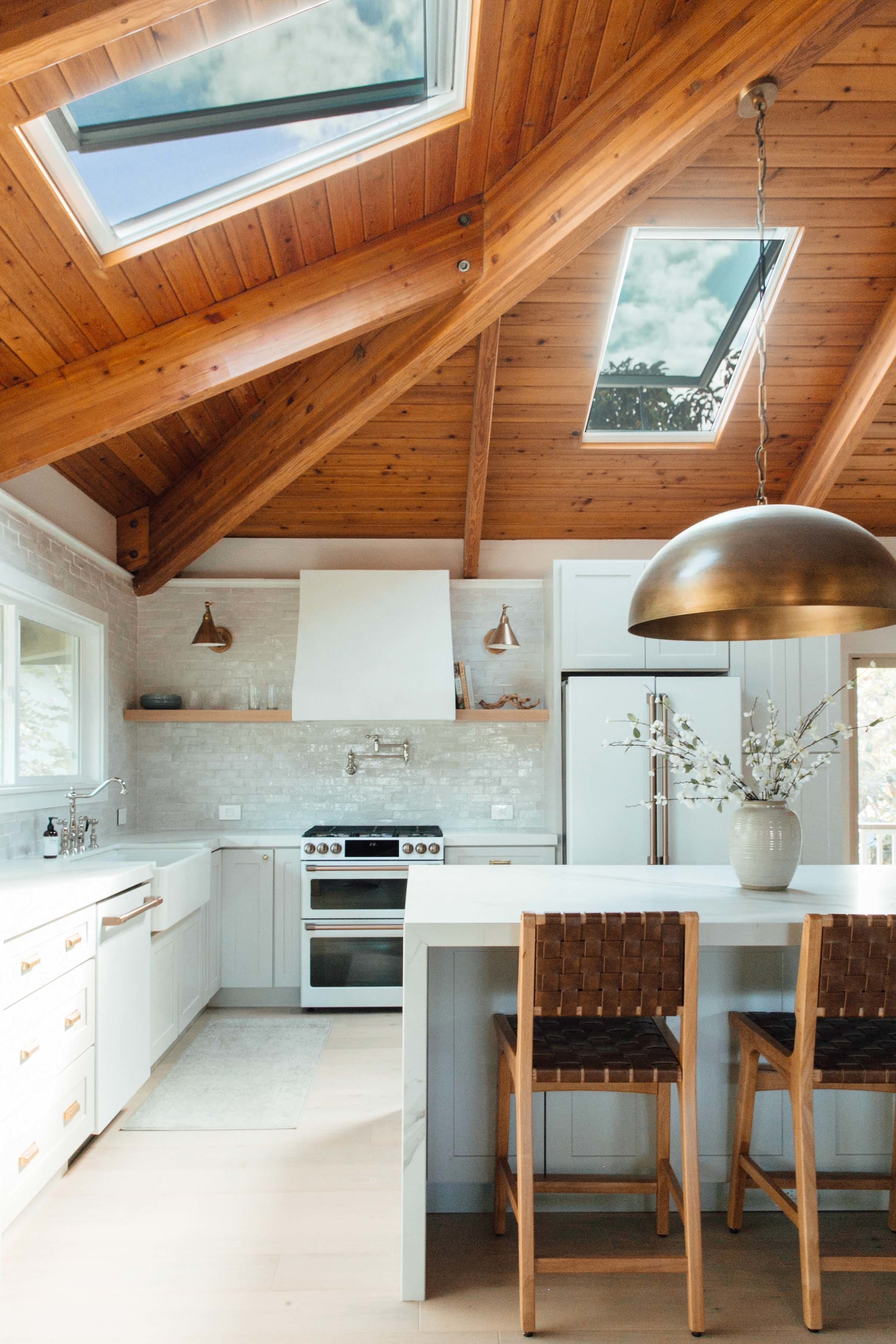 The elegant natural wood, vaulted ceilings didn't require a light shaft. As a result, the installation cost is less than the previous two kitchen skylight projects.
Sachi Lord's kitchen skylight project breakdown:
Skylight Product Cost: $3,018.50
Installation Labor and Materials: $3,050.00
Total Project Cost: $6,068.50
Skylight automation has benefits for kitchens.
Lighting and moisture control are especially important in rooms like kitchens. The versatility of VELUX Solar and Electric Fresh Air Skylights equipped with the VELUX ACTIVE with NETATMO skylight automation system means homeowners don't have to think about their skylights. The system automatically extends the shades when outside temperatures are expected to be hot. It also opens the skylights to bring in fresh air. Or homeowners can use the smartphone app to control the skylights with shades. Whether someone's at home or away, these skylights also include rain sensors that automatically close them when rain is first detected.
Skylight type and quantity affect project cost.
Your total project cost will vary depending on the type and quantity of skylights you choose for your kitchen. Get a peek into what you can expect to spend on a single skylight, including VELUX Solar and Electric Fresh Air Skylights, plus labor for interior and exterior work.
Ready to beautify your kitchen with skylights? Schedule a virtual design consultation with a VELUX daylight designer.