Set in the Mad River Valley amidst Vermont's Green Mountains Range, this year's HGTV® Dream Home draws inspiration from its natural surroundings and the active, outdoor lifestyle that draws people to visit throughout the year. Interior designer Brian Patrick Flynn grounds the decor in this natural aesthetic through color, materials and lighting to create a soothing, wellness vibe.
See how Flynn creates seamless indoor-outdoor connections. You may just find some inspiration for a restful retreat in your own home.
Setting the tone with nature's color palette
Lush and green in the spring and summer, the trees surrounding the HGTV Dream Home 2022 put on a spectacular fall show featuring red, orange and yellow before the leaves drop and winter's skyline is framed in brown branches. Flynn pulls all of these colors inside, starting with ceiling to floor treatment in the main and guest bathrooms. The main bathroom features a soothing green, made fresh and bright with sunlight from a single skylight.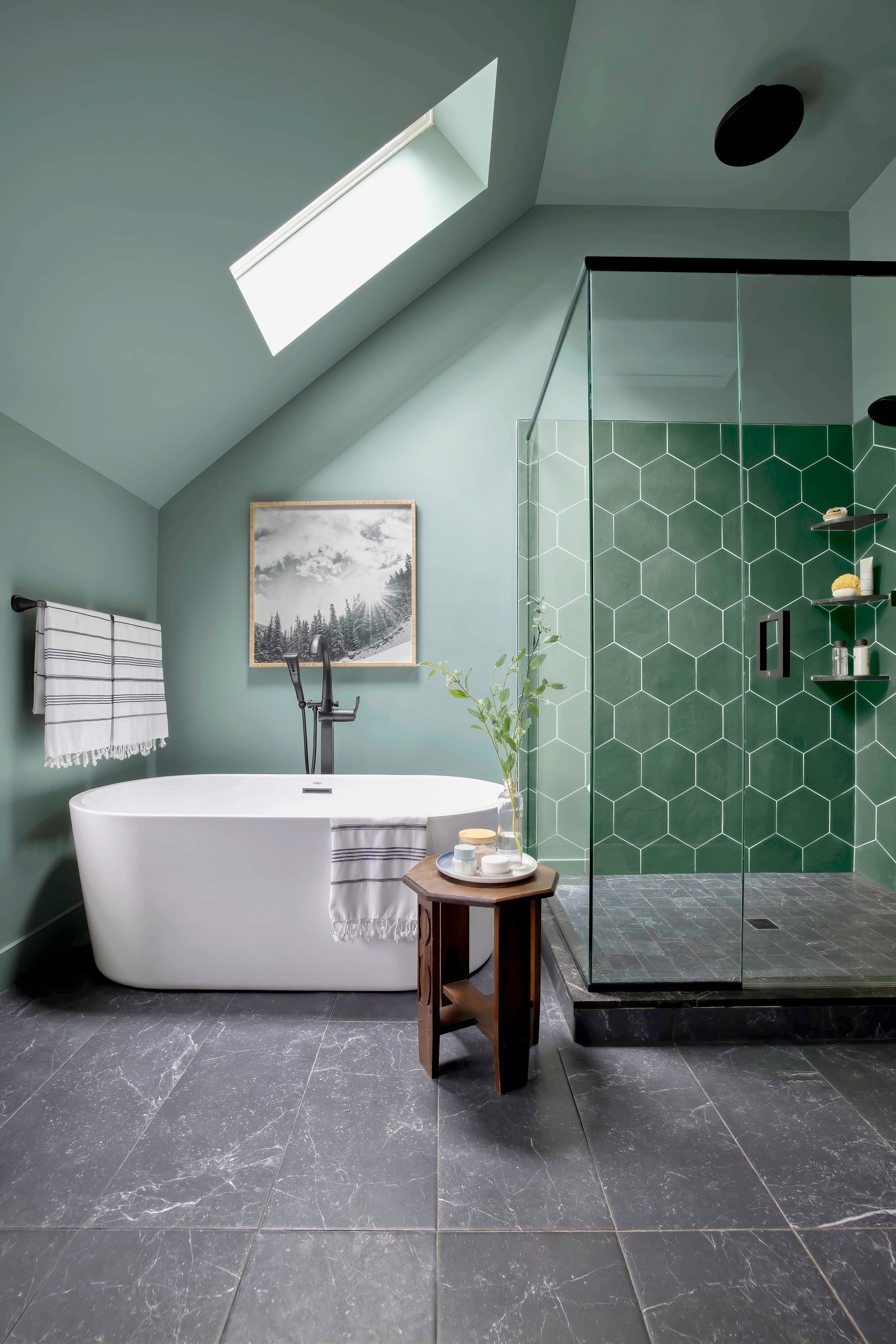 The upstairs guest bathroom's decor is oriented toward the sky with blue walls and ceilings complemented by shower tiles featuring a geometric pattern reminiscent of clouds. Black stone floors in both bathrooms provide a solid link to Vermont's rocky landscape.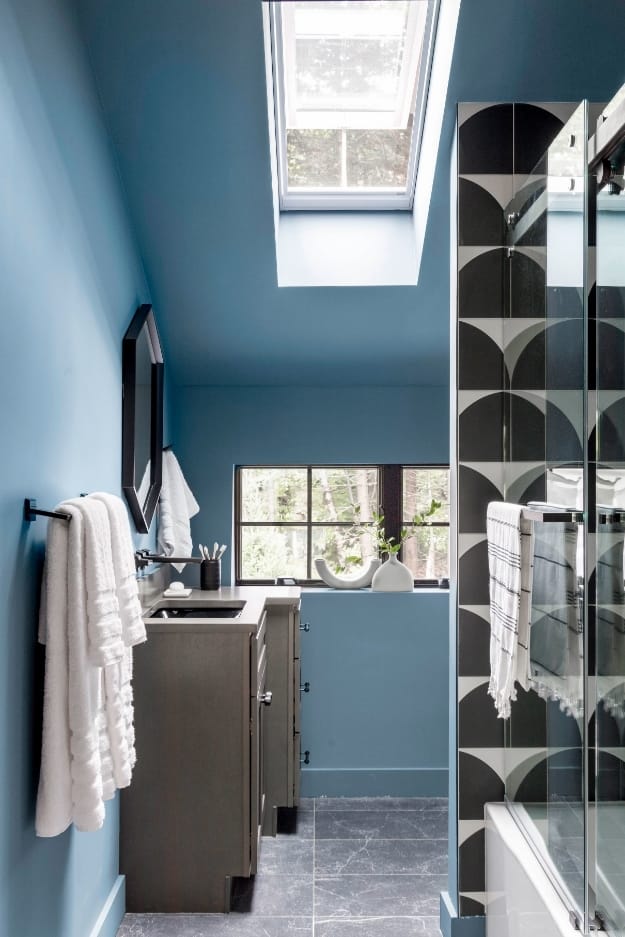 Interior colors connect with the fall season in the main bedroom, where a rust comforter and accent pillows, and a green throw blanket mimic the changing leaves outside. And because the bedroom has a neutral base, the color scheme is easily updated by swapping out the blankets and pillows.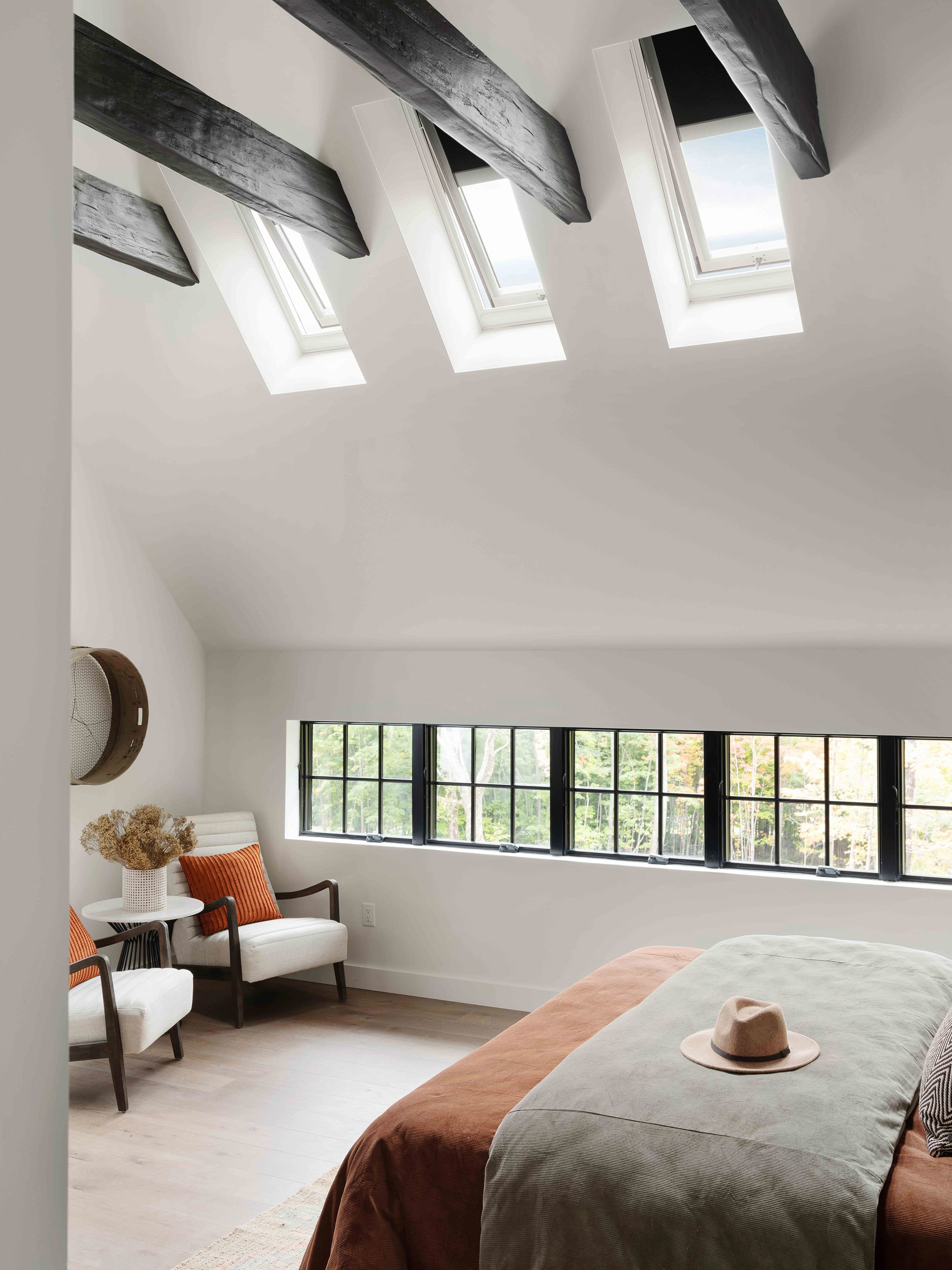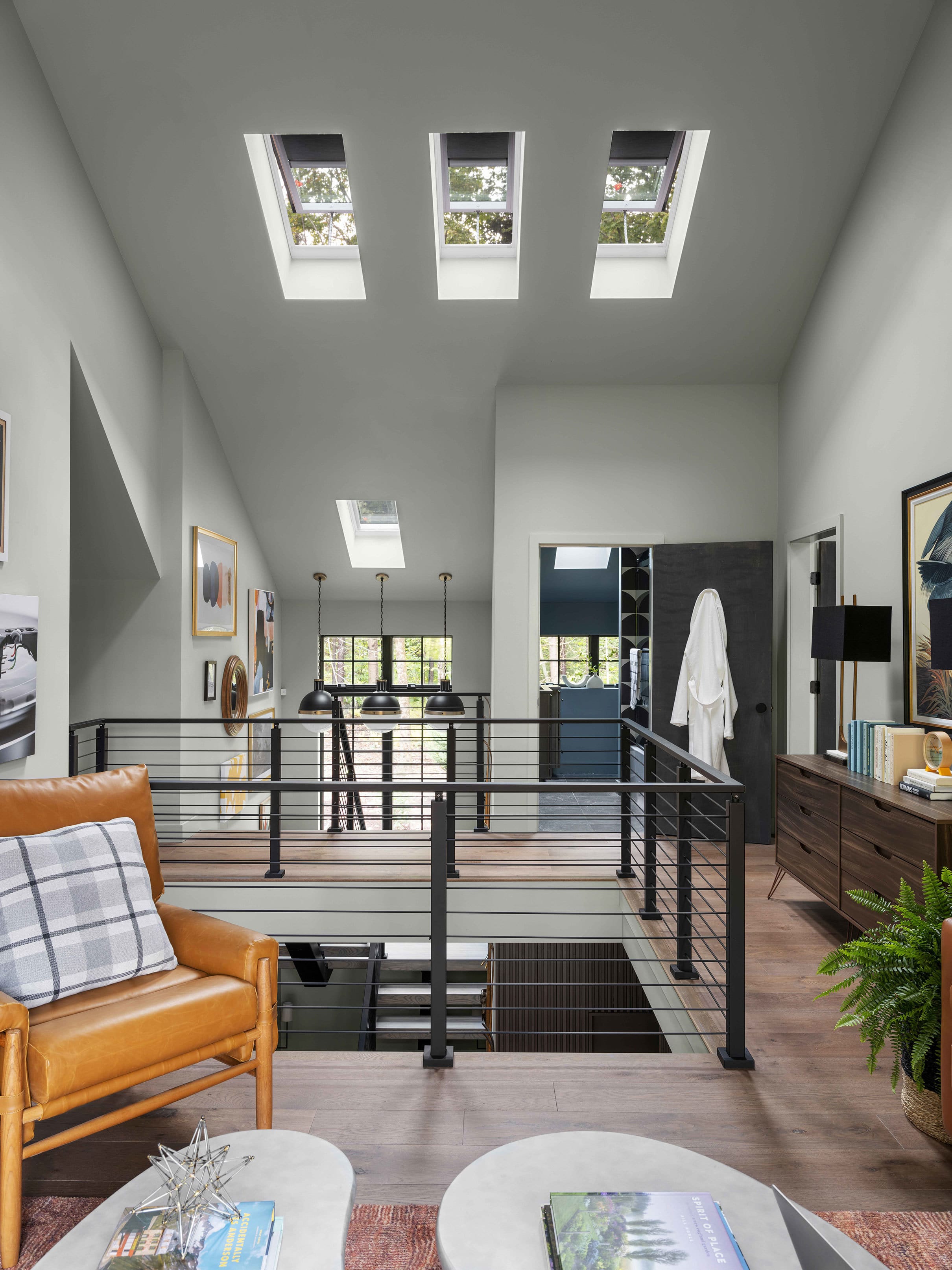 Remote-controlled skylight shades make it easy for those inside to moderate the sunlight, if needed. See how skylights can bring a touch of nature to your home by scheduling a virtual consultation with a VELUX daylight designer today!
Stone and wood finishes evoke the landscape
The forested Vermont countryside is studded with granite outcroppings, so it makes sense to infuse stone and wood accents into the home. Exposed wood beams, wood floors and floating wood shelves are just a few examples of the interior's connection to its surroundings. Outside the ties grow closer with a tongue-and-groove ceiling highlighted by two skylights on the lower porch.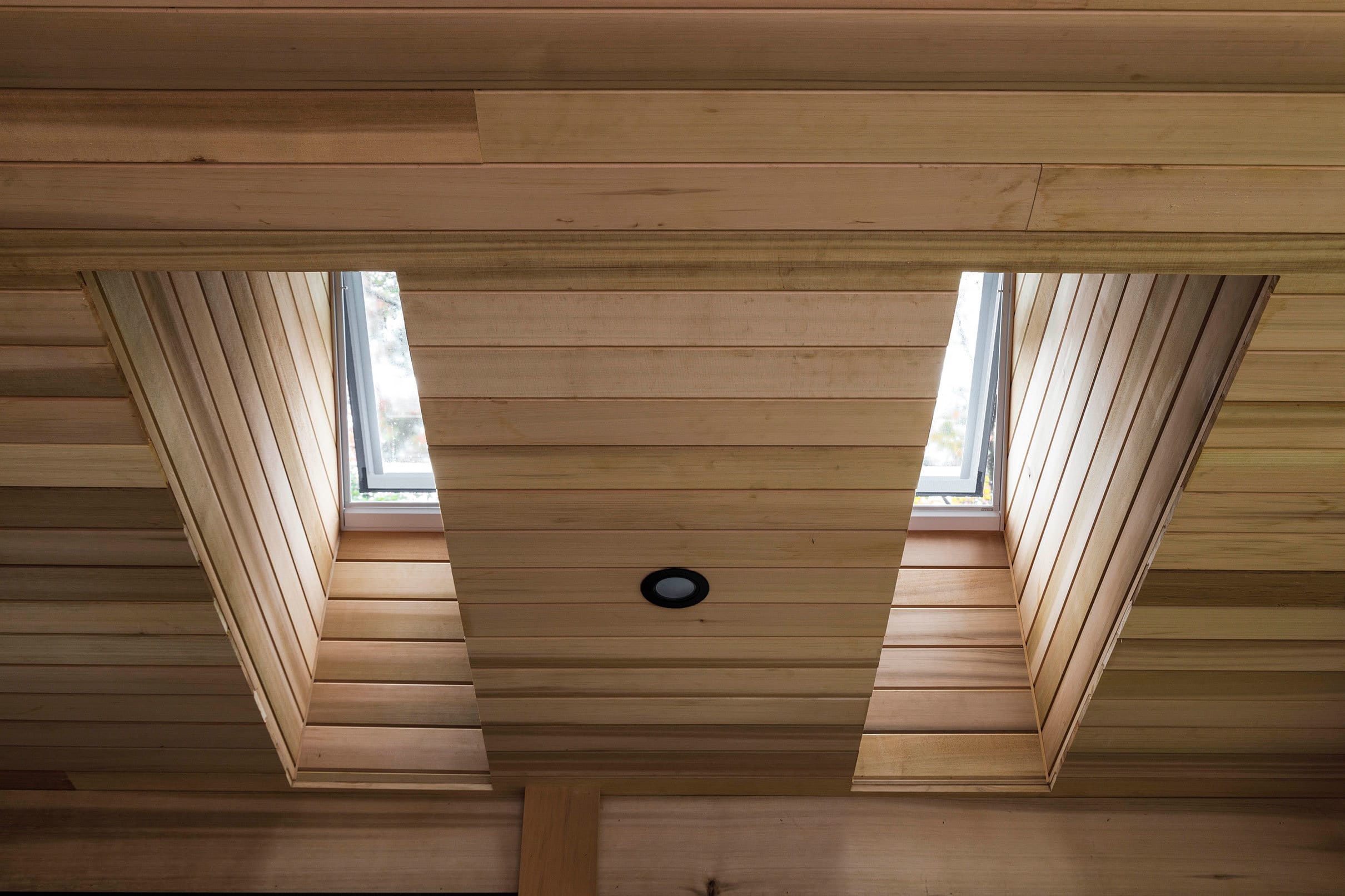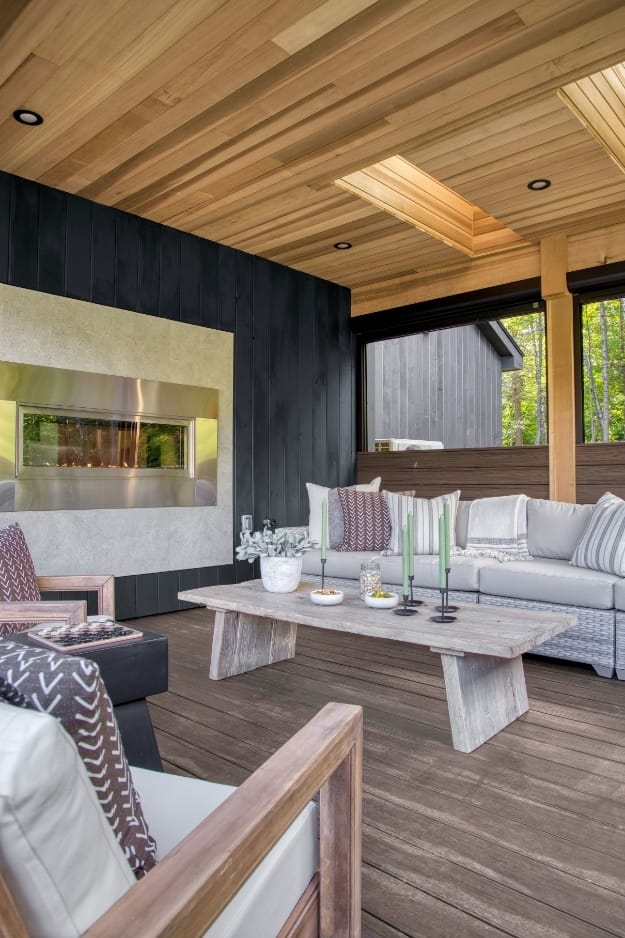 Even the home's black exterior gives it the appearance of a boulder emerging from the earth.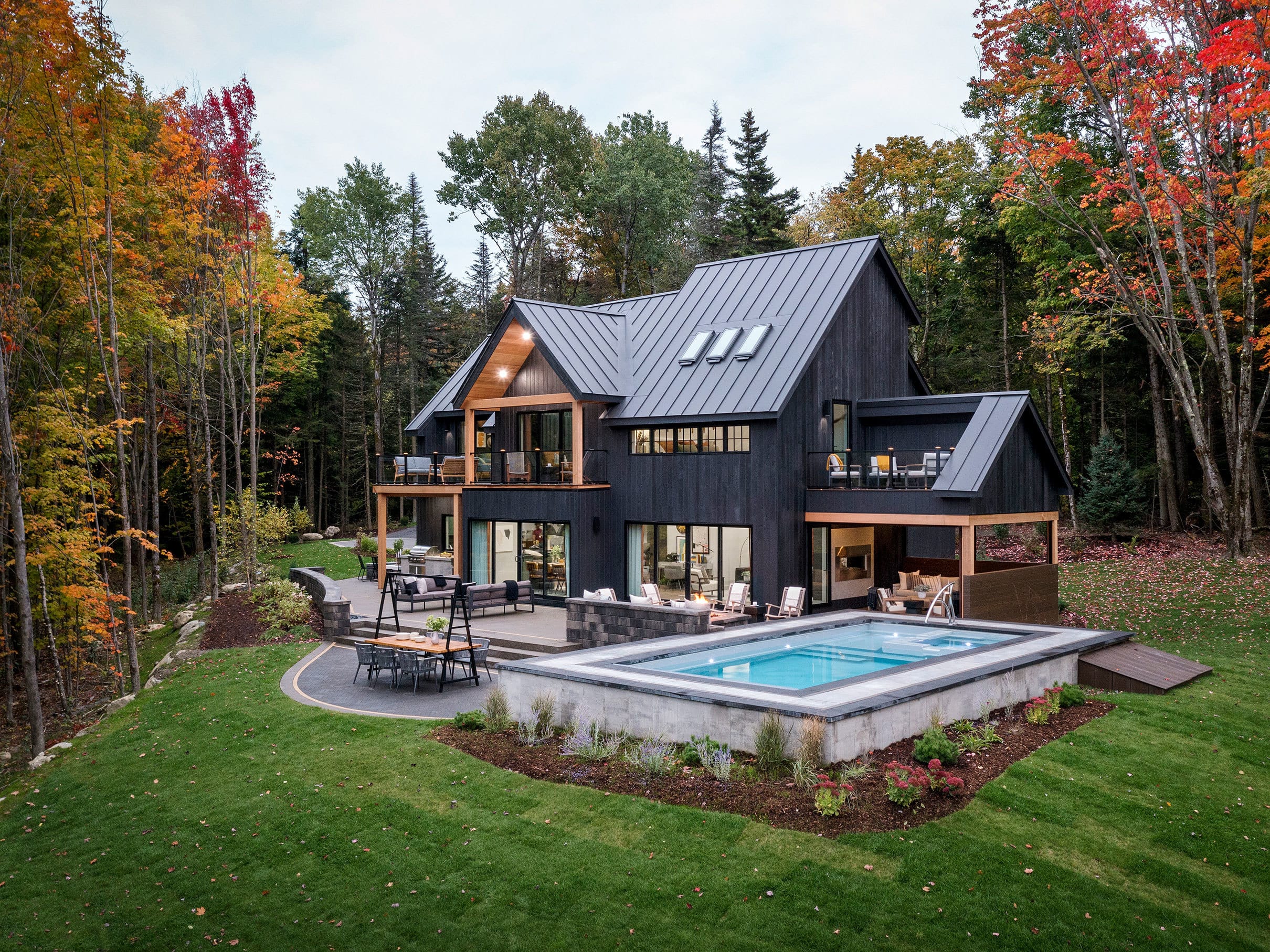 Ready to relax in this rustic retreat? Sign up for reminders to enter for a chance to win the HGTV® Dream Home 2022.
NO PURCHASE NECESSARY TO ENTER OR WIN. Open to legal residents of the 50 United States and D.C., including territories, possessions, and commonwealths, age 21 or older as of Promotion start date. Void where prohibited. Odds of winning depend on number of eligible entries received. Giveaway starts at 9:00 a.m. on December 28, 2021, and ends at 5:00 p.m. ET on February 17, 2022. For full Official Rules, prize disclosures, and to enter, visit https://www.hgtv.com/sweepstakes/hgtv-dream-home/sweepstakes or https://www.foodnetwork.com/sponsored/sweepstakes/hgtv-dream-home-sweepstakes. Sponsored by Discovery Communications, LLC, 230 Park Avenue South, New York, New York 10003.
HGTV, HGTV Dream Home, HGTV Dream Home Giveaway and their associated logos are trademarks of Discovery or its subsidiaries and affiliates. All rights reserved. Photos © 2021 Discovery or its subsidiaries and affiliates. All rights reserved.