Color has long been a powerful design tool. So much so that, every autumn, leading paint brands release top trending home decor colors for the upcoming year. Color forecasters tap into cultural, societal and digital media trends to select colors that tell the story of the moment in which we're living.
Many of the color picks for 2022 take inspiration not from what's inside, but instead from what's outside our homes. Ranging from grey-greens and pale greens to vibrant yellow-greens and blue-greens, the top picks for 2022 brings to mind two words: nature reigns.
Nature-inspired design
True to its namesake, leaf green adds a seamless touch of nature to any space the color graces. And when mixed with smooth grey undertones, its organic warmth can create restorative balance.
Keeping pace with the latest trends, when Warren, Vermont, was announced as the location of the HGTV® Dream Home 2022, interior designer Brian Patrick Flynn turned to nature for inspiration. Informed by Vermont's picturesque mountain views, the main bathroom combines lush shades of green with elegant black and white finishes to create a calm, yet sophisticated, space. To create depth and contrast, the stone floor tiles give the space a "moody cabin" look.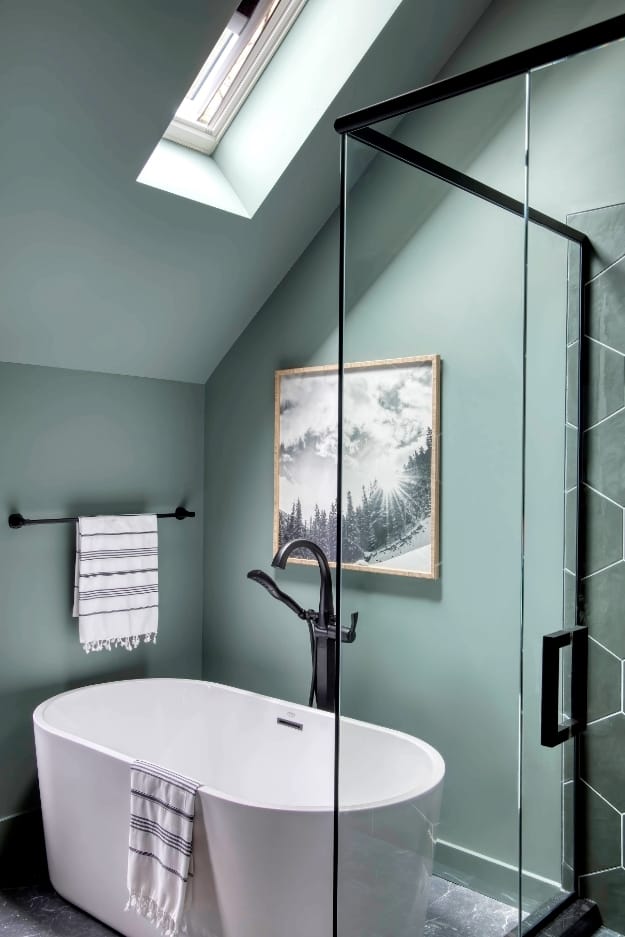 For a fresh look, Flynn pulled in warm earth tones throughout the bathroom including the accent table, vase and mirror hanging above the double vanity. In the shower and above the sink, these colors work in harmony with geometric patterns, which highlight the modern design details and personality that brims the space.
A design as scenic as The Green Mountain State, this guest bathroom pulls inspiration from the sky with a blue ceiling and walls. Shower tiles feature a stylized cloud pattern that brings the design to the next level with sharp visual interest.
Natural light from skylights helps colors appear true
Natural or artificial, light can drastically change the way a color appears. Because skylights bring in natural light from above, they balance the light in any room and reduce shadows created by angled light that comes in through windows.
With skylights and windows working together in the bathrooms, Flynn's bold use of blue and green on the ceiling, trim and walls appears vibrant and welcoming.
Dreaming of an evening soak in the main bathroom tub? Sign up for daily reminders to enter for a chance to win the home.
NO PURCHASE NECESSARY TO ENTER OR WIN. Open to legal residents of the 50 United States and D.C., including territories, possessions, and commonwealths, age 21 or older as of Promotion start date. Void where prohibited. Odds of winning depend on number of eligible entries received. Giveaway starts at 9:00 a.m. on December 28, 2021, and ends at 5:00 p.m. ET on February 17, 2022. For full Official Rules, prize disclosures, and to enter, visit https://www.hgtv.com/sweepstakes/hgtv-dream-home/sweepstakes or https://www.foodnetwork.com/sponsored/sweepstakes/hgtv-dream-home-sweepstakes. Sponsored by Discovery Communications, LLC, 230 Park Avenue South, New York, New York 10003.
HGTV, HGTV Dream Home, HGTV Dream Home Giveaway and their associated logos are trademarks of Discovery or its subsidiaries and affiliates. All rights reserved. Photos © 2021 Discovery or its subsidiaries and affiliates. All rights reserved.