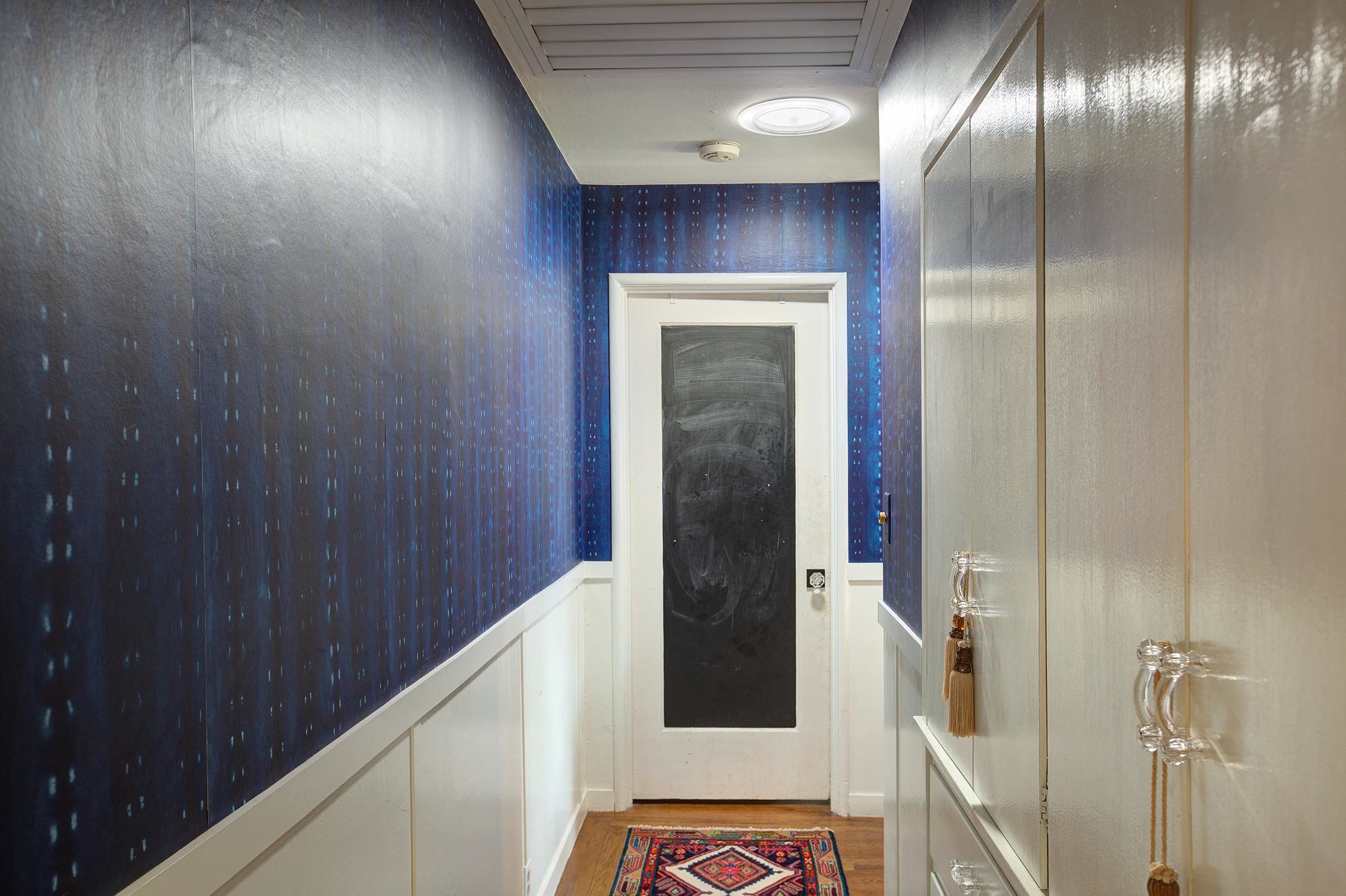 It's no surprise that there are areas in our homes that can easily fall victim to darkness from lack of natural light. Your hallways, bathrooms, and closets are spaces to get creative with the designs of our dreams while tying your entire home's style together. But, when these areas are dimly lit, your designs can go unrecognized.
How to lighten a dark, narrow hallway
Interior designer Shavonda Gardner has made the hallway of her small bungalow home a work-in-progress ever since she bought the home. She recognized that although hallways are utilitarian and generally serve only as a way to get from one room to another, they are the perfect opportunity to create a "visual moment" and dish out some serious interior design wow factor.
After two re-designs and three years living with the temporary fixes, Gardner decided it was finally time to loop around and give the space some real attention. To create a moody and luxe vibe, she redecorated the space with a deep blue shibori patterned wallpaper with accent design elements, including a vintage crystal chandelier, new hardware on the built-in cabinets, and a vintage runner. After all was said and done, Gardner still struggled to get her newly decorated hallway to shine due to a funky lighting situation. However, a light clicked in her designer brain when Gardner realized her hallway was a perfect candidate for a VELUX Sun Tunnel® Skylight.

Compare the hallway before and after adding the Sun Tunnel
In the photo below, the colorful wallpaper and intricately patterned rug blended into the narrow, dark the hallway was before the Sun Tunnel was installed.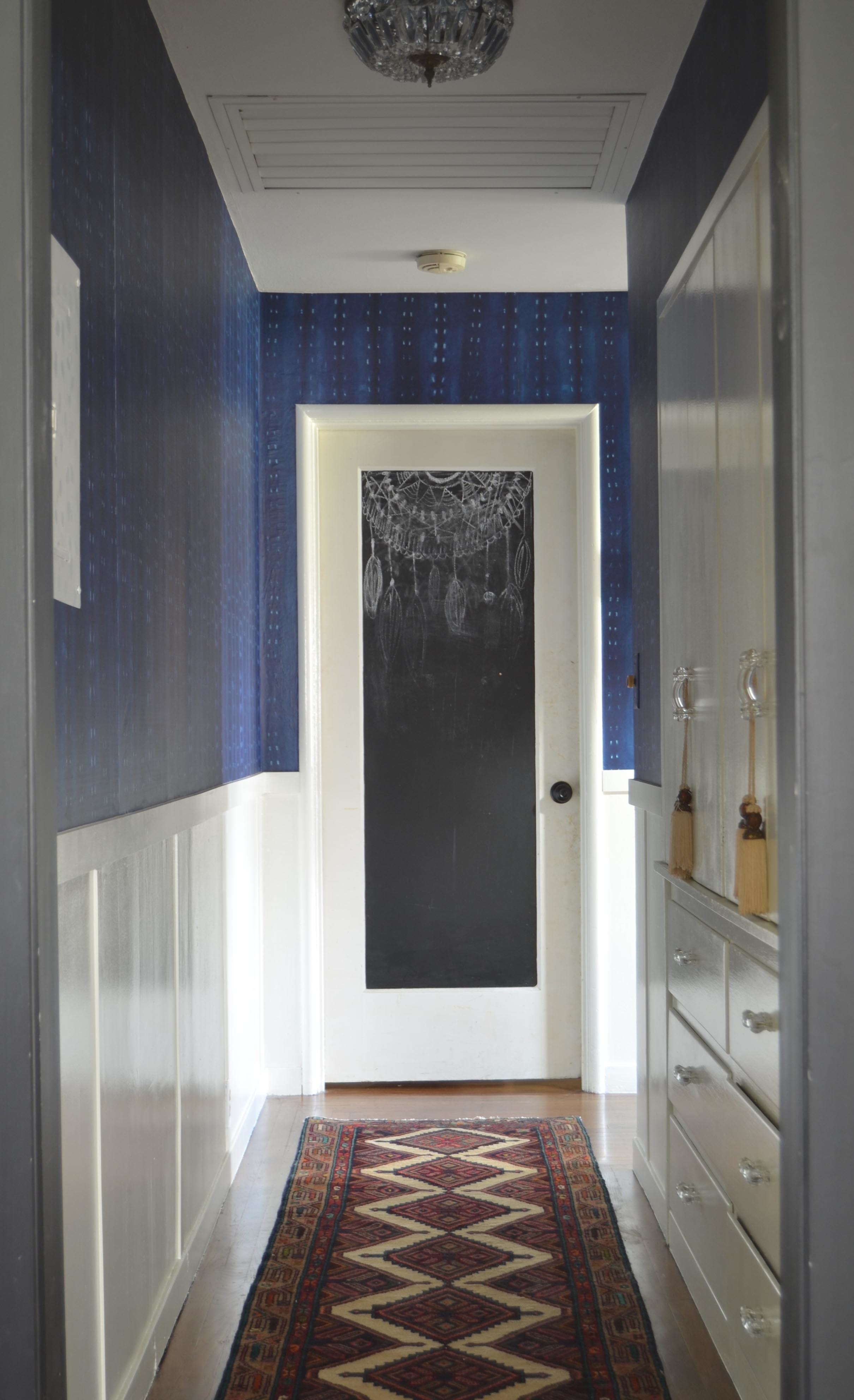 After the Sun Tunnel installation, Gardner's carefully planned hallway decor can be fully appreciated under clear, bright natural light.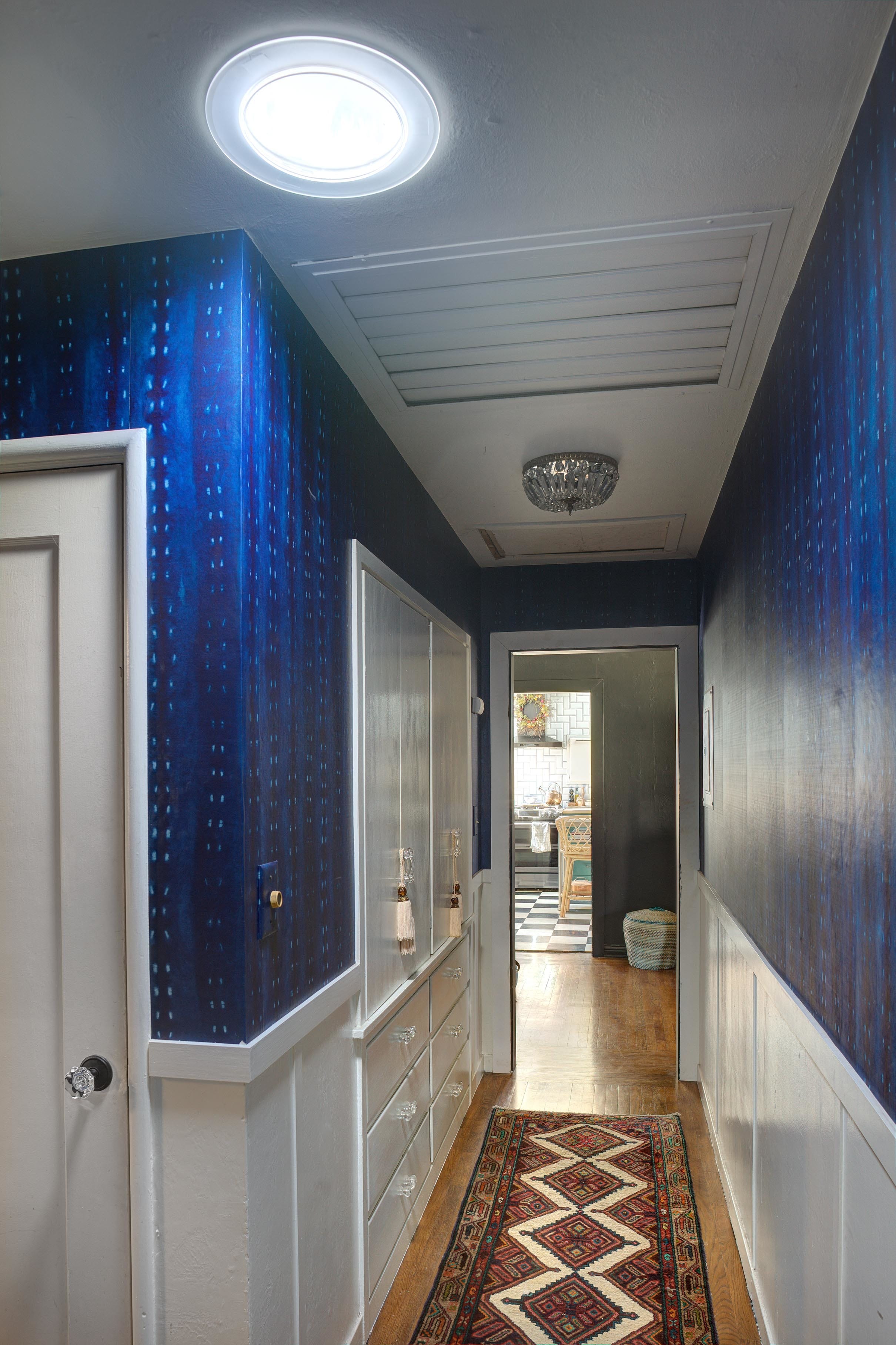 What is a Sun Tunnel Skylight?
Sun Tunnels are ideal for small spaces like hallways located in the middle of a home because they can be installed around obstructions, like roof rafters, HVAC units, and venting commonly found tucked away in the attic. That's because, unlike traditional skylights that are shaped like windows, Sun Tunnels consist of a lens mounted on the roof connected via a highly reflective aluminum tunnel running through the attic to a diffuser installed in the ceiling. The result is bright, natural light-filled spaces that normally lack any source of natural light.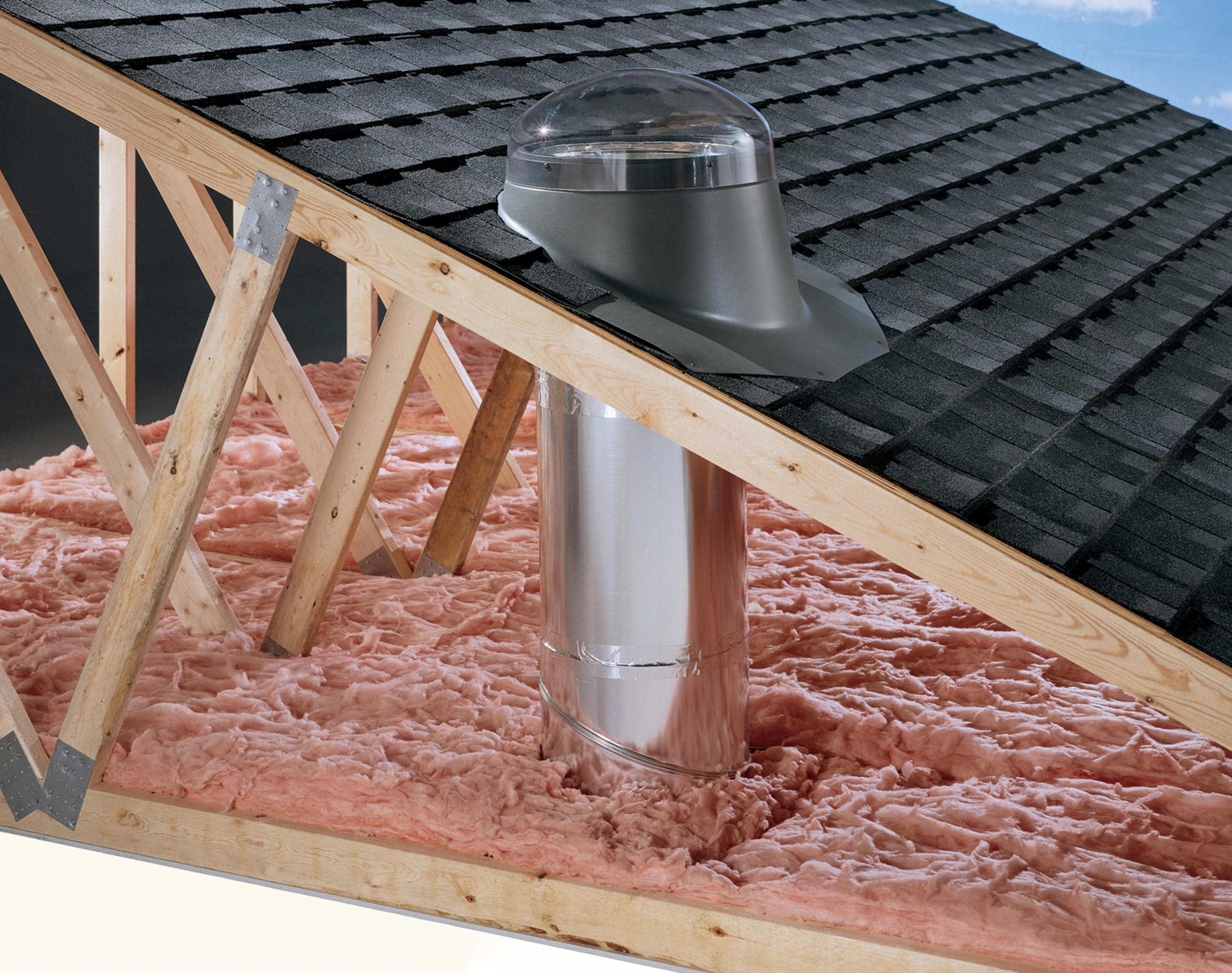 How much does it cost to install a Sun Tunnel skylight in a hallway?
Sun Tunnels are a cost-efficient way to add natural light to any room in your home. An experienced installer can complete the installation in about 90 minutes. Here is the cost breakdown for Gardner's hallway Sun Tunnel installation.
Sun Tunnel cost - A 10-inch Sun Tunnel with an acrylic dome cost $262
Installation cost - The labor to install the Sun Tunnel came in at $200

Installation costs will vary by location. Find a VELUX-certified installer near you to find out how quick and easy it is to install Sun Tunnels in your home.
Sun Tunnels can double as a night light

We all know the value of having a night light installed in a hallway or bathroom after bumping around in the wee hours of the night in search of a glass of water. VELUX Sun Tunnels can be equipped with a Solar Night Light, doing double duty by lighting the way at night. The Solar Night Light turns on automatically when the sun sets and emits a soft, moonlight glow, providing just enough light to groggily find the bathroom.
Sun Tunnels installed with the Solar Night Light are eligible for a 26% federal tax credit on product and installation through Dec. 31, 2022.
Months after installing her very own Sun Tunnel, Gardner explained on her blog, "I love that a VELUX Sun Tunnel™ Skylight is a cost-effective way to add bright, clear daylight to just about any space and they are especially good for smaller spaces, like hallways, closets, and pantries where you don't necessarily need a sky view."
Ready to start your hallway makeover? Find a Sun Tunnel installer in your area or schedule a virtual consultation to learn more about using Sun Tunnels in your home's darkest spaces. Check out some of our favorite Sun Tunnel transformations today!