When it comes to dreaming up your ultimate covered patio, the options seem endless: Screen it in or keep it open? Include climate control or let Mother Nature set the thermostat? Create a small space for quiet lounging or max out your square footage for entertaining?

As people spend more time inside – 90% of each day on average – many seek new connections to nature, which is proven to have mental and physical health benefits. Adding a covered patio is one way to bring more nature to your home.
Use the following design considerations as a roadmap for planning your new outdoor retreat.
Maximize views
You're creating an outdoor space, or at least a space oriented to the outdoors, so be sure to maximize the views from your covered patio. That means carefully considering where structural elements will go.
While deck railing height and spacing is specified by the International Residential Code, the size and configuration of your porch allow for some adjustments to placement of the framing. Larger, unobstructed spans require larger posts and beams. Taking this approach will help your porch feel more open.
So if you envision yourself spending fall afternoons gazing at the stunning yellow leaves of your backyard poplar tree, create a porch layout complete with furniture placement to see how the new structure will frame your view.
Or maybe you dream of stargazing from the protected confines of the porch? Consider adding skylights for a night view of the sky.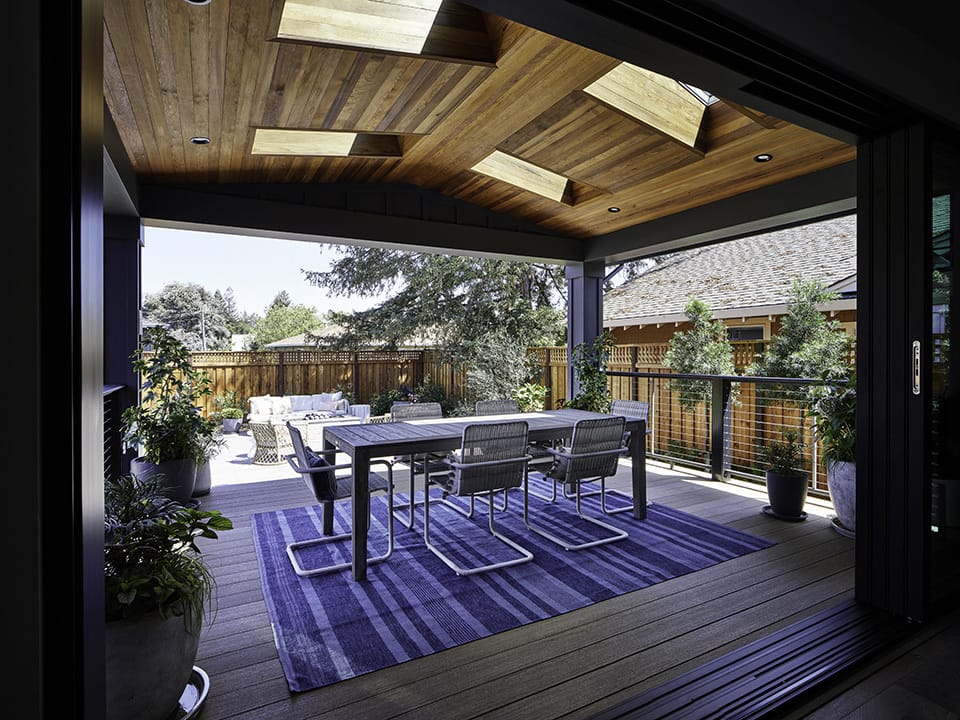 Borrow natural light

One consequence of adding a covered patio is that it blocks sunlight that would otherwise come inside your home through the windows. But there's a simple solution: add skylights in your patio roof.
Fixed skylights bring in natural light from above to the patio and some of that light spills into the adjacent interior room. Called borrowed light, it helps to compensate for the loss of natural light through windows. See how it's done in the photo below.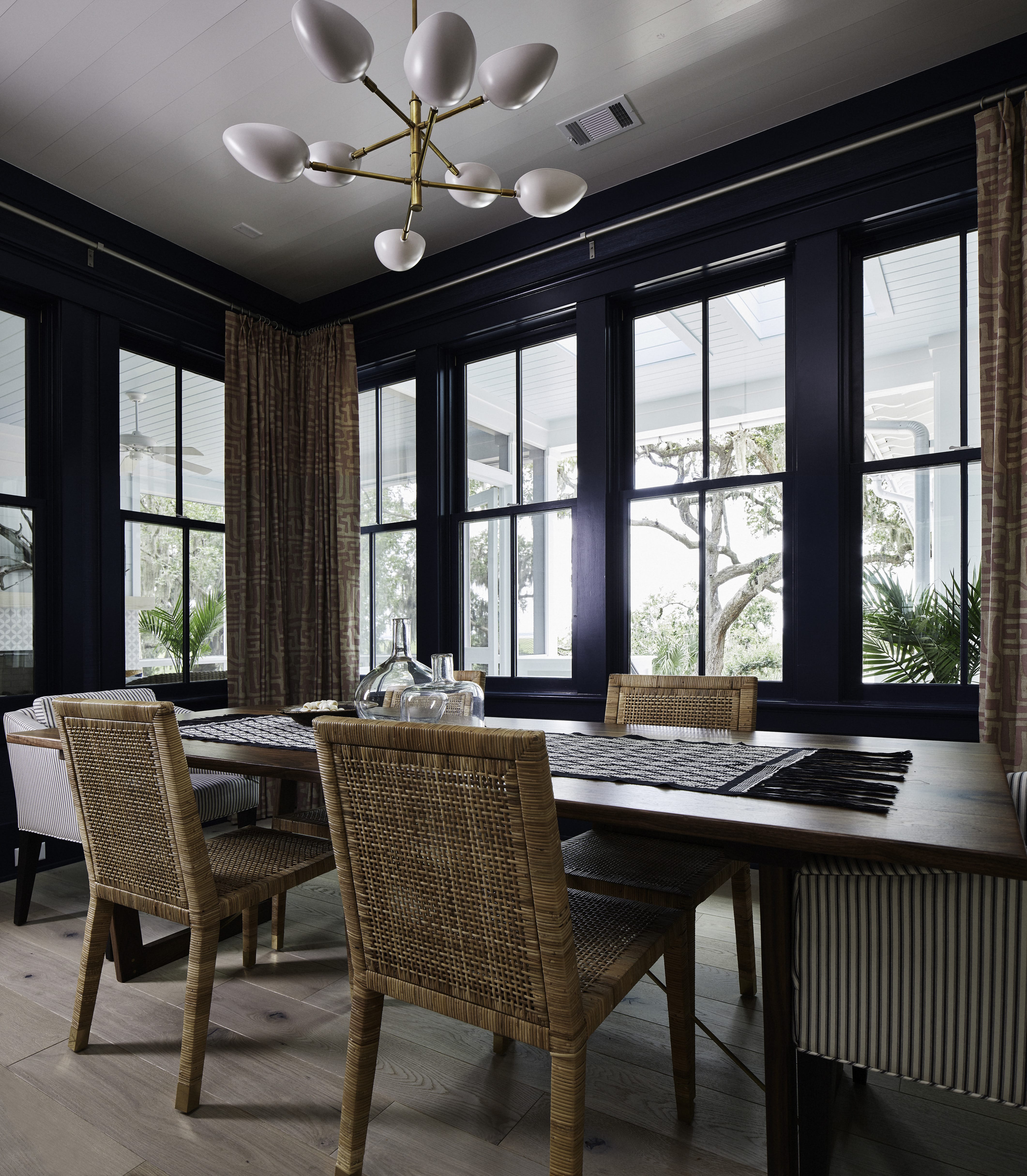 Natural materials

Create connections to the outdoors with natural materials. This covered porch has wood tongue-in-groove paneling on the ceiling, floor tiles that look like wood and a stone fireplace – all design elements that evoke the natural world.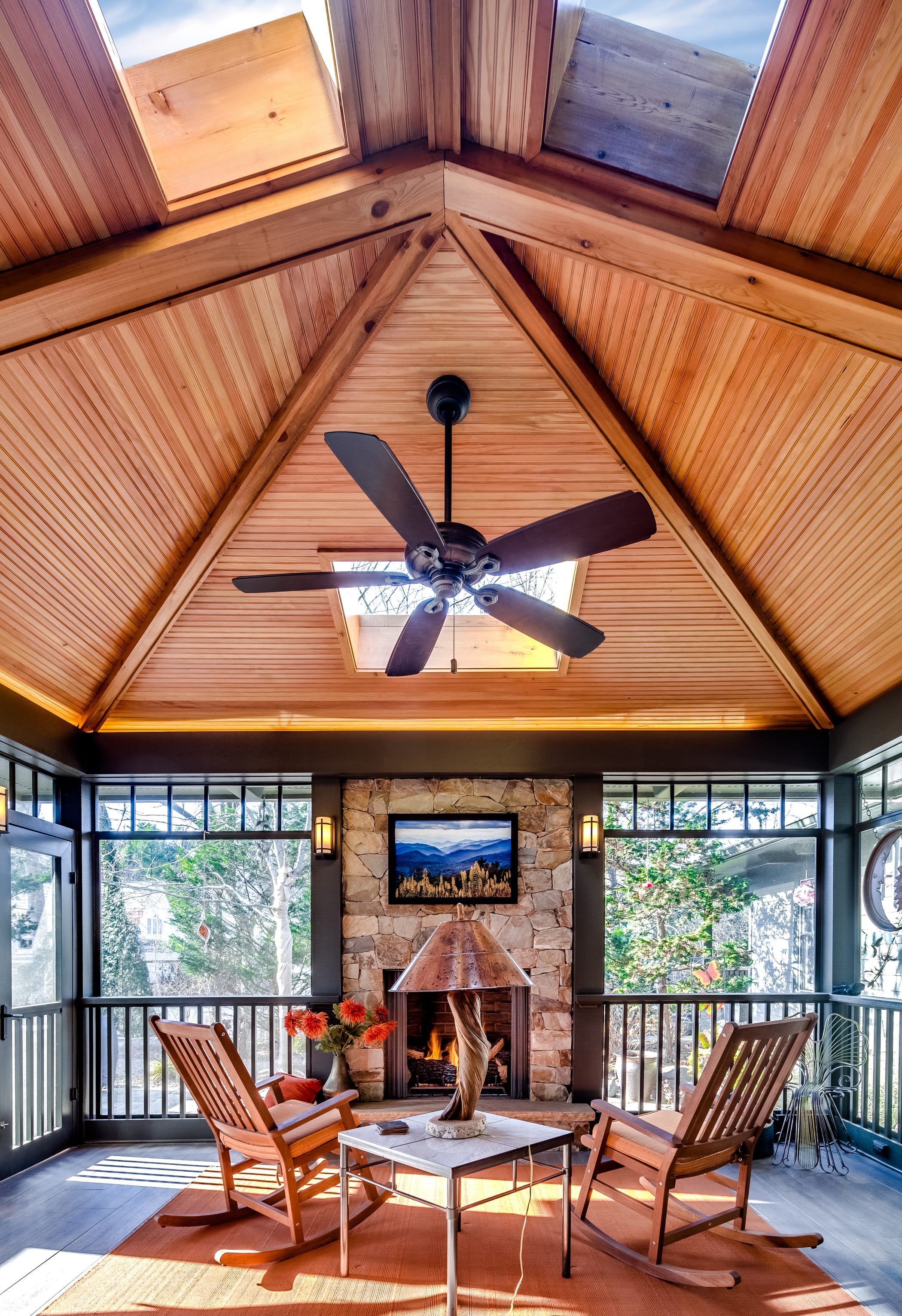 Consider woven wicker or wood furniture, stone side tables or copper lighting fixtures.

Furniture placement
A covered patio can be an extension of your home for entertaining with friends or a quiet retreat. No matter what your priorities are for the space, plan it out before you start building. Start with a sketch to help visualize the layout.
If outdoor dining is your vibe, you could center the space with a large table for friends and family to gather around.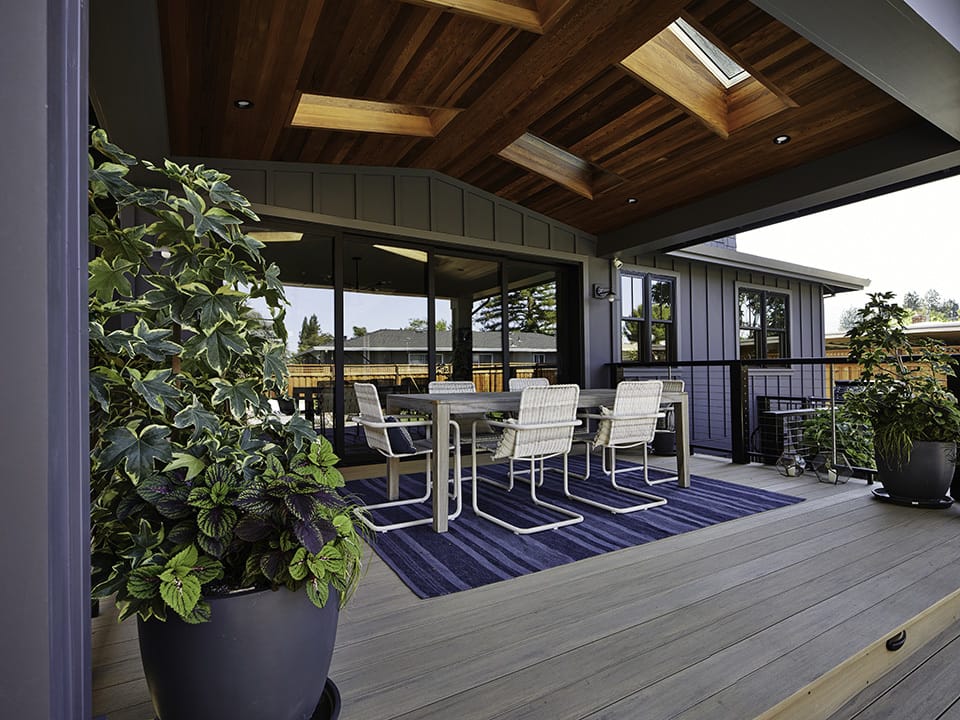 If you have room and the budget, consider creating separate areas on the porch: a space to eat a casual meal with a café table and a couple chairs, a reading area with rocking chairs and a hammock napping nook.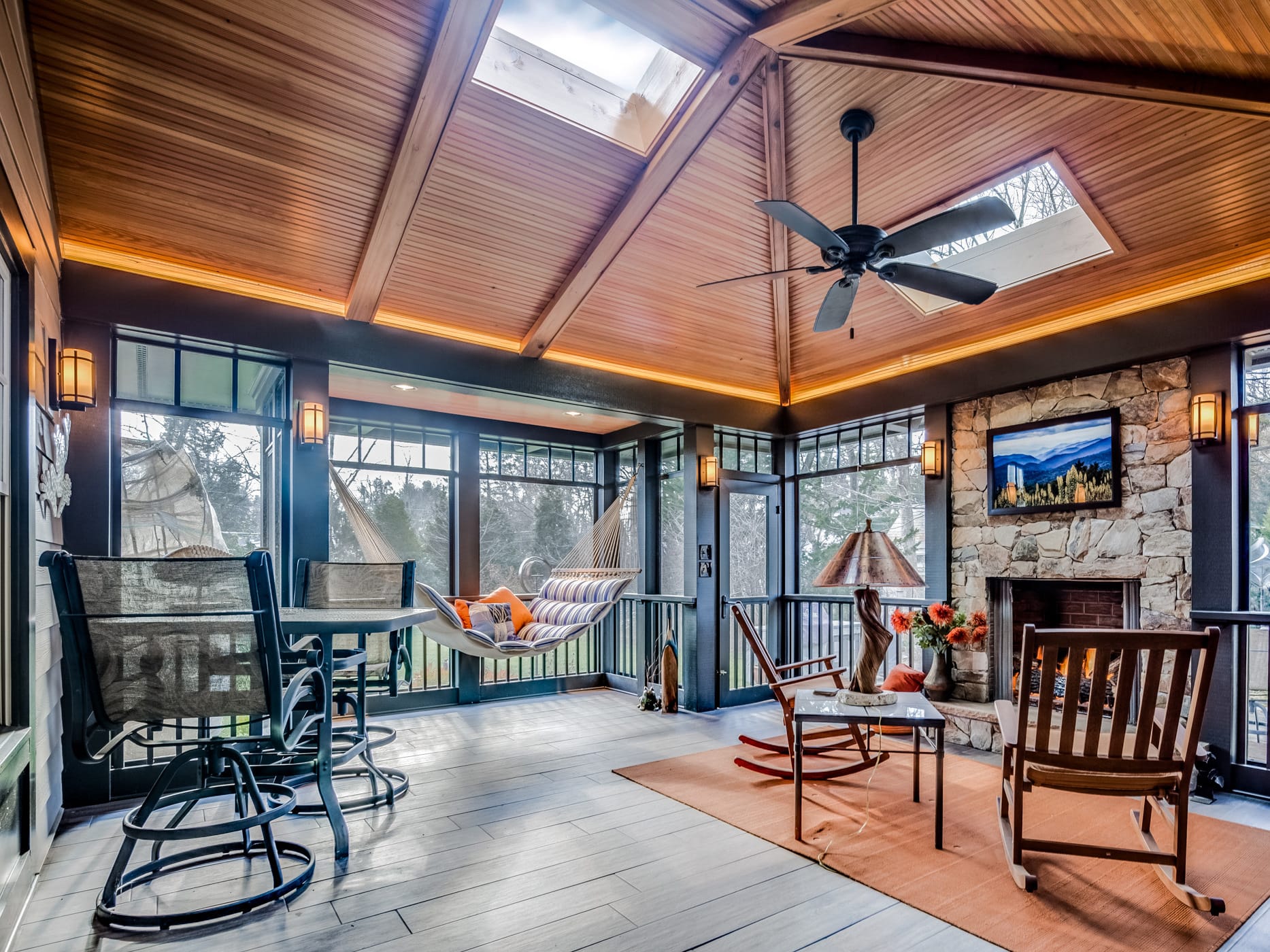 For porches with a fireplace as the focal point, arrange the furniture so all guests can enjoy the warmth on a cool night.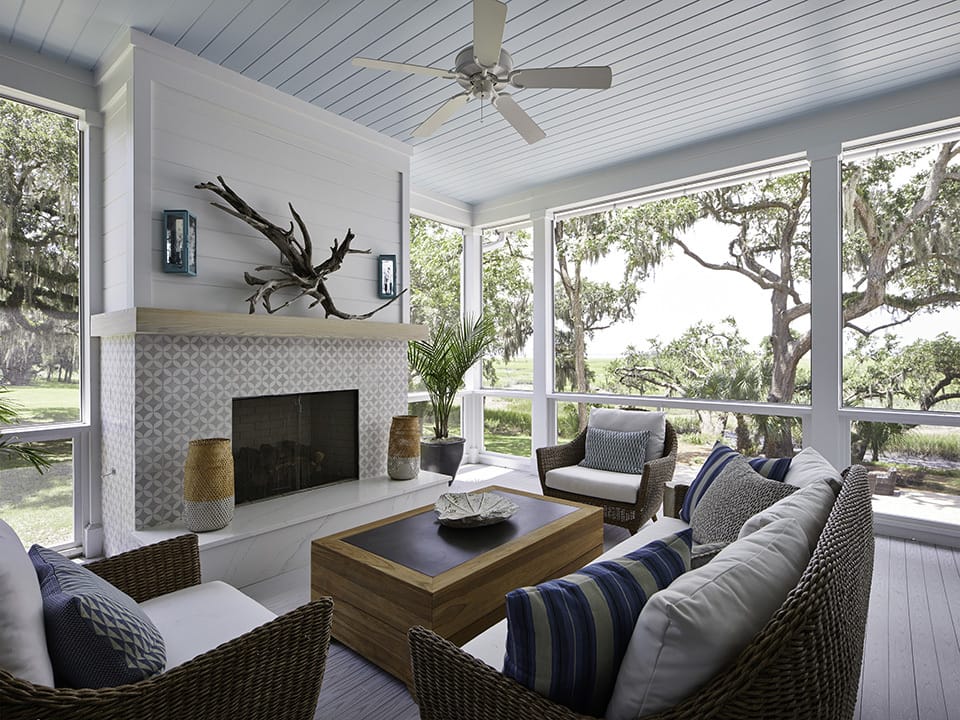 Regardless of the shape and style of your new covered patio, it will affect the amount of natural light that reaches the interior of your home. Find a skylight installer in your area to find out how skylights can help you borrow natural light from your brand new porch!