When working with a small kitchen, it can be tricky to find ways to make your space feel open while still maintaining functionality. Too much cabinetry can create a cluttered atmosphere, while a high-contrast color palette and lack of natural light can make your kitchen feel dark and cramped.
After facing similar challenges with her small kitchen, teacher and lifestyle influencer Abigail Elias, known as Boho Beach Teacher, embarked on a project to brighten and open up her space. With the help of a VELUX Sun Tunnel® Skylight, Elias's kitchen is now flooded with natural light all day — and feels more spacious.
Ready to brighten and open up your kitchen? Keep reading for four tips on how Elias did it and you can, too.
Paint it white
While colorful interiors are rising in popularity, choosing a classic white color palette is a smart option for any small space — especially a kitchen. Elias's small kitchen feels open thanks to a bright, white finish.
Incorporate a low-contrast color scheme
Similar to the paint color you choose, incorporating a low-contrast color scheme is key to making your small kitchen feel larger. A low-contrast color scheme imbues a cohesive look, while a high-contrast palette can make a small kitchen feel confining. Elias incorporated a white backsplash and cabinetry with light-colored marble countertops to create a bright, monochromatic aesthetic that gives the illusion of taller ceilings and wider counter space. She kept color accents to a few simple items: dark, hardwood flooring, a vintage runner and wall-mounted woven baskets.
Replace wooden cabinet doors with glass doors
Cabinetry in a small kitchen can feel clunky, even if painted white. Adding glass doors to your cabinets is a great alternative to wooden doors and creates the illusion of openness while adding depth. Additionally, glass cabinets are a great way to display tableware and glasses that can add a small pop of color.
Bring in more natural light with a Sun Tunnel
Adding natural light is the most essential element of making a small kitchen feel bright and open. Don't believe us? Take a look at Elias's kitchen before and after adding a Sun Tunnel.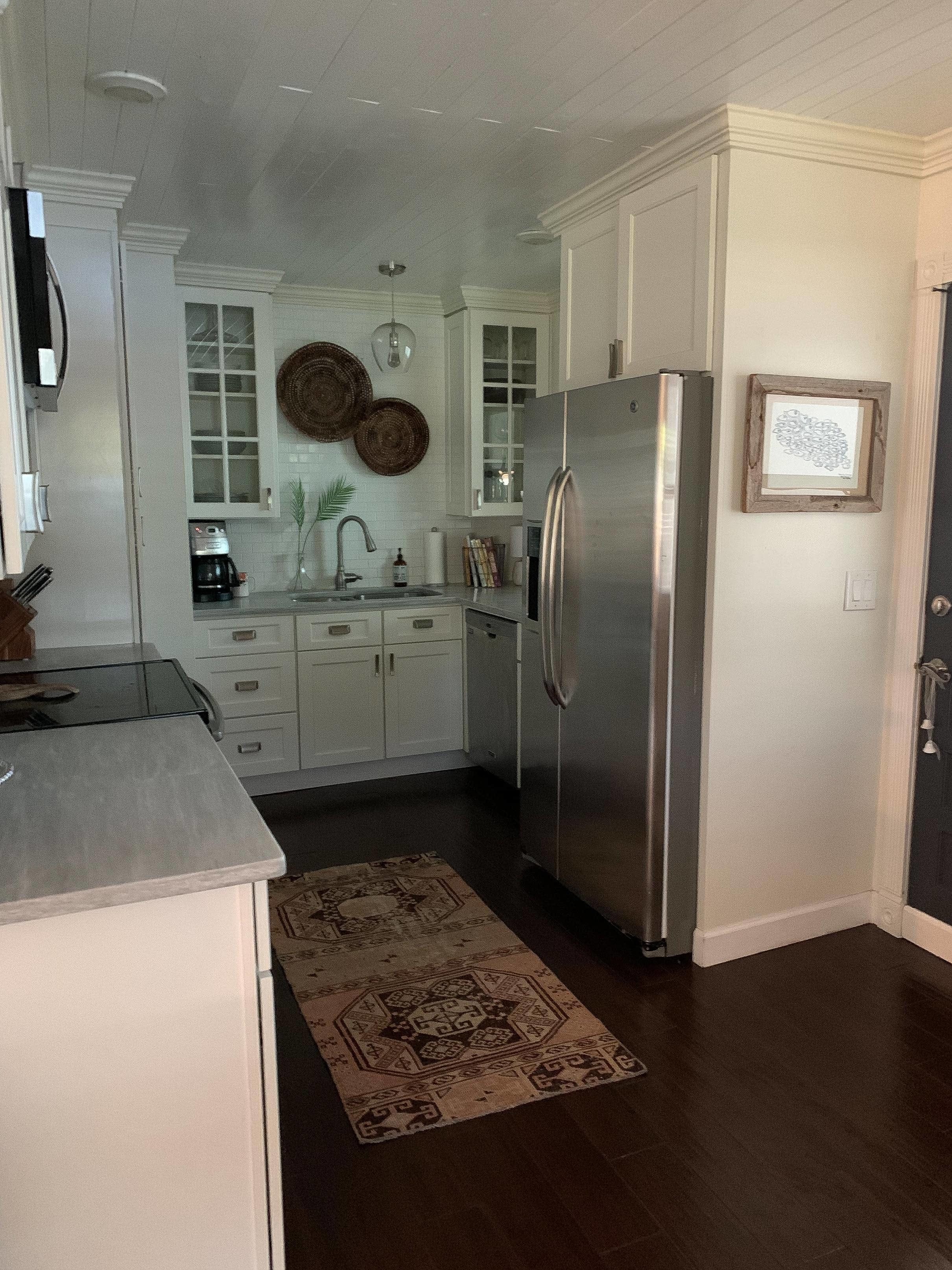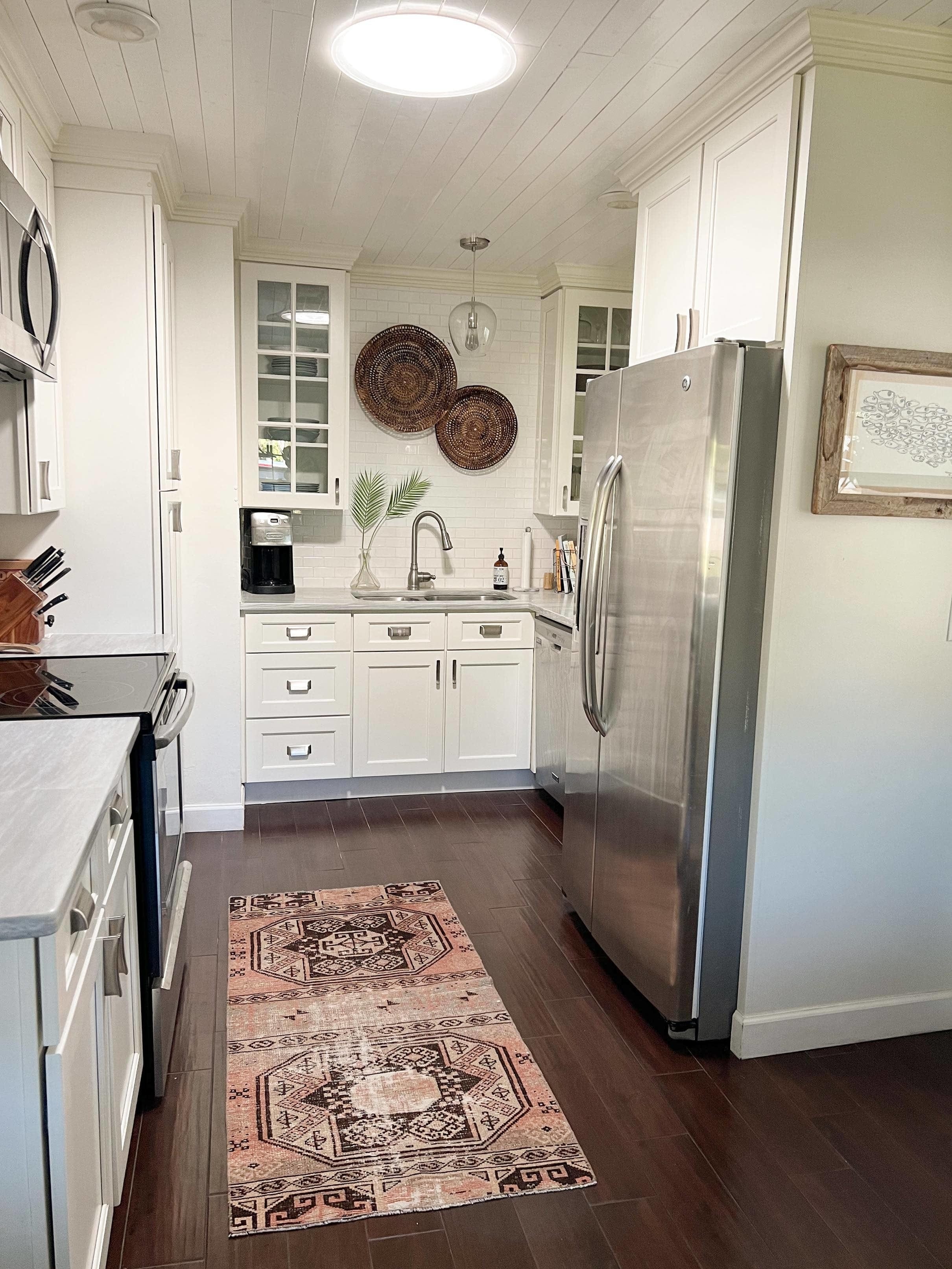 Sun Tunnels are the quickest and most cost-effective way to add natural light to the small spaces of your home. In fact, an experienced installer can install a Sun Tunnel in just 90 minutes. Interested to know what adding a Sun Tunnel to Elias's small kitchen cost? Here's the breakdown:
Product Cost: $367
Installation Labor Cost: $750
Total Project Cost: $1,117
A great alternative to major construction, this 14-inch Sun Tunnel was installed to bring more natural light into her formerly dark kitchen. After installation, Elias noticed an immediate difference in her space. The Sun Tunnel floods her kitchen with balanced, natural light and amplifies the light colors — creating a cheerful atmosphere ideal for cooking or gathering.
Feeling inspired after seeing Elias's small kitchen transformation? Schedule a virtual consultation with a member of our design team to guide you through decision-making.