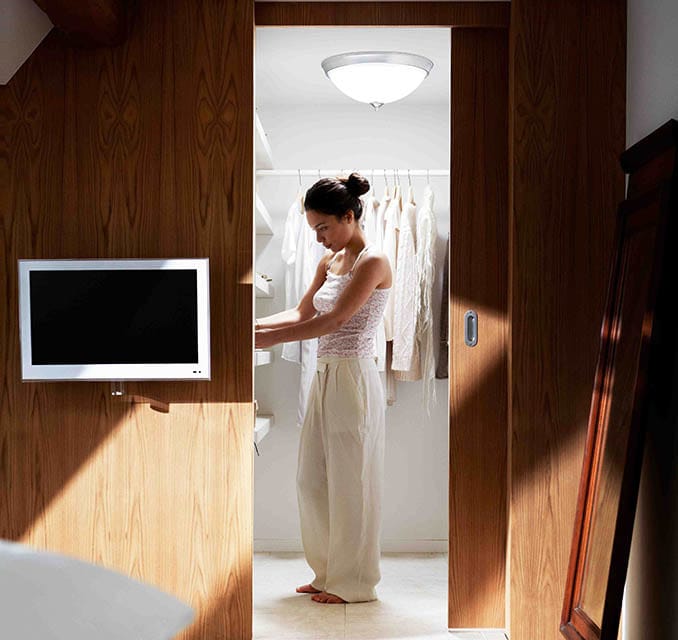 Small spaces tend to feel cluttered and chaotic quickly, and organization can become a daunting task. Floor space becomes the new shelf and you're left devoting your weekends to reorganization.
A disheveled closet or unruly pantry can be a drag on your mood. Here are some organization ideas that will help you maximize the functionality of these spaces and give you a sense of accomplishment.
Closets
The perfect ensemble can be a strategic, thought-out plan considering every detail. Or, it can come together naturally through inspiration and sporadic sparks of genius. Each process can bring together everything you need to walk out the door feeling confident. What happens when you realize you don't have space for one more pair of nude pumps? Or a cold front becomes an unwelcomed visitor and you're left hunting for your thick knit scarf?
You aren't the only one if you're wishing for more closet space. But, what if it's not the amount of space that you have, but how the items in that space are organized?
Your closet deserves a makeover and we're here to help:
Store out-of-season pieces: Use large canvas boxes to stow away neatly folded winter sweaters.
Start labeling: A label maker and dedicated places for certain items help create the ultimate closet organization.
Turn to shelf dividers: Keep items in their place with shelf dividers.
Hang clothes by category: Group clothing by category to make putting together outfits easier.
Take advantage of doors: Make the most of unused space with an over-the-door rack.
Eliminate clutter: Every couple of months donate rarely worn items to charity for more space.
Bring in natural light:  Help colors appear truer and eliminate dark corners with natural light from VELUX SUN TUNNEL skylights.
Organizing a once cluttered space can leave you feeling refreshed and energized. Natural light will only enhance your feeling of accomplishment. Who says your closet has to be a drab storage catchall?
Pantries
The pantry is an often overlooked, but integral space in a kitchen. If you're often running from work to soccer practice with time to grab a quick snack in between, you know the value of a well-organized pantry.
Pantries are versatile and can be home to anything from cereal and spices to Tupperware® and the stand mixer. This hodge-podge of shapes and sizes can make it difficult to find a place for everything from your trip to the grocery store.
Don't fret, we've got some tricks to playing pantry Tetris: 
Try sliding shelves: Sliding shelves allow you to reach all your items while maximizing precious space.
Hang pocket organizers: Over-the-door pocket organizers are great for small items, like boxes of tea or packets of sweetener that accumulate.
Use baskets: Available in various shapes and sizes, baskets can help contain everything from bags to beverages.
Gather cans: Investing in a can rack will make your pantry much tidier. By storing cans on their sides, you can easily grab what you need while the next-in-line can rolls to the front.
Bring the light in: Add a small fixed skylight for larger butler pantries or a SUN TUNNEL skylight for smaller versions. Finding the right ingredients – and saving on your electric bill – will be easier with natural light streaming in from above. 
Organizing your pantry and closets will help you be able to focus on your important day-to-day concerns. And adding natural light from above not only brightens your mood, it boosts the functionality of these spaces.