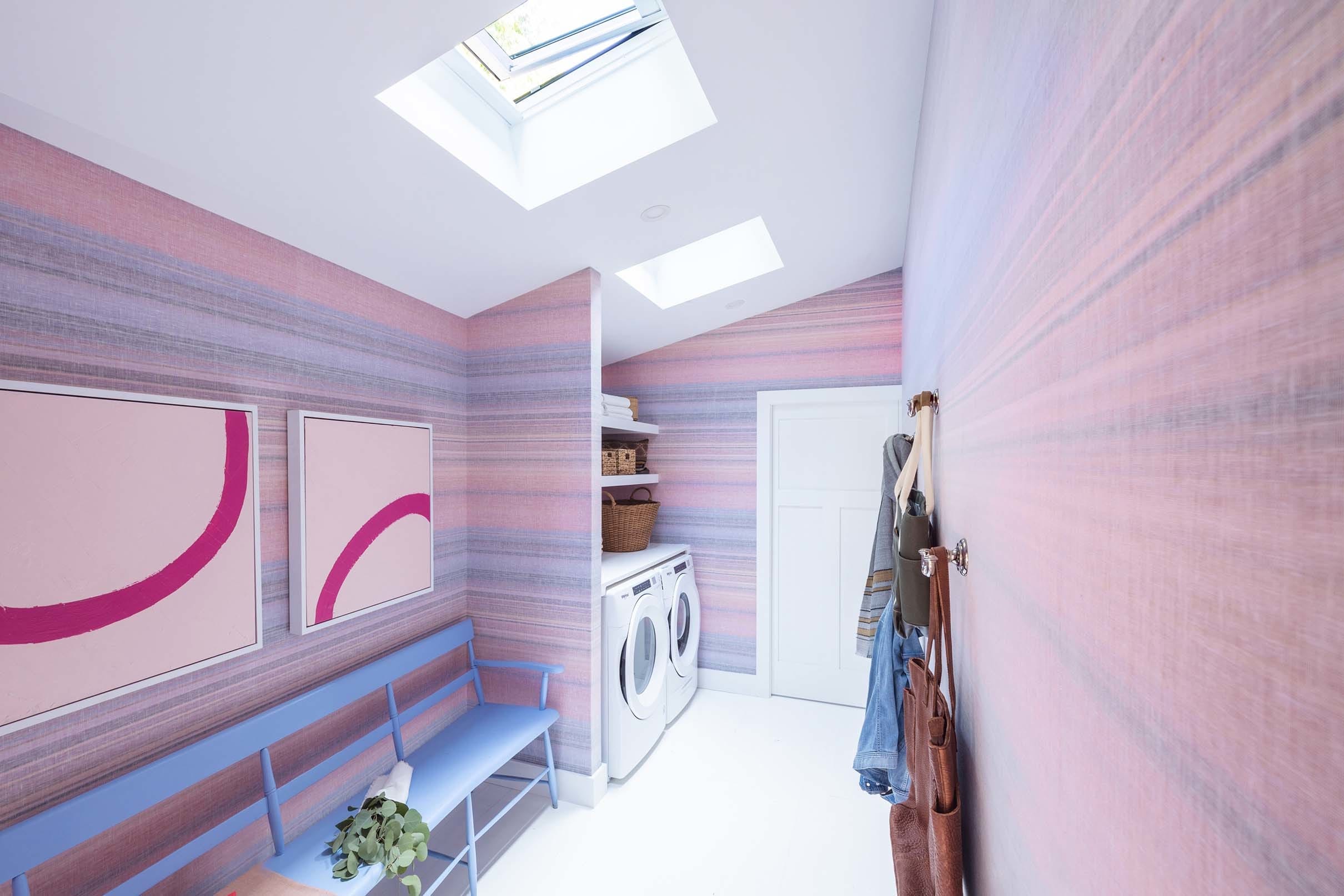 After a year where many people worked from home, some interior designers have predicted that decorating with bold, vibrant and saturated colors will make a comeback in 2021. Whether it's an accent color on a single wall, ceiling or door or it's a bold, immersive use of color on all four walls and ceiling, color helps to redefine spaces.
Pump up the energy in a room with a vibrant color or create a low-key mood with a saturated hue; either way, you'll have a whole new experience. But when it comes to using bold or jewel tone colors, don't forget natural light from skylights to reveal the color in its truest form. Because it shines in from above, natural light from skylights is bright and even, illuminating further into the middle of the room.
Interior designer Tiffany Brooks has led the way when it comes to bold color choices and her designs in the HGTV® Smart Home 2021 are no different. Check out her guest bedroom color scheme that will bring a smile to your face, and then keep scrolling for nine more bold interior design color moves.
Sunrise inspired
This muted yellow draws inspiration from early mornings and sunflowers. Natural light from the skylights reinforces the happy vibe. Skylight blinds darken the room for optimal sleeping.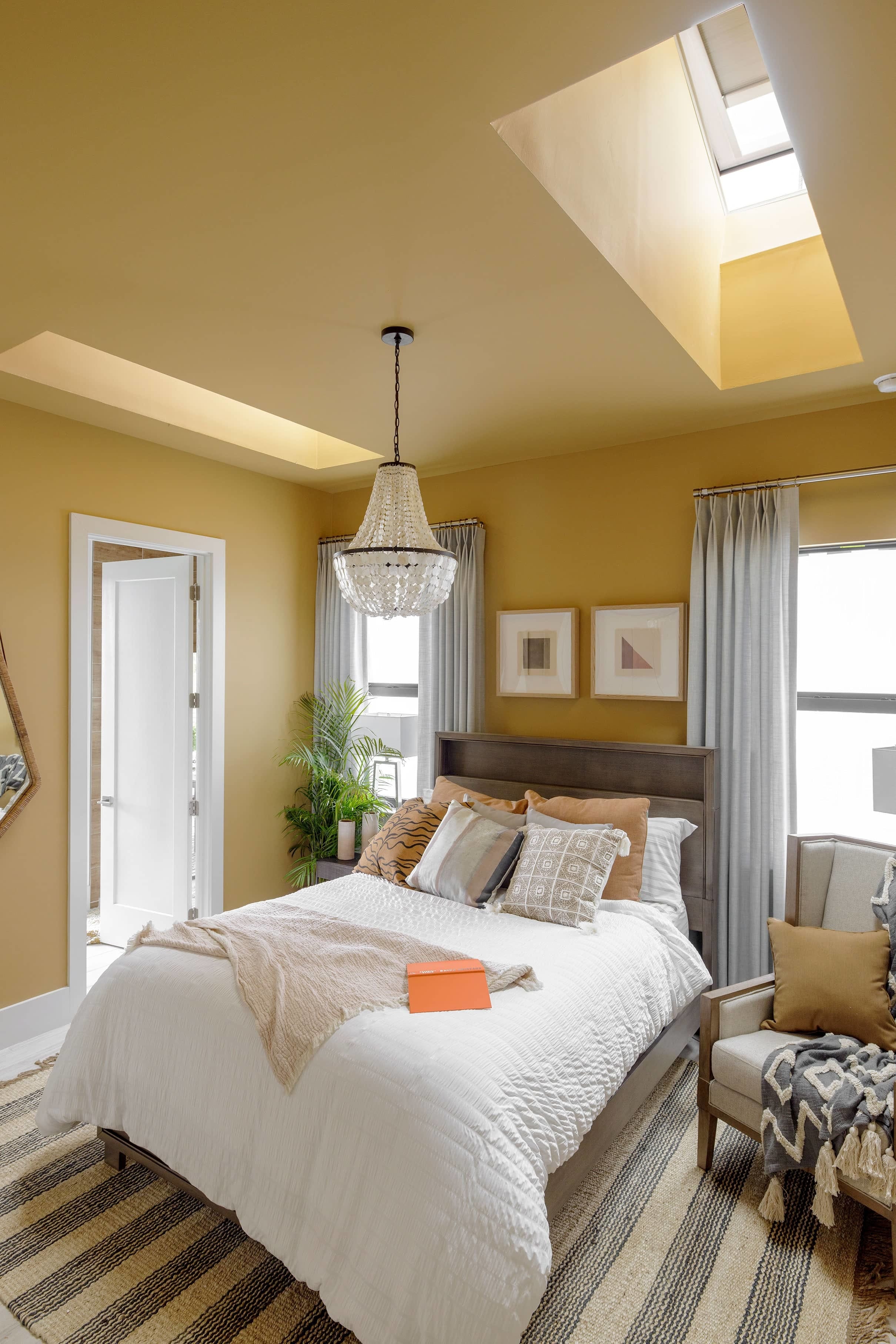 Bold small spaces
Interior designer Brian Patrick Flynn creates a fun, energized closet with deep pink on the walls and ceiling in the HGTV® Urban Oasis 2019. A Sun Tunnel® Skylight makes sure this bold color doesn't get lost in the dark.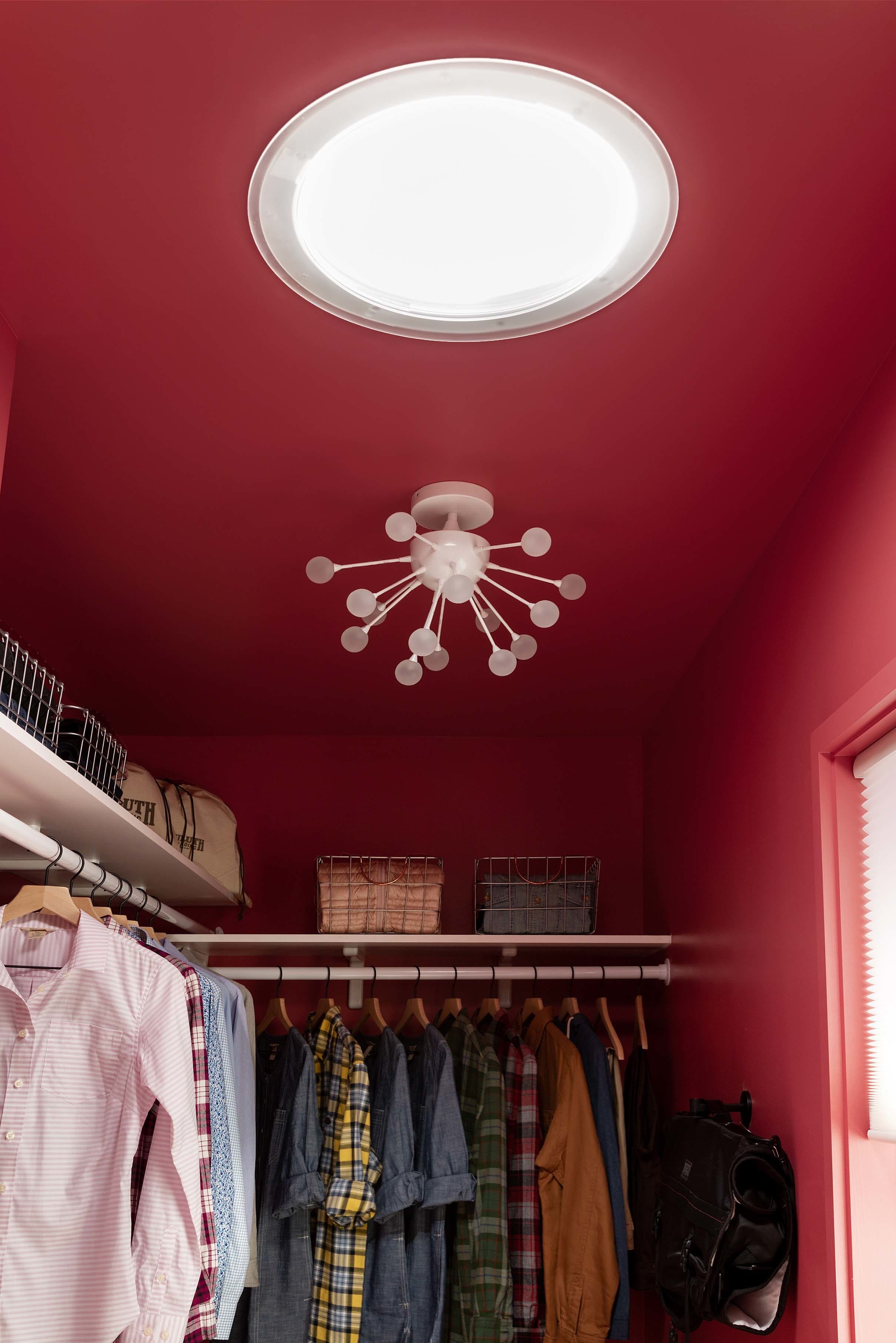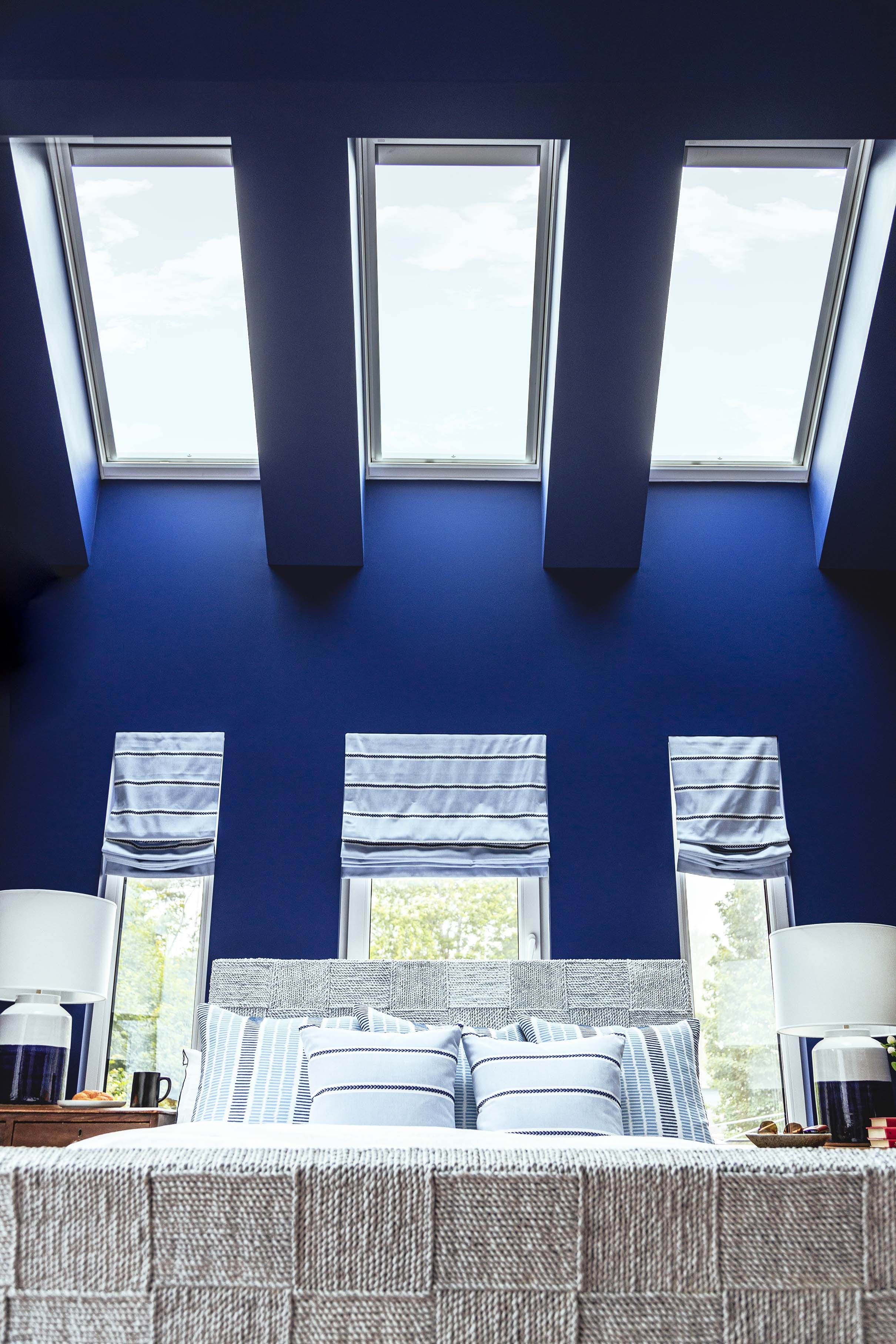 Unexpected color combination
Not ready to commit to painting the full room, including the ceiling, a single color? Try a unique color combination on a smaller scale, as in the kitchen below. If you think blue and black can't be used together, think again. Skylights brighten the kitchen so both colors stand on their own.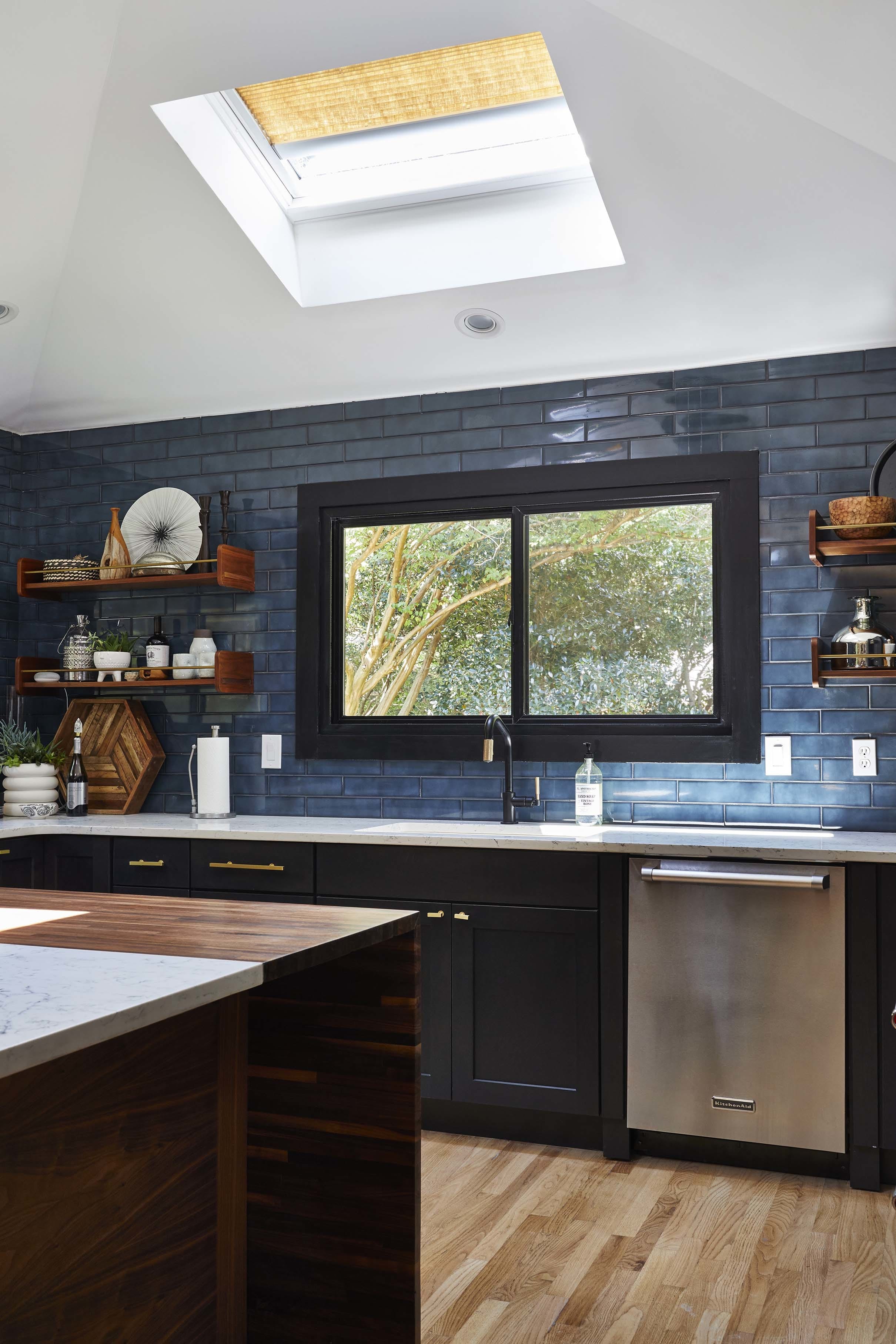 Leafy green inspiration
If you're a plant lover, look to all of the glorious shades of green (and sometimes pink, purple and maroon) their foliage comes in to inspire your next paint color. This living room by Justina Blakeney layers plenty of plants over a green-blue wall color with contrasting pops of orange, pink and brown. Natural light from a single skylight harmonizes the colors.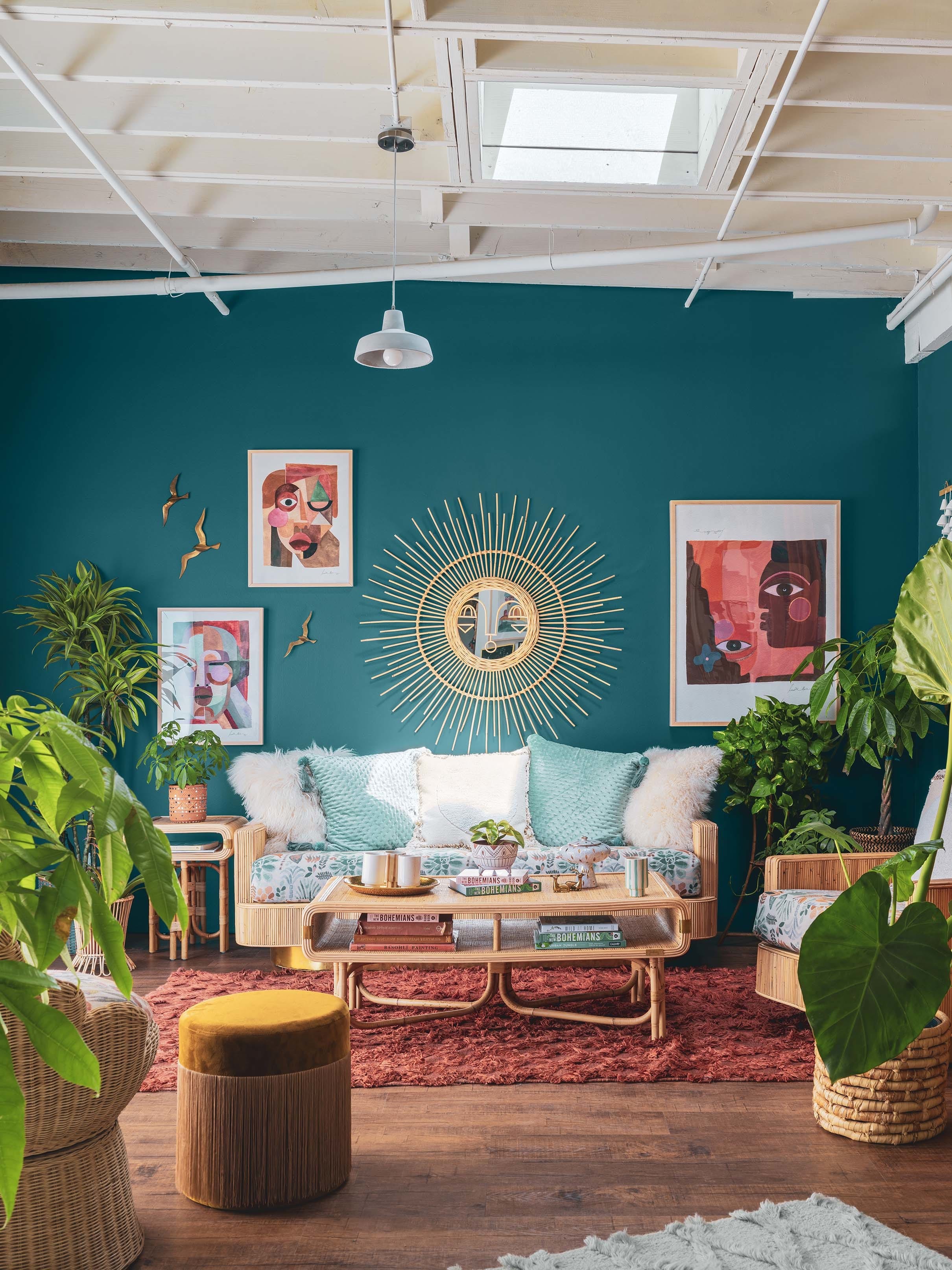 Stark contrasts
The aqua wall stands in stark contrast to the white ceiling, floor and walls in this design studio by A Kailo Chic Life. Sunlight from a skylight multiplies the energy the juxtaposed colors create. White, light-filtering skylight blinds enable her to control the light while still keeping the space well-lit.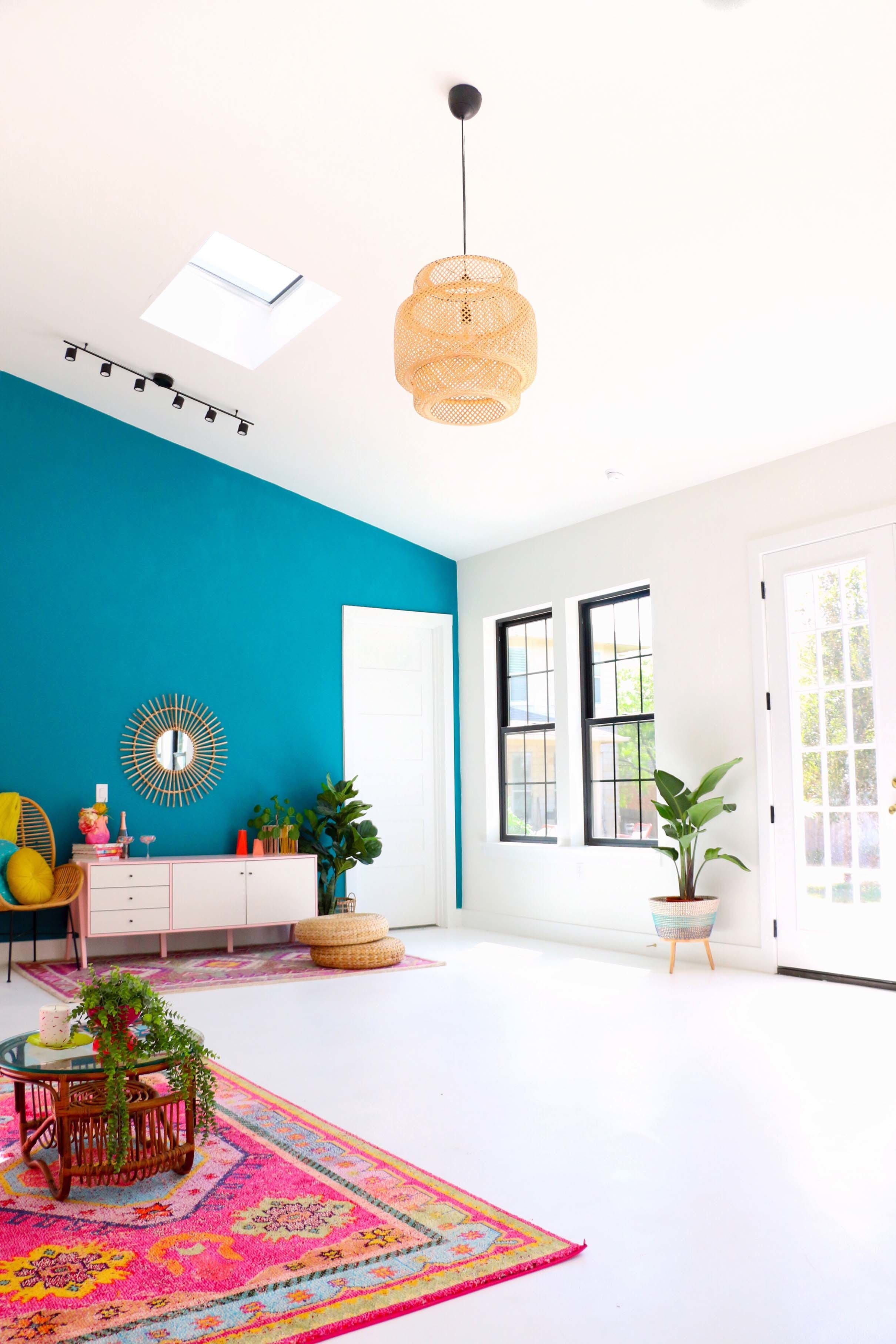 Color tells a story
In this children's bathroom designed by Kelly Mindell of Studio DIY, the royal blue tile evokes memories of bath time, while providing a counterpoint to the orange decor elements. Sun Tunnel® Skylights, consisting of a lens mounted on the roof connected via a reflective aluminum tunnel to a ceiling diffuser, fill this fun space with plenty of natural light.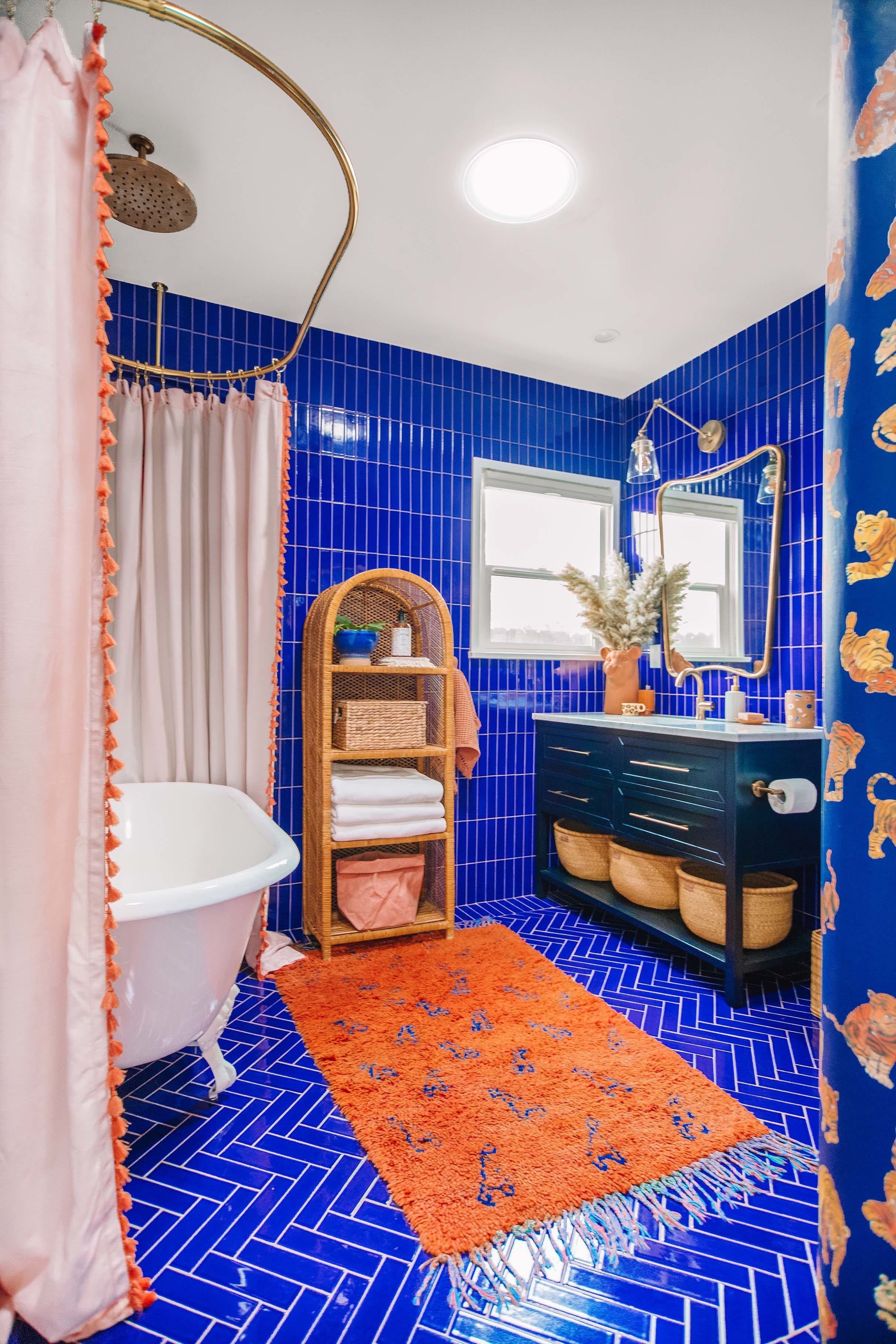 Sunset inspired wallpaper
Wallpaper is making a serious comeback and that opens up all kinds of opportunities to add color. In the HGTV® Urban Oasis 2020, interior designer Brian Patrick Flynn again drew inspiration from Portsmouth, Maine, with mudroom wallpaper reminiscent of early sunrise over the ocean. Graduated pinks and purples are highlighted with sunlight from two VELUX Solar Powered "Fresh Air" Skylights. The skylight blinds color, burned orange, helps to tell the sunset story, while also filtering the light when needed.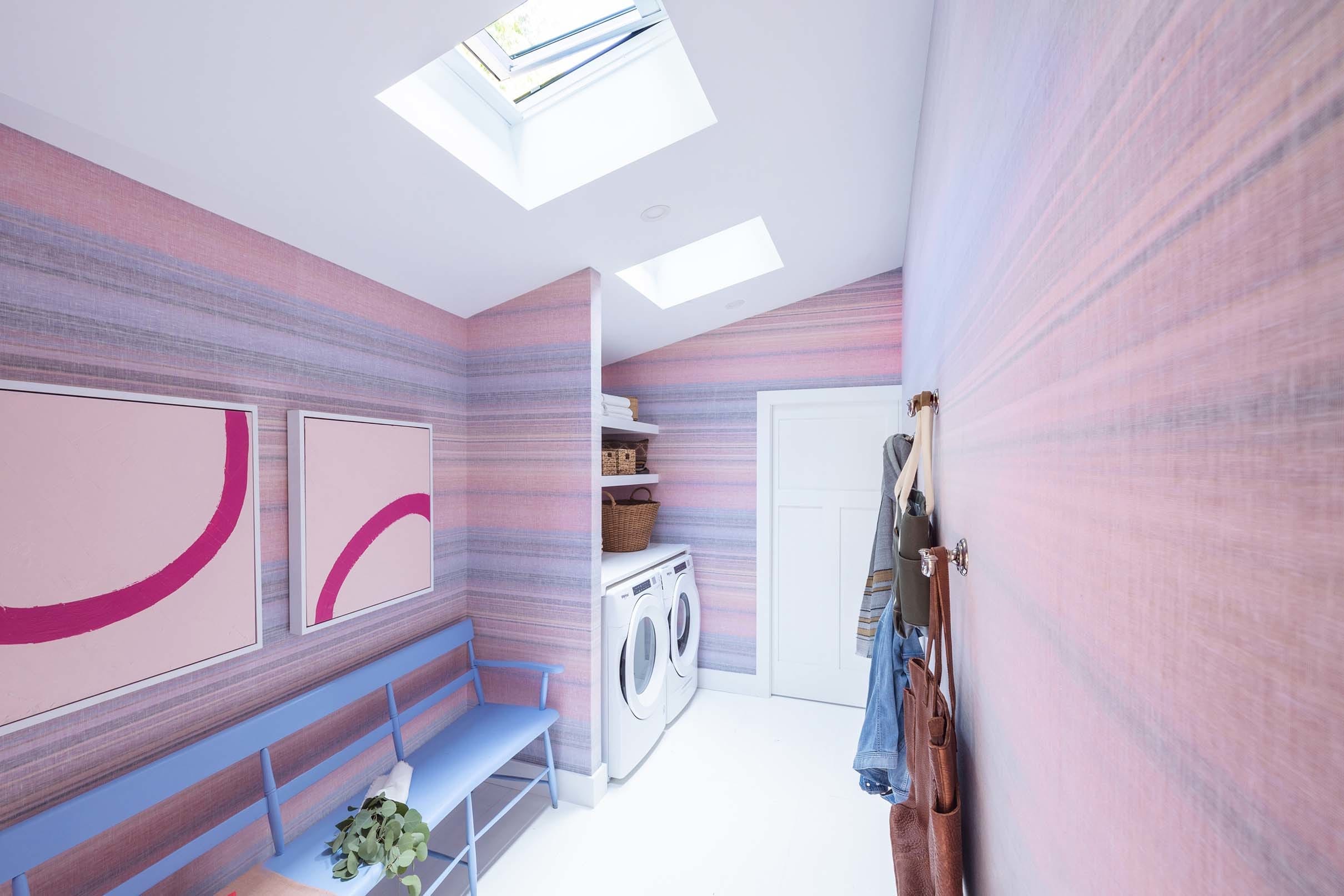 Small pop of color
Looking to take small steps into using bold color in your home? Consider an accent wall, but make sure you have plenty of natural light to make it pop like in the living room below.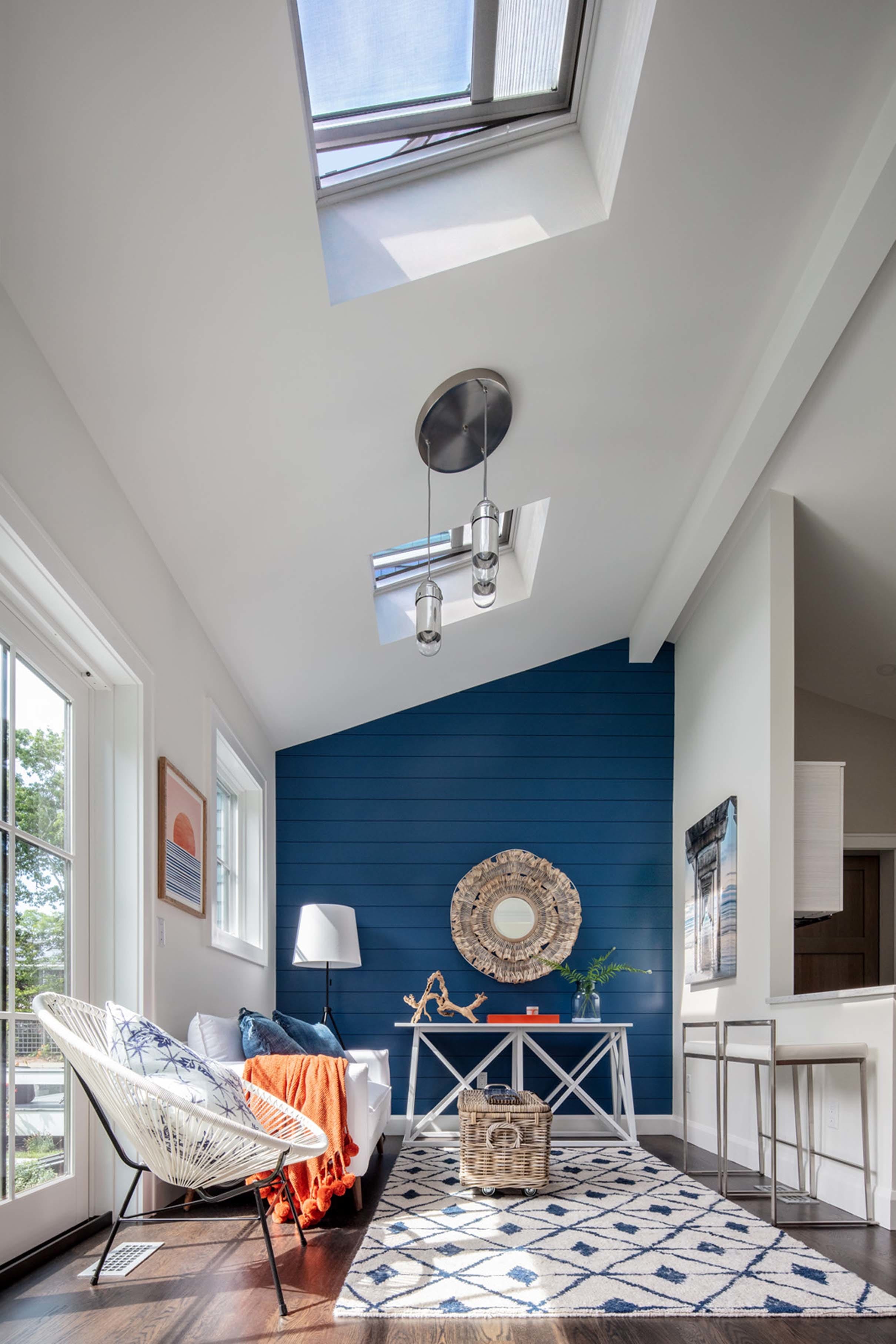 Colorful doors and cabinets
Leaving your walls and ceiling white, while adding smaller color splashes on doors or cabinets is another fun way to energize a space. This kitchen's bright yellow sliding door is sure to lift the spirits even before the first cup of morning coffee.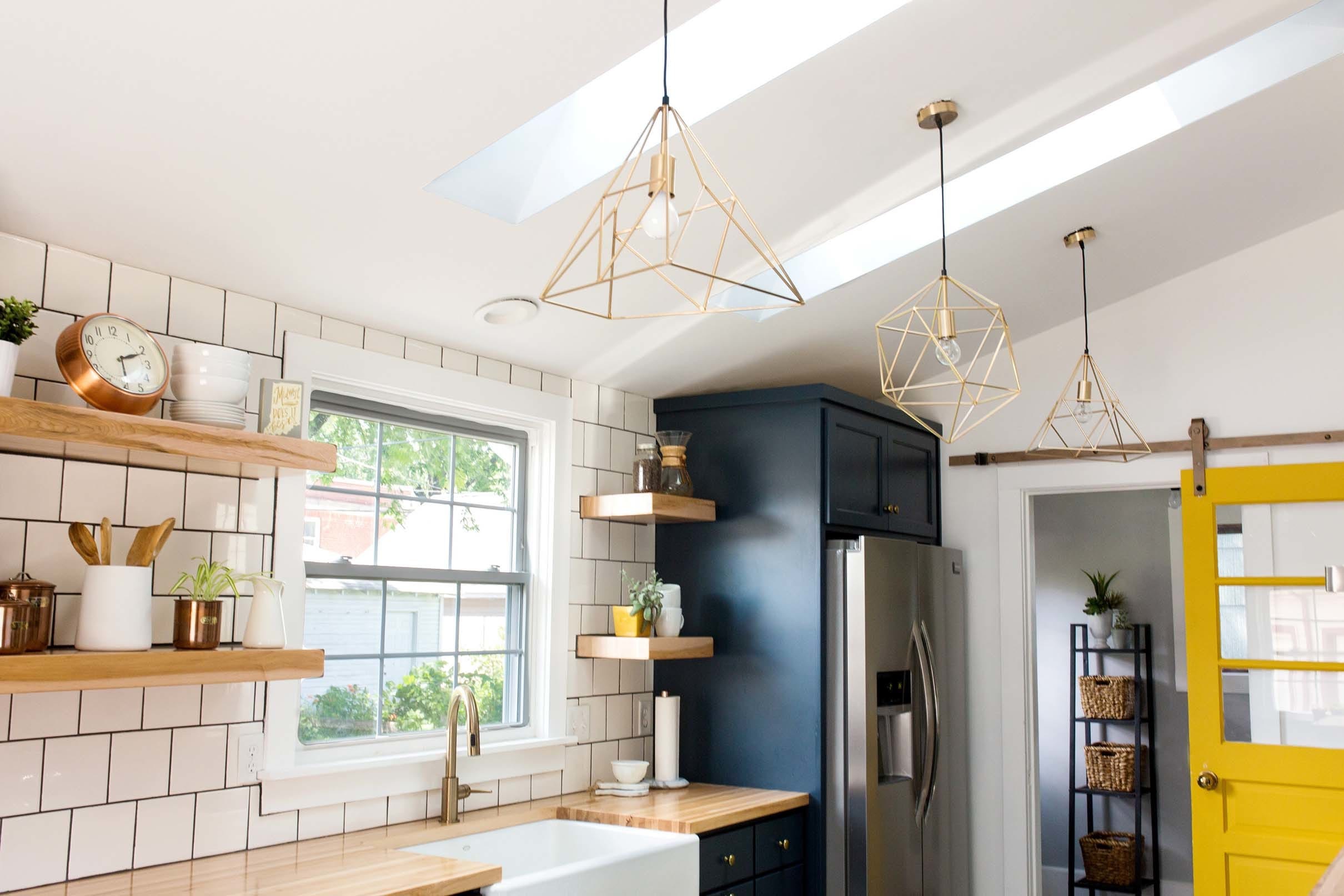 Ready to add some color to your home? Don't forget the natural light. Find a skylight installer near you.
And don't forget to sign up today for daily email reminders to enter for a chance to win the HGTV® Smart Home 2021, starting on April 21.
HGTV, HGTV Smart Home, HGTV Urban Oasis, HGTV Smart Home Giveaway, HGTV Urban Oasis Giveaway and their associated logos are trademarks of Discovery or its subsidiaries and affiliates. All rights reserved. Photos © 2019 - 2021 Discovery or its subsidiaries and affiliates. All rights reserved.