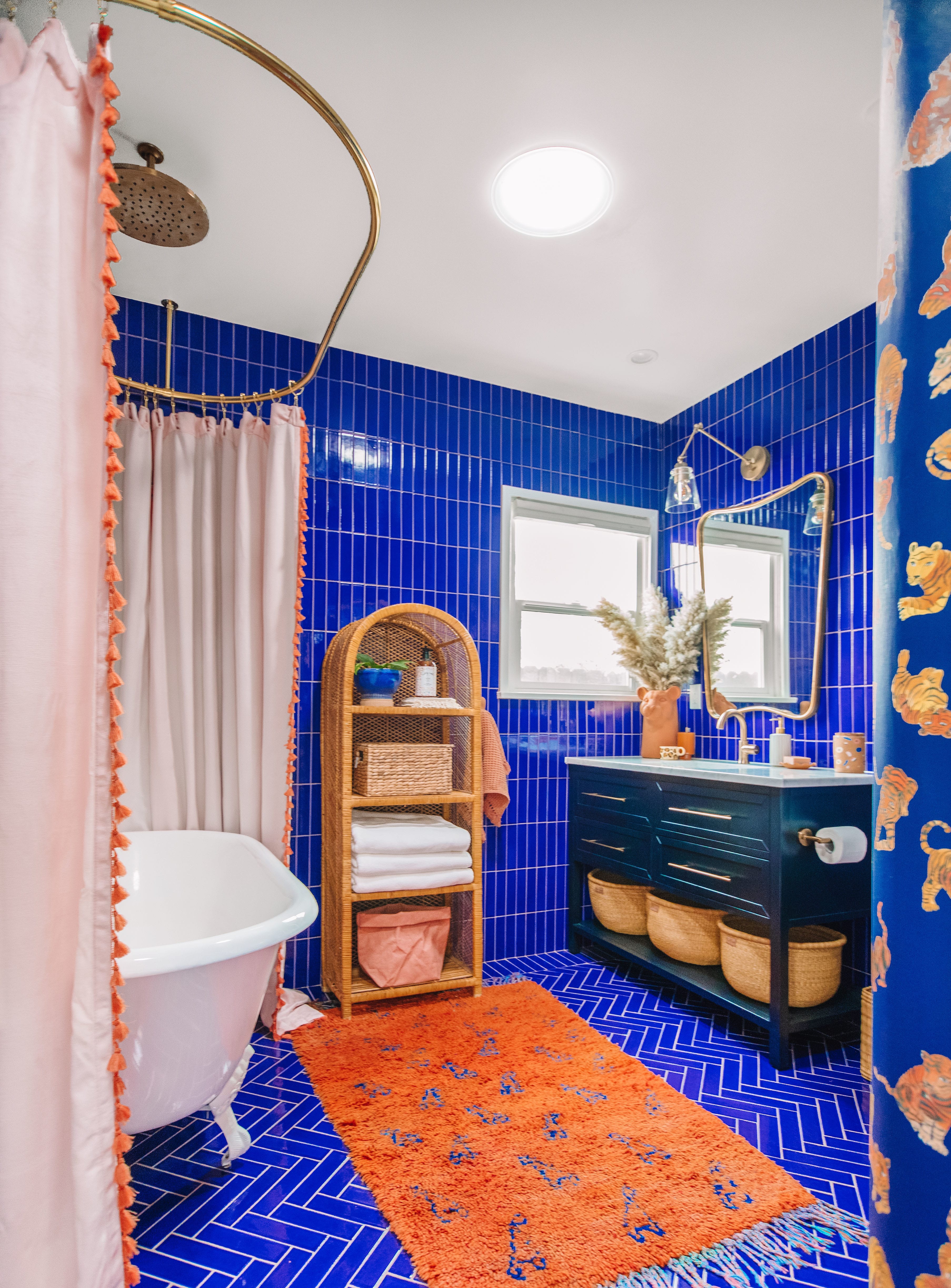 The 2010s were an era of minimalist home design, from the explosion of Swedish simplicity to the resurgence of mid-century modern furniture's thin silhouettes, dominating the global market. Toward the end of the last decade and looking forward to the next, we're seeing more maximalist influences popping up in American homes.
Kelly Mindell, the creator behind Studio DIY, has documented her bright, bold style since 2011. While she's no stranger to color, much of her home takes a light, airy approach such as their kitchen remodel with dusty blush cabinets, white marble countertops, light oak shelving against white subway tiles and two VELUX skylights to help it all pop. In late 2019, she took on a bathroom remodel and decided to go even bolder with a floor-to-ceiling blue tile, pops of orange and eclectic, whimsical décor.
Interested in taking your home remodel design to the maximalist level? Start with these four tips:
Make a bold statement with a complementary color palette.
The color wheel, a basic component of color theory, shows how colors work together. Colors neighboring each other, such as red, orange and yellow, are similar and, when used together, are called color harmonies. Opposites on the wheel, such as red and green, are considered complementary colors. The foundation of Mindell's bathroom design uses the complementary duo of blue and orange. While the blue tile is a vibrant ultramarine color, her palette expands to include various shades and tints of blue. Similarly, the warm color palette includes a harmony, from golden yellows to reddish oranges. Keeping the colors choices within this spectrum helps create a more cohesive and purposeful look in the maximalist design.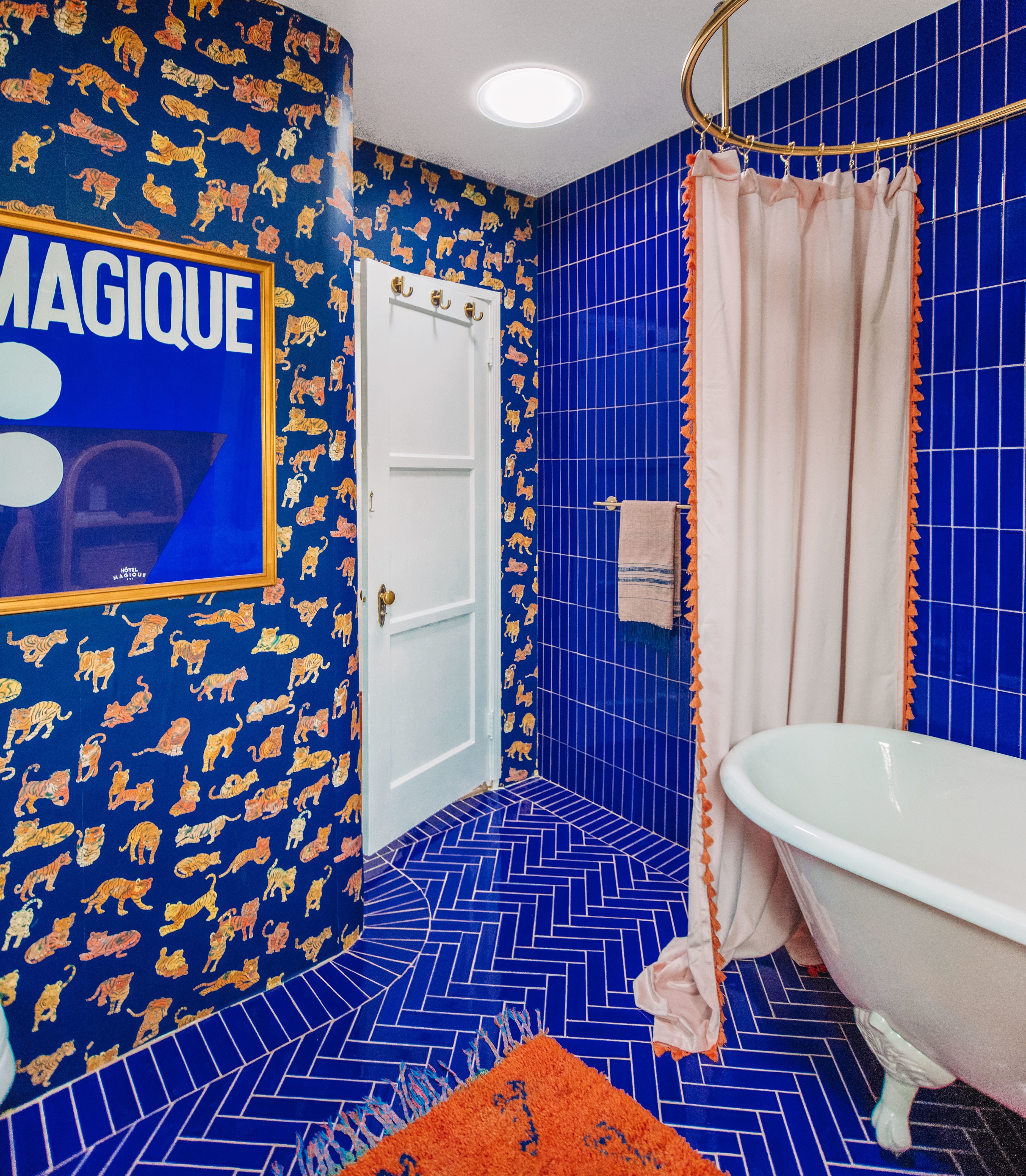 Photography by Jeff Mindell

Incorporate patterns and textures to tell a visual story.
Because the bathroom will be used by her young son, Mindell used a tiger theme, incorporating unique illustrated wallpaper, a printed tiger rug, a tiger head vase and other cute décor items suggesting the tiger story whether in color, as with the orange-tint shower curtain, or texture, such as the natural grass stems that evoke the tiger's savanna habitat. This imaginative and lively décor is perfect for a kids' bathroom, and could even encourage children to create their own story about tigers during bath time.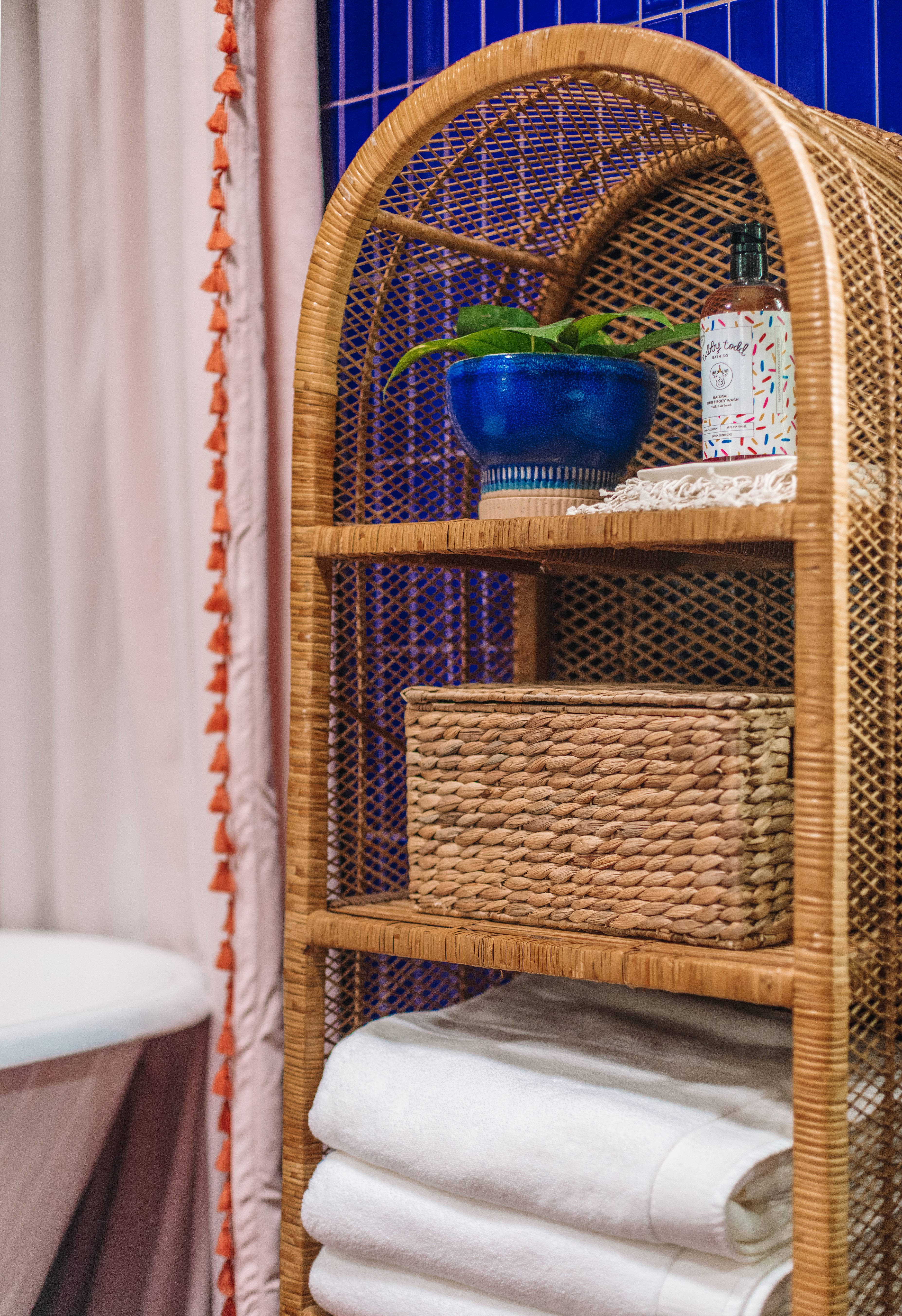 Infuse natural light wherever possible.

Especially when a design concept relies heavily on vibrant color, natural light, which contains the full spectrum of light necessary for the human eye to perceive true colors, is critical to the overall visual effect. This bathroom is on the smaller side, but with VELUX Sun Tunnel skylights, Mindell is able to incorporate abundant natural light that allows the blues and oranges to really shine. Explore more ways natural light can help you overcome color cowardice in home design here. Learn more about Sun Tunnel skylights by scheduling a virtual design consultation with a VELUX daylight designer.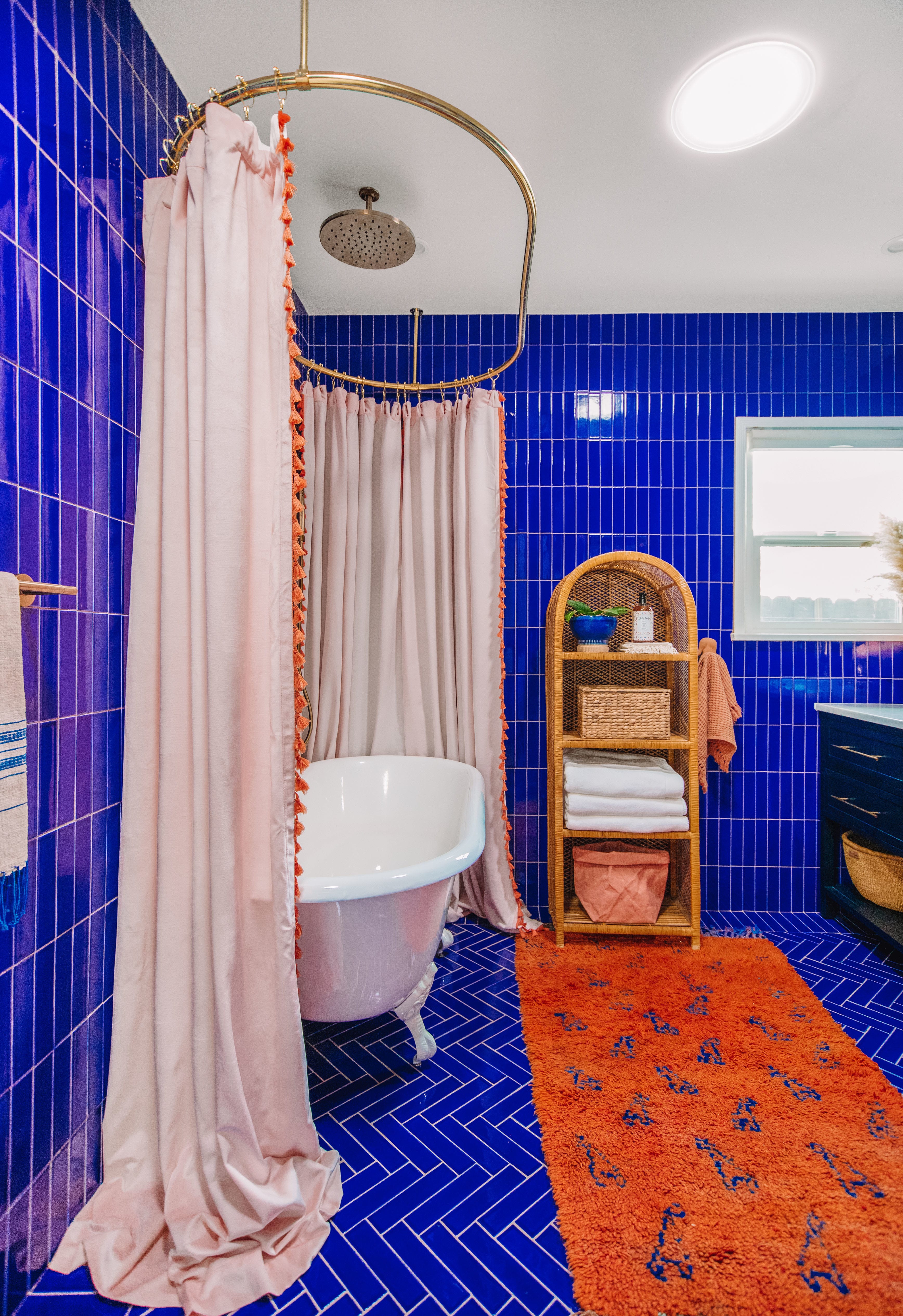 Don't forget fixtures are part of the design.

For this kids' bathroom, Mindell extends her ornate, whimsical sense through the claw-foot bathtub, gold hardware, a funky mirror and tiger-themed décor. To mature a maximalist color palette, consider keeping accessories and fixtures simple. For example, anchoring the bright color palette with sturdy, smooth fixtures like a flat freestanding tub and coordinating a natural wood, hardware-free vanity.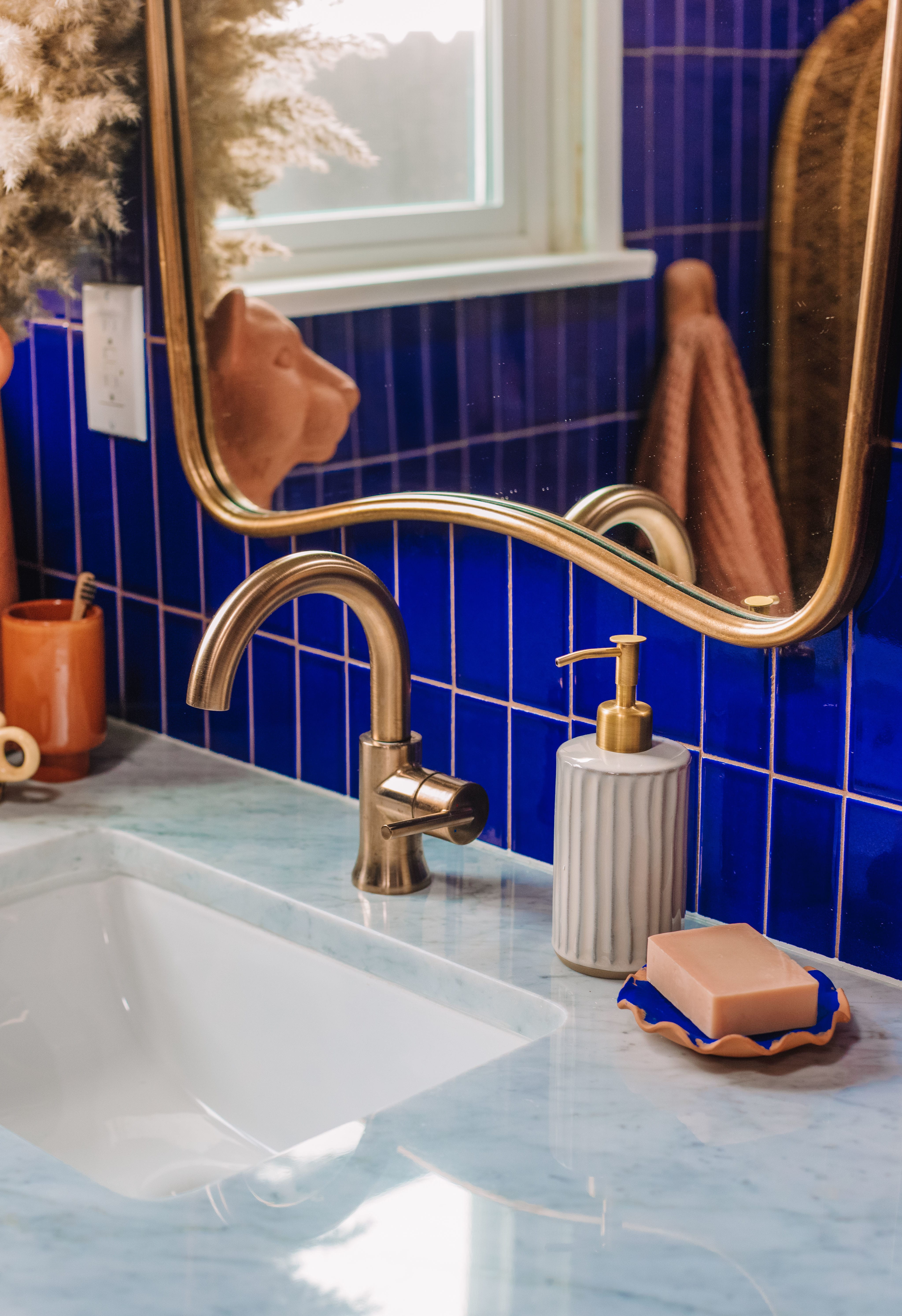 Maximalist design may feel intimidating, but with a clear vision, it can turn your interiors from homogenous to unique and joyful. Looking for more inspiration for children's spaces? Explore our Pinterest boards for creative and colorful ideas.