After many years in the interior design business, I can confidently say that A LOT of components go into creating a stylish space. But sometimes, it's not what you place in a room that makes the biggest impact. Instead, it's getting bright - and adding natural light - that can really take a room to the next level.
The right natural light can really do wonders, by elevating just about any room into a space that not only feels great, but you really want to spend time in too. So when it came to giving a dated bedroom in my newest project a bright new look, I knew exactly where to start: by installing a VELUX No Leak Solar Powered Fresh Air Skylight.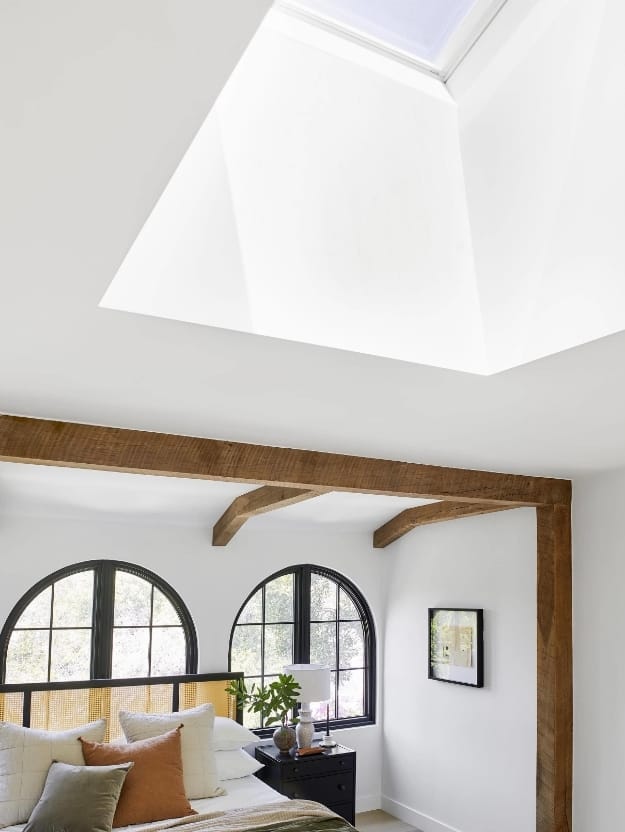 When I first stepped foot in this bedroom, located on the second floor of a 1970s Spanish style home, I knew there were plenty of things (or just about everything) that could be improved upon. And despite being in sunny Southern California, the room definitely lacked natural light. The only source of light was a set of glass sliding doors that faced a covered patio, which meant no direct sunlight was filling the space. Since I wanted this room to really be a calming refuge, I knew that level of light just wasn't going to cut it.
To remedy that, I first decided to eliminate the patio, expand the room, and add new arched windows. While the new windows do help, the property backs up to a hillside, and is surrounded by mature trees, so they are blocked by shadows for much of the day. So to really flood the room, and create that light filled oasis I envisioned, required me to think higher- by adding a skylight from VELUX.
The No Leak Solar Powered Fresh Air Skylight really stood out to me as the ideal choice for a few reasons. First and foremost, the skylight added so much natural light from overhead which is exactly what we needed in the office space. Like I mentioned previously, while the room has windows they only let in a bit of light due to the trees that surround the property so having natural light pouring in overhead throughout all hours of the day was a game changer for our office space and the work we do in there. They also can open up with the remote to let in fresh air. It has dual paned glass for energy efficiency and is completely solar powered - a sustainable solution for a city that's sunny almost year round. Plus, with a built-in light filtering and blackout shades, available in over 50 colors, (that can be controlled by remote or smartphone app) you never have to worry about that sun getting too hot.
When it came to deciding on placement, I felt it only made sense to center the skylight on the windows, as it would maintain the symmetry of the architectural elements. And by placing it on the opposite end of the room, it would more evenly fill the room with light. The furniture and color palette would also take a cue from the new abundance of light. I choose primarily neutral shades of white, ivory, and earth tones to reinforce that bright and airy feeling, complemented by plenty of soft and cozy textures.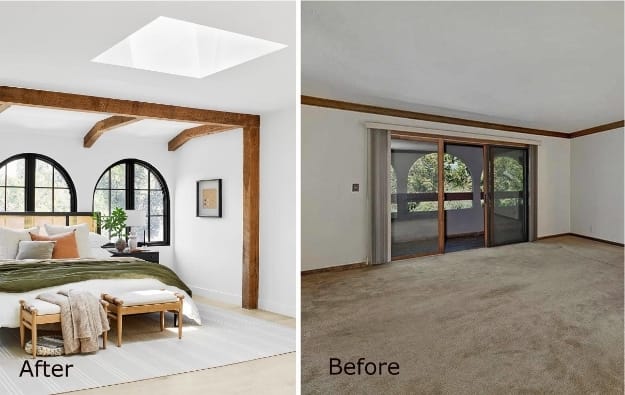 Looking back, it's hard to imagine that dark and dated bedroom I first encountered - and how one change can really lead to such a huge transformation. I hope it inspires you to consider how a skylight can make your space not just brighter, but a whole lot happier too.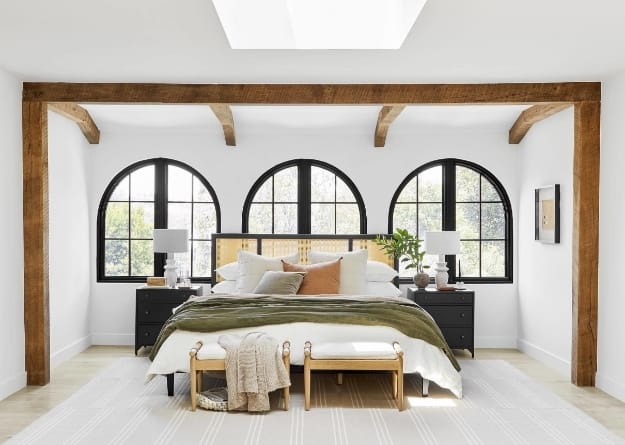 Bobby Berk is best known as the design guru on Netflix's Queer Eye, but his rise to fame didn't happen overnight. After years in the creative and design field, he took the leap to start his own brand. Epitomizing hip, urban luxury, Berk's designs reflect a stylish and youthful spirit that perfectly fits any lifestyle.