Don't put style over substance when it comes to home décor. Design with natural light to make your home more sustainable, beautiful, functional and healthy. See how interior designer Tiffany Brooks did it in the HGTV® Smart Home 2018.
Skylight blinds provide a pop of color on the fifth wall, connecting with the decor below.
1. Make the most of the fifth wall.
From paint and wallpaper to exposed beams and wood cladding, ceilings are blank palettes just waiting for a little design love. In the HGTV Smart Home 2018 master bedroom, Brooks combined four VELUX No Leak Solar Powered Fresh Air Skylights with an exposed wood beam at the peak of the vaulted ceiling. Natural light from the skylights highlights the dark wood beam, raising the focal point of the room to make it feel bigger.
The HGTV Smart Home 2018 master bedroom features a calming grey palette.
2. Tell an intentional color story.
Brooks tells a story of light and dark by pairing charcoal grey with the room's natural light sources for a sophisticated, calming look. On the skylights she uses dark charcoal grey room-darkening solar-powered blinds that, when lowered completely, block the light. Her window treatments also feature dark grey as a base color. Find lighter greys on the upholstered headboard, club chairs, textiles and area rug that help tie the color story together. Learn more about using natural light to help colors appear true.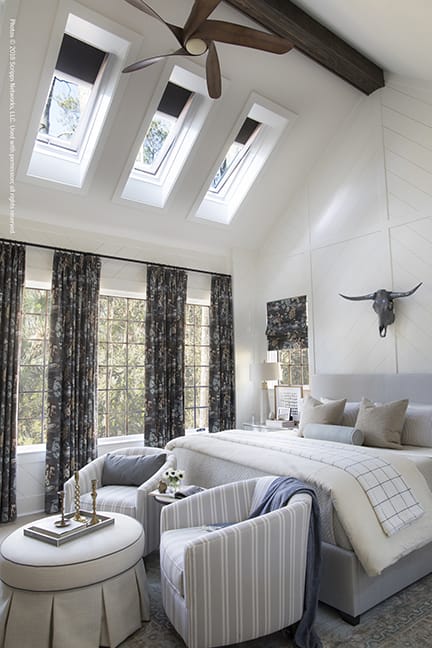 Research shows that views of nature can provide stress relief.
3. Generate well-being with nature.
Research shows that views of nature can positively affect the way people feel in a space, thereby reducing stress levels and improving well-being. In addition to providing ample natural light, skylights provide a direct connection to sky views – from passing clouds in the daytime and twinkling stars at night to treetops swaying in the breeze and birds flying overhead. Opening skylights amplifies this connection by bringing in fresh air.
Opening skylights helps to create air flow inside the home.
4. Use natural air flow for health.
Put your 3rd grade science lessons to work in your home by remembering that hot air rises. Warm air collects at ceiling level and escapes through the open skylights, replaced with cooler air below for a soft breeze and cools and refreshes.
Soon home airing will be able to be automated with the new VELUX Active system that uses atmospheric sensors to automatically open skylights when interior humidity and carbon dioxide reach designated levels.
Three VELUX No Leak Solar Powered Fresh Air Skylights keep the master bathroom fresh and bright.
5. Design for form and function.
Bathroom design can be tricky because it's a balance of the need for privacy and the desire for natural light and good ventilation. Brooks overcame this challenge by placing three skylights in the HGTV Smart Home 2018 master bathroom. From the daily morning routine to the weekend soak in the tub, this bathroom remains bathed in natural light while maintaining privacy. Open the skylights via remote control to keep the space fresh and dry.
Photos © 2018 Scripps Networks, LLC. Used with permission; all rights reserved.