Do you have a dark, cave-like bathroom in need of natural light? Tired of adjusting the window shades every time you take a shower? Getting the right combination of natural light and privacy in the bathroom can be difficult. VELUX is here with a simple solution: Installing skylights or Sun Tunnels is a great way to bring in balanced natural light throughout the day without giving up bathroom privacy.
Check out eight stunning bathroom transformations in the photo gallery below, then find a skylight installer near you who can help you create your dream bathroom.
Earth-tone accents, coupled with natural light from a skylight, make the HGTV Urban Oasis® 2021 bathroom a true 'oasis' from city life. The white walls reflect ample natural light from the skylight with shades, brightening the whole space and creating a happy home for plants, too. Additionally, the skylight opens to bring in plenty of fresh air so the room stays fresh.
Imagine a peaceful morning shower where you wake up to natural light and fresh air flooding your bathroom, all the while enjoying the comfort of solitude. With a skylight, you can transform this vision into a reality. See how interior design blogger Christine Higgs of For The Home installed a skylight with shades above her shower to create a dreamy escape.
Style expert Emily Henderson made a similar design move in this luxurious main bathroom. She added a skylight with shades to shine natural light into the bathroom, while also maximizing privacy and releasing humidity from the shower.
When designing a small bathroom, it can be tricky to overcome a claustrophobic feeling. Interior designer Antia Yokota transformed her small bathroom into a spacious respite by using a skylight with shades to give the space more height and bring in natural light and fresh air.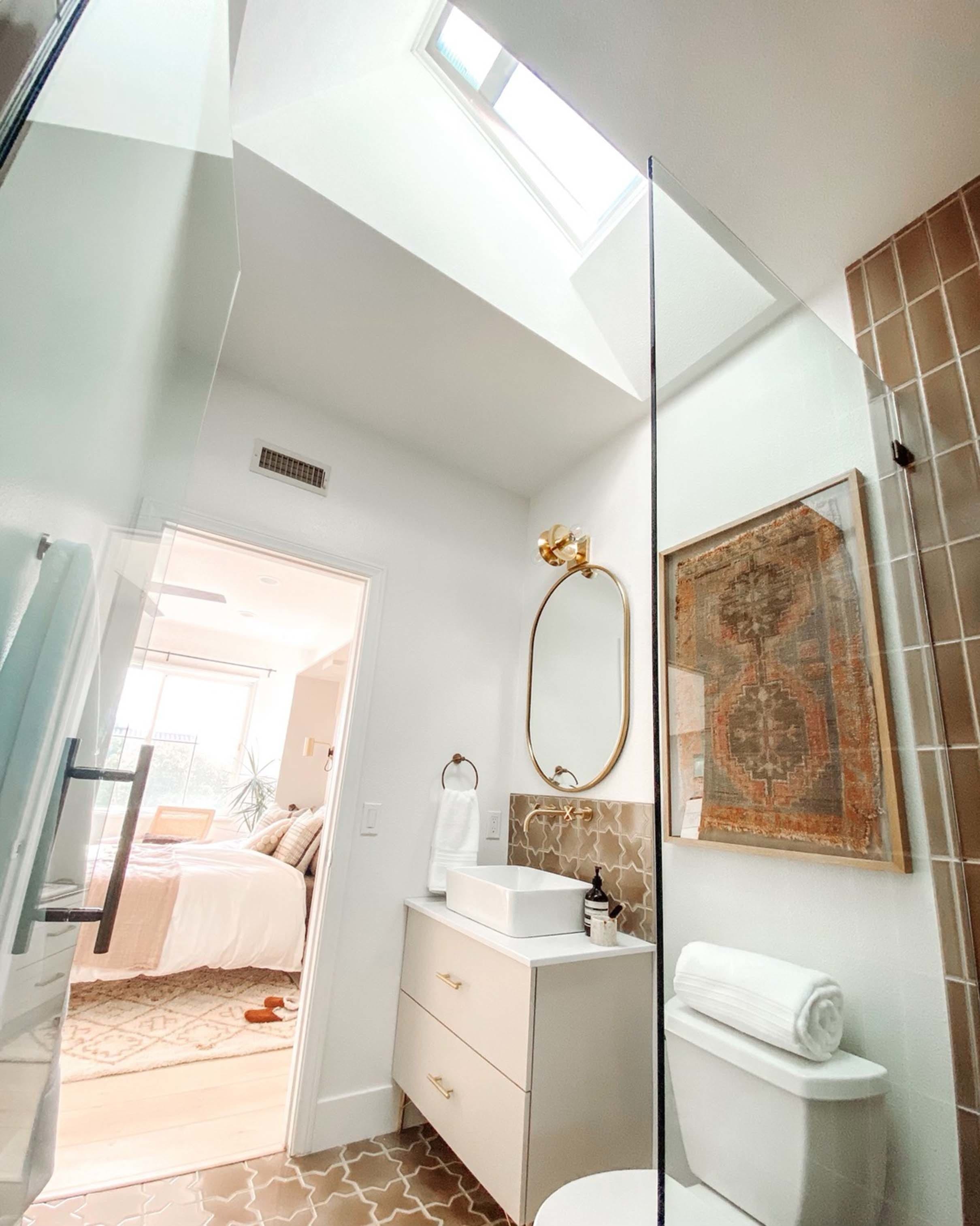 Laura Tusken, the creative force behind Inspiration for Moms, took the same approach in her small hallway bathroom. The skylight with shades adds depth to this windowless bathroom so it feels bright and airy, yet still private.
When getting ready for the day, privacy and good lighting are essential. Amanda Hendrix, the DIY blogger behind Love & Renovations, transformed her former cave-like bathroom into a natural light haven by installing a skylight with shades above her vanity. Now, her main bathroom has a gorgeous glow throughout the day.
Inspired to bring natural light and fresh air into your bathroom? Book a free virtual consultation with a VELUX daylight designer.
HGTV, HGTV Urban Oasis, HGTV Urban Oasis Giveaway and their associated logos are trademarks of Discovery or its subsidiaries and affiliates. All rights reserved. Photos © 2021 Discovery or its subsidiaries and affiliates. All rights reserved.