In a world that seems to favor new homes and open concepts, blogger Katrina Blair offers refreshing, practical and beautiful interior design solutions for smaller spaces from her mid-century ranch in Sacramento, California. At 1,200 square feet, she thoughtfully blends contemporary and classic design styles to bring her family home up to modern standards of style and functionality, proving the merits of smaller spaces in the process.
A prolific design blogger, One Room Challenge invited Katrina to participate as an influencer in their eight-week interior design transformation for one room. Katrina chose her cottage studio, a one-room freestanding structure in her backyard, to elevate into a more productive and creative home office.
Always up for a small space challenge, Katrina notes this one had many: the cottage is only 10x12 square feet, has low pitched ceilings, an inward-opening door and had an opaque, energy inefficient bubble skylight. The floors needed to be totally redone and the outside landscaping was overgrown in a not-so-charming way. Over eight weeks, Katrina worked to renovate the space and unveiled her resulting space.
As remote work becomes increasingly normal, designing an intentional home office space will become more important. Transforming a small room into an inspiring, productive workstation? Consider the following three tips from Katrina's backyard office renovation.
Find slim, yet functional furniture.
One of the hallmarks of millennial design trends over the last decade has been furniture and interior design style with a mid-century modern flair. Many of these designs are beautiful, but also strategic: the slender, clean lines with minimal embellishments and low-slung styles fit perfectly into smaller spaces like an apartment or mid-century home.
"I love how the back of the sofa perfectly hits the bottom of the window, not blocking any light and making the sidewalls of the cottage feel taller," Katrina writes about the sofa in her One Room Challenge reveal. "I'm in love with the Bolig Desk. The style is amazing. I love the capped feet, all the drawer space and beautiful wood tones."
Katrina's desk and couch perfectly incorporate the benefits of mid-century modern style, offering a place to sit, work and store materials without overwhelming the room.
Add texture and color through details.
Small space interior decorating can easily toe the line of being either too sparse or too cluttered. Katrina warms up her creative studio perfectly with touches of color and texture in the accents, such as decorative throw pillows, an ornate, vintage-vibe rug, plants and a metallic side-table, making the space feel intentionally designed but not distractingly overdone.
"When it comes to small spaces, I love decorating tone-on-tone color," Katrina writes. She uses a variety of blues and whites in different patterns and textures to bring the space together without looking too uniform or match-y. The result feels organic and uniquely distinct to her personal style, making it an inspirational and private setting for her creative work.
Amplify energy-efficient natural light.
Natural light is known for enhancing creative workspaces, helping the room feel more expansive and even increasing productivity.
"One of my goals with the skylight replacement was to create a light-filled cottage, bringing the outside in," Katrina writes. "I love natural light, I love being able to look outside my windows and soak up the outside space."
Katrina's old bubble skylight posed an interesting problem of producing a hot white light with no view or air flow in the cottage.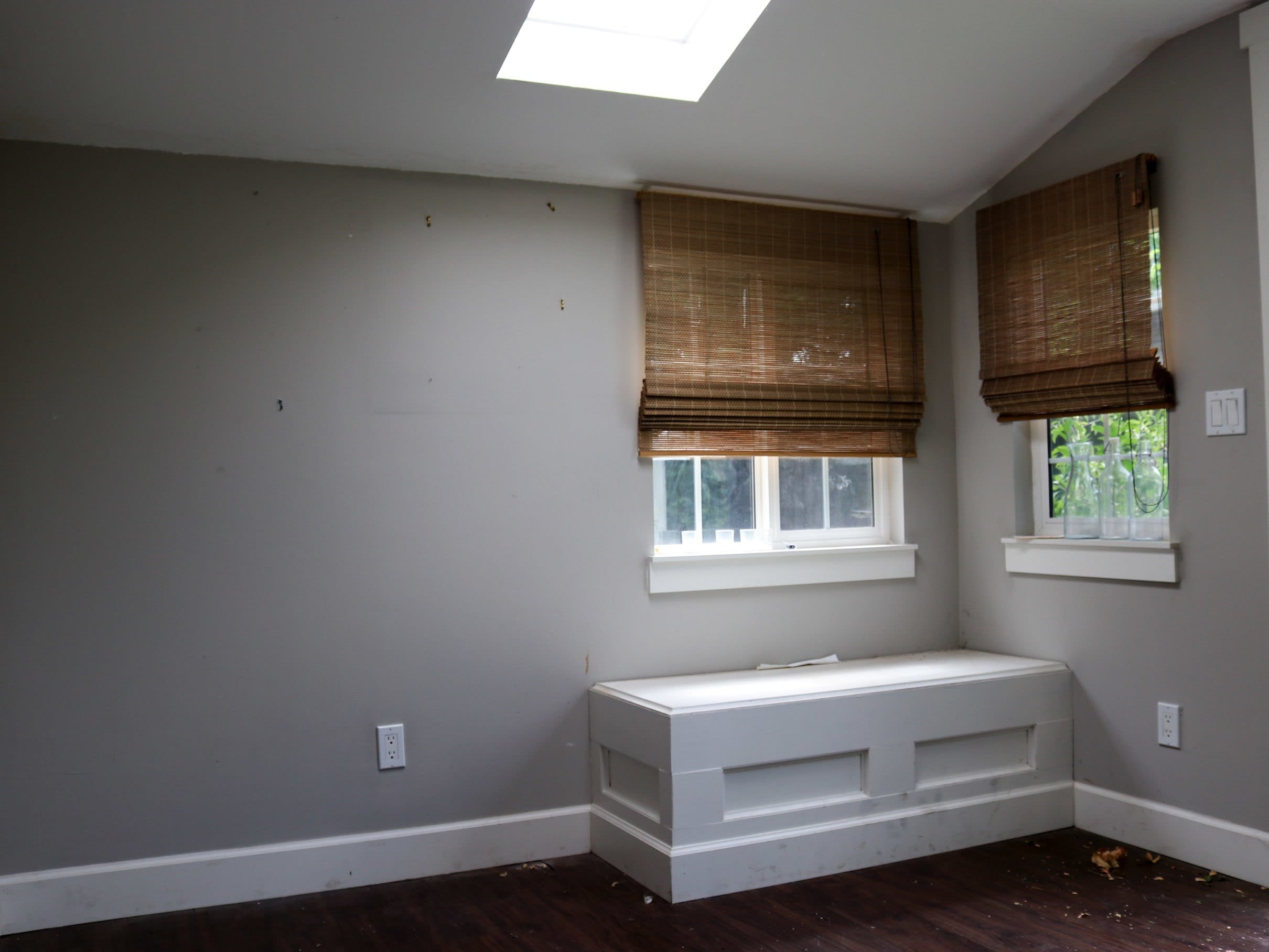 "The old bubble skylight in my cottage gave off blinding white light, no view, and wasn't energy-efficient, creating hot zones in the cottage," Katrina writes. "When I used to sit under the skylight on hot days, it always felt like sitting under a heat lamp."
She remedied the skylight problem by replacing it with a VELUX No Leak Solar Powered "Fresh Air" Skylight. The Fresh Air Skylight features clear, energy efficient glass and opens up to circulate fresh air, which offers a remedy to that hot greenhouse affect produced by the dated bubble skylight. Guarded by a screen to keep bugs out and a rain sensor to automatically close in the event of an unanticipated rain shower, it's a perfect partner to bring just enough of the outside in without any uninvited guests.
The new skylight also offers views of the calming natural environment around the cottage for a more inspiring home office setting.

"Looking out my skylight is like looking out a standard window," Katrina writes. "The view is crystal clear. I can now see the beautiful sky and let the fresh air inside."
Ready to let more light into your home office? Schedule a virtual design consultation with a VELUX Skylight expert.