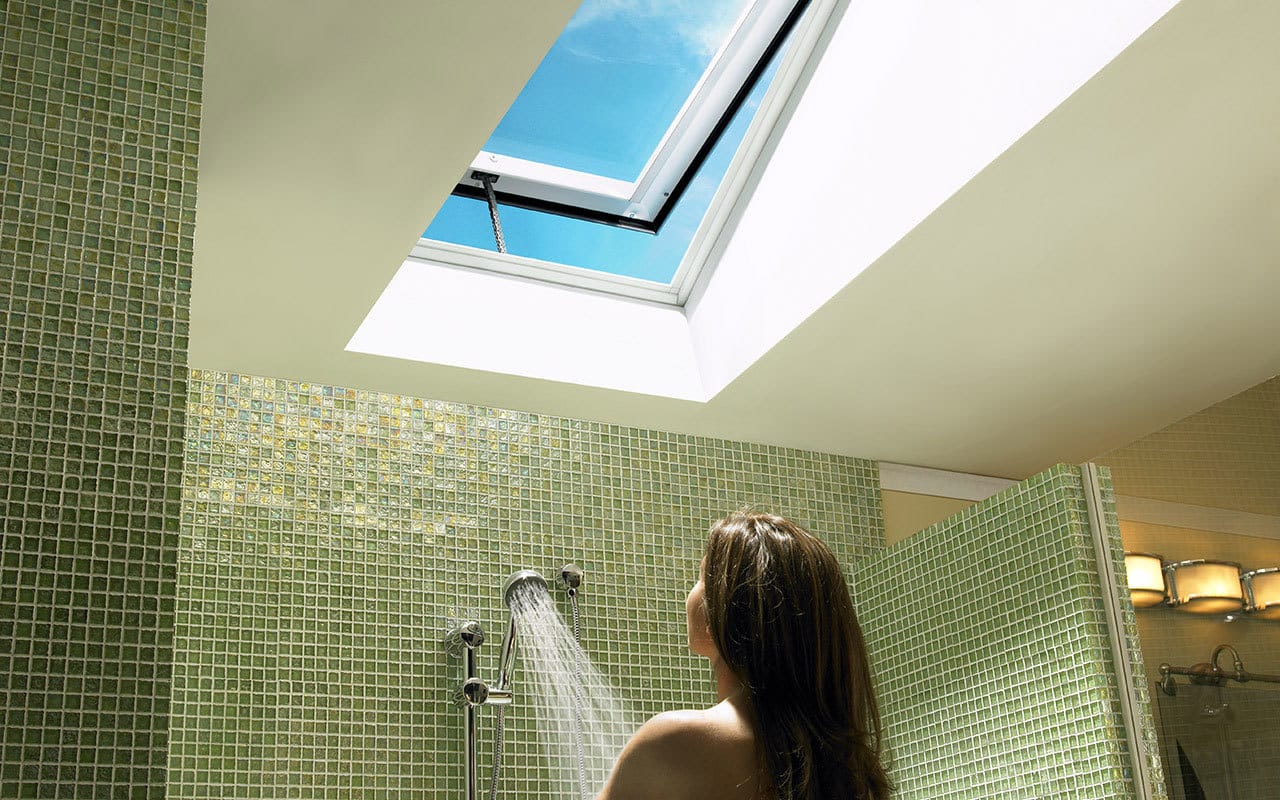 No one ever said "trendy" translates to "cheap." Yet when it comes to on-trend, luxury upgrades, you don't have to spend like a diva to make your bathroom look and function like a designer's dream.
Here are five hot bathroom improvement trends and some ideas for incorporating them into your home:
1. Skylights
In rooms where privacy is a concern, skylights can provide both natural light and fresh air without exposing your personal business to the neighbors. They're both beautiful – endowing bathrooms with a major "wow" factor – and practical. ENERGY STAR-qualified VELUX No Leak Solar Powered Fresh Air Skylights can help trim electricity costs by providing natural light and passively venting moist, warm air from the room. Install solar-powered skylights and blinds, and the cost of the products, as well as the installation, can qualify for a 30 percent federal solar tax credit. You can create a big impact for a small price with a makeover that only takes a couple of days.
2. Lighted vanity mirror
Home improvement stores, design studios and online retailers carry a wide variety of options in shapes, sizes, styles and light sources (LED, CFL or incandescent) to suit virtually every taste. Because installing a lighted vanity mirror is a simple do-it-yourself job, it's also a very low-cost improvement that has a big impact on a bathroom's appearance and usability. With such a huge variety, it's possible to find a mirror that will fit your budget.
3. Double-flush toilet
Dual-flush toilets allow you to use only the water you need to get the job done – less for liquid waste, more for solids – so they reduce overall water consumption, which means trimming water bills. It's possible to find dual-flush options for less than $250, so they're a lower-cost upgrade to begin with. They're even more cost-effective when installed by a savvy DIYer.
4. Towel warmers
Who doesn't love the comforting warmth of a towel fresh out of the dryer? Towel warmers deliver that effect without the hassle and expense of running the dryer. Wall-mounted or freestanding, plug-in or hard-wired, all towel warmers work the same way; heated bars warm towels hung on the rack, providing a cozy, warm towel every time you bathe. Plug-in versions install easily, while hard-wired ones may require professional installation. Prices can range from less than $100 to more than $600, depending on the style and features you choose.
5. Shower footrest
This one is such an economical improvement; you may wonder why anyone wouldn't do it. Some suction-cup styles cost under $20. For a more refined look or enhanced sturdiness, it's possible to find one that anchors into the wall through screws, or a style built into shower surrounds. If you're redoing your shower stall, it's the perfect time to add a stylish, sturdy footrest.