Retro style is acclaimed for its bold mix of colors, textures and patterns, rooted in eclectic design choices dating back to the 1950s. Blending motifs of the past with a sophisticated, modern flair, interior designer Tiffany Brooks created this year's HGTV® Smart Home kitchen, where sleek lines, sage greens and brass accents bring a nostalgic twist to the vibrant coastal cottage.
Want to try this style in your home? Consider the following tips:
Go bold with contrasting colors.
One of the hallmarks of retro design is its mix of bright colors. Inside this luxury waterside retreat, Brooks paid homage to kitchens of the midcentury by contrasting white and green. Sage green cabinets and drawers pair effortlessly with the ultra-white countertops, appliances and subway tile backsplash. The contrast evokes a classic yet contemporary feel and is juxtaposed with a rich wooden island, shiny brass pendant lights, and bleached-blonde wood flooring that is inspired by the North Carolina coast.
Embrace throwback colors, too.
Retro-inspired colors, such as pastel blues, yellows and pinks, can have a major impact on a kitchen's composition. For example, floor-to-ceiling sage green cabinets in this year's HGTV Smart Home exude a blast from the past. The hue supports the kitchen's monochromatic aesthetic and adds an old-school twist.
Install shiny metal accents.
Speaking of cabinets, we love Brooks' use of shiny brass pulls. The hardware coordinates expertly with the rest of the kitchen's retro-inspired color scheme and adds a pop of elegance to the space. If you want to incorporate more vintage finds in your kitchen makeover, try hunting for secondhand hardware and installing it on existing doors and drawers.
Strike balance with white appliances.
Few colors are cleaner and more classic than white. It not only balances bolder hues, but it can also make any space feel luxe. Brooks found natural balance by designing the kitchen with sleek, white appliances, including the refrigerator, microwave and oven. The high-contrast color scheme infuses the room with energy and stays in step with Brooks's vision for a light and airy space.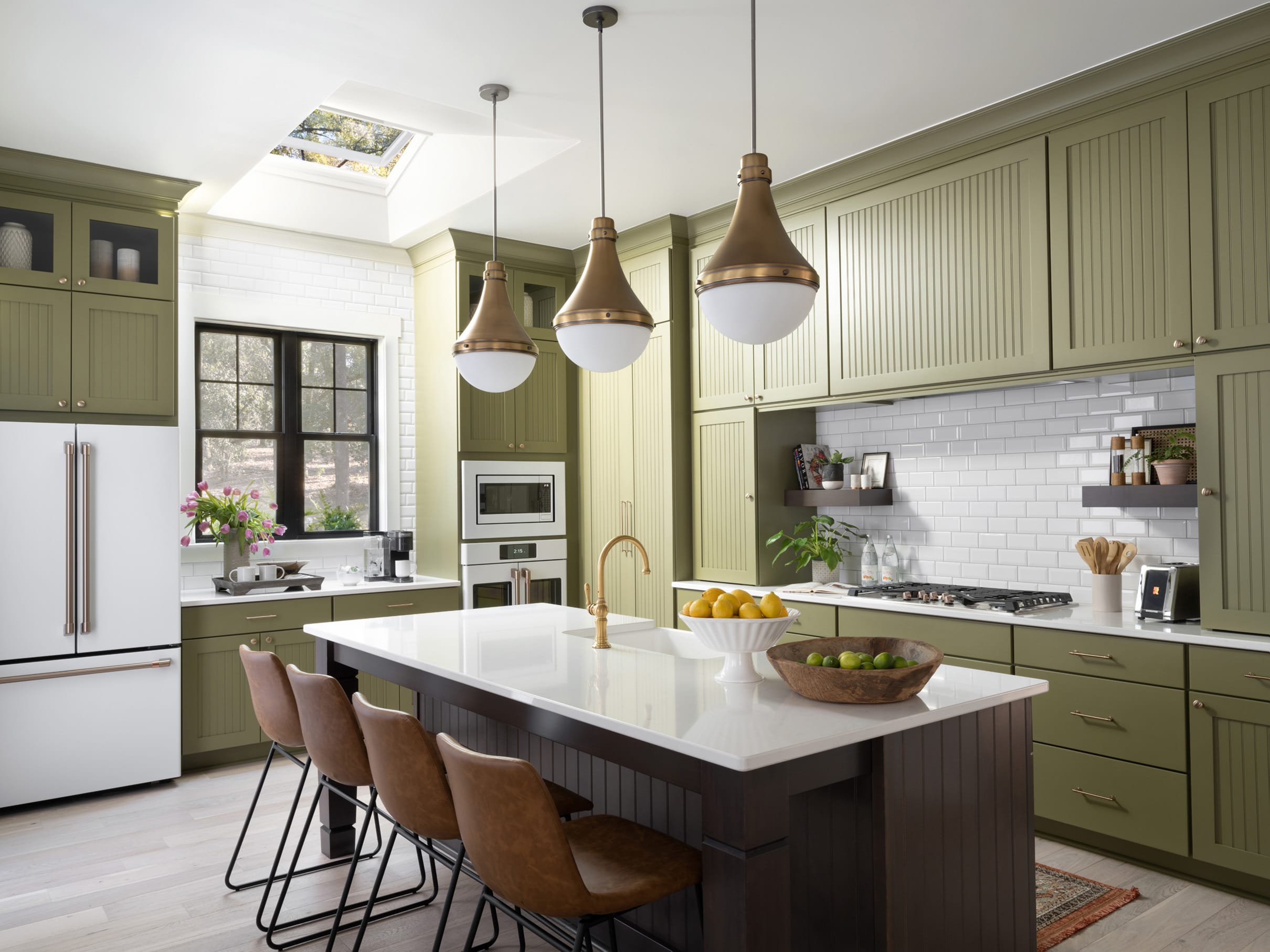 Add skylights to bring your retro-style kitchen to life.

Since it's the heart of the home where families gather and cook meals together, we depend on our kitchen to brim with natural light. To achieve all-day radiance, a VELUX® Solar Powered Fresh Air Skylight with shades over the coffee bar brings in natural light from above throughout the day and helps natural light reach deeper into the open plan kitchen. Bringing in natural light through the roof in the HGTV Smart Home® 2022 balances daylight from the window and helps to reveal the kitchen's true sage green color and bring out the retro décor details.
Gorgeous in any space, skylights work wonders at creating an instant connection to the outdoors. With the VELUX App Control System, one lucky winner of the HGTV® Smart Home 2022 will possess total automation control, from opening and closing the skylight for fresh air to controlling interior temperature with light-filtering shades. Brooks opted for white shades to match the kitchen's interior, but the skylight shades also come in over 60 styles and colors.
Want to plan meals in this kitchen? Enter for a chance to win the HGTV Smart Home 2022.
NO PURCHASE NECESSARY TO ENTER OR WIN. Open to legal residents of the 50 United States and D.C., including territories, possessions, and commonwealths, age 21 or older as of Promotion start date. Void where prohibited. Odds of winning depend on number of eligible Entries received. Promotion ends at 5:00 p.m. ET on June 10, 2022. For full Official Rules and prize disclosures, visit https://www.hgtv.com/sweepstakes/hgtv-smart-home/sweepstakes/rules. To enter, visit https://www.hgtv.com/sweepstakes/hgtv-smart-home/sweepstakes or https://www.foodnetwork.com/sponsored/sweepstakes/hgtv-smart-home-sweepstakes. Sponsored by Discovery Communications, LLC, 230 Park Avenue South, New York, New York 10003.
HGTV, HGTV Smart Home, HGTV Smart Home Giveaway and their associated logos are trademarks of Discovery or its subsidiaries and affiliates. All rights reserved. Photos © 2022 Discovery or its subsidiaries and affiliates. All rights reserved.