The One Room Challenge™, a biannual design event that asks 20 design influencers to document an overhaul of a room in the home, chose Sacramento-based interior designer and blogger Rebecca Plumb for her fourth round of ORC in Spring 2020. Plumb chose to transform her owner's suite, including the bedroom and adjoined bathroom, aiming to make the space more functional and beautiful.
A 1960s modern situated on an expansive property and against a creek, Plumb recognized plenty of details to love about the space: the owner's suite features 12 feet of glass sliding doors that look out into the natural landscape and the room is relatively spacious. According to Plumb, there was a certain lack of intention—such as sliding barn doors that were taking up too much space—that was holding this suite back from a design perspective. She completed the renovation, painting, building in shelves and storage around the bed and changing the doors on the closet, to make the bedroom feel more like home.
The bathroom required less of an overhaul—Plumb first gut-renovated it in 2017 (seen below)—but saw an opportunity to bring more warmth and life to the space without touching the tile or location of the soaking tub.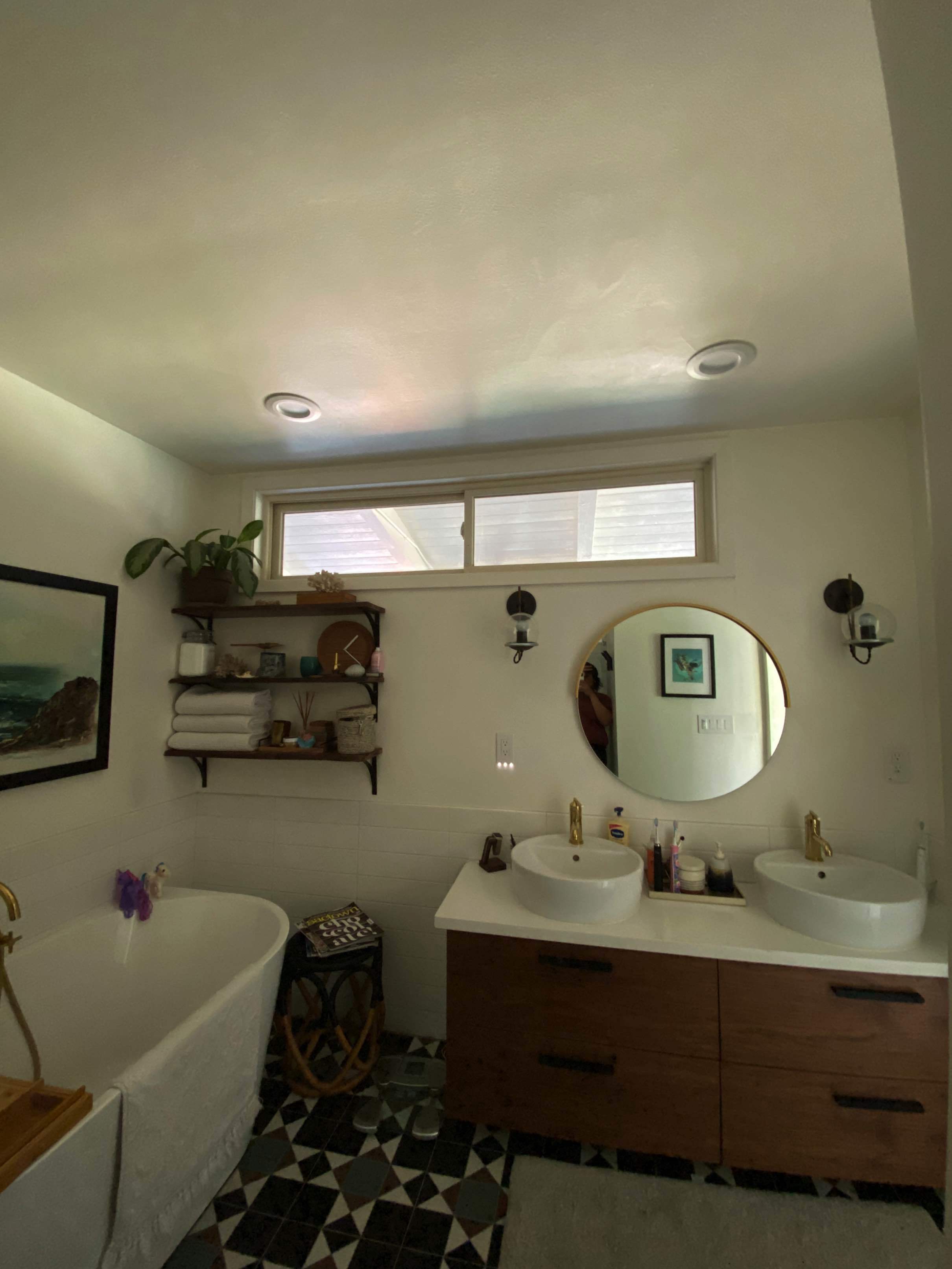 Looking for new ways to add warmth and originality to your space? Consider these bathroom upgrades from Plumb's Spring 2020 ORC:
Warm up with gold and pink tones.
While cool white and black are cemented in the home color palette cannon, designers in 2020 are warming up spaces with blush pinks and gold. In a subtle nod to the 1960s origins of the home, Plumb swapped her stoic and clean-lined wood grain vanity with modern black hardware for a cheekier blush pink and teak model with hexagonal cut-out pulls. Plumb also added an abstract tie-dye print wallpaper in a warm pale pink, tying together the rust colored wall outside the bathroom with the blush vanity. The original bathroom had wood and black hardware shelves over the tub, but Plumb removed them, opting for the warm reflection of gold hardware throughout.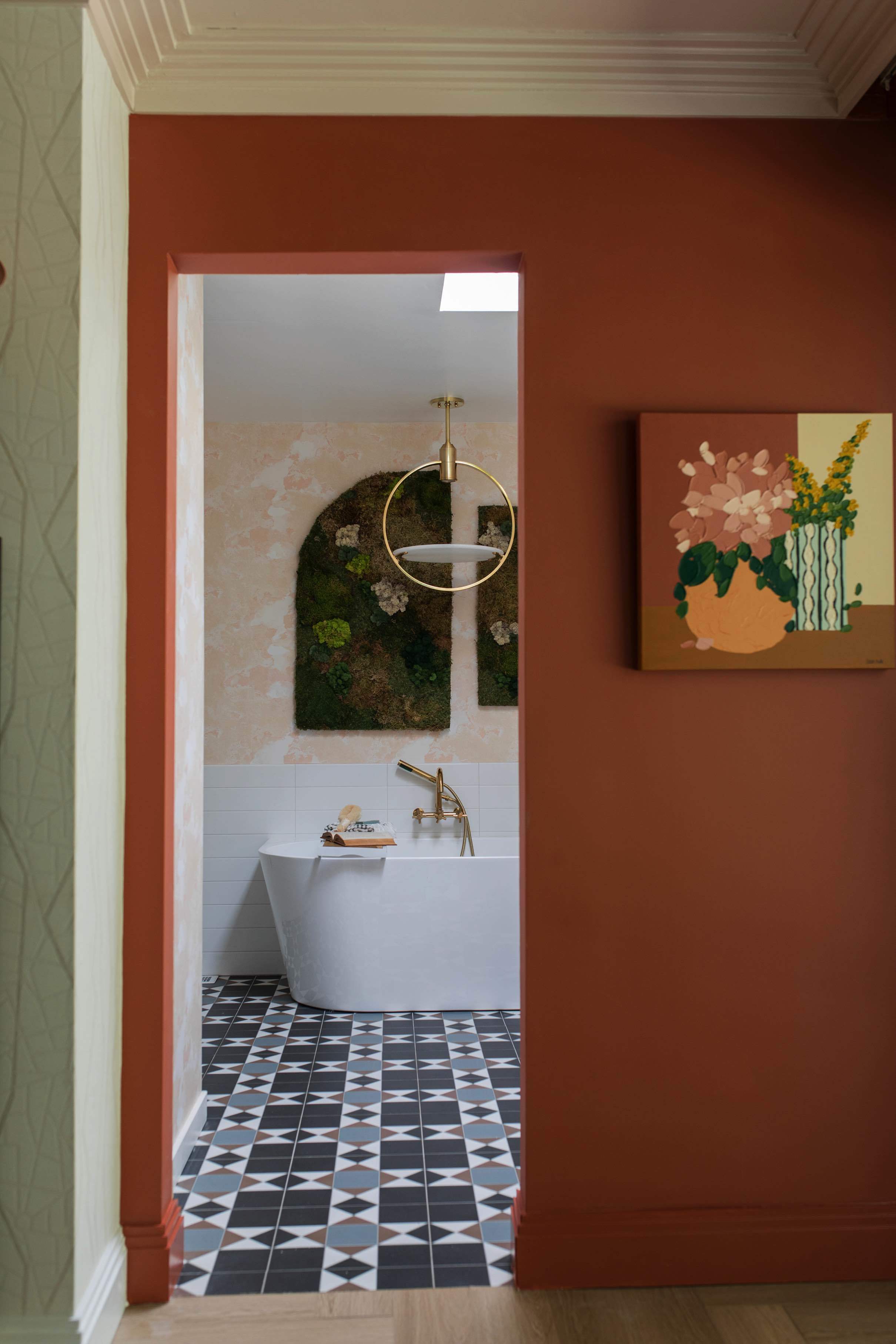 Photo credit: Nicole Dianne Photo
Be strategic about lighting.
The original bathroom had a thin top window for natural light but, as the window was directly under the roof overhang outside, it barely let any light in. Plumb partnered with VELUX to install a Solar-Powered Fresh-Air Skylight which lets in so much light that she could do away with the little window altogether. The resulting space is brighter, lets in more natural light to the bedroom and offers more wall space for her custom moss art.
The skylight gets bonus points for opening via smartphone app to release post-shower humidity and bring in a dose of fresh air.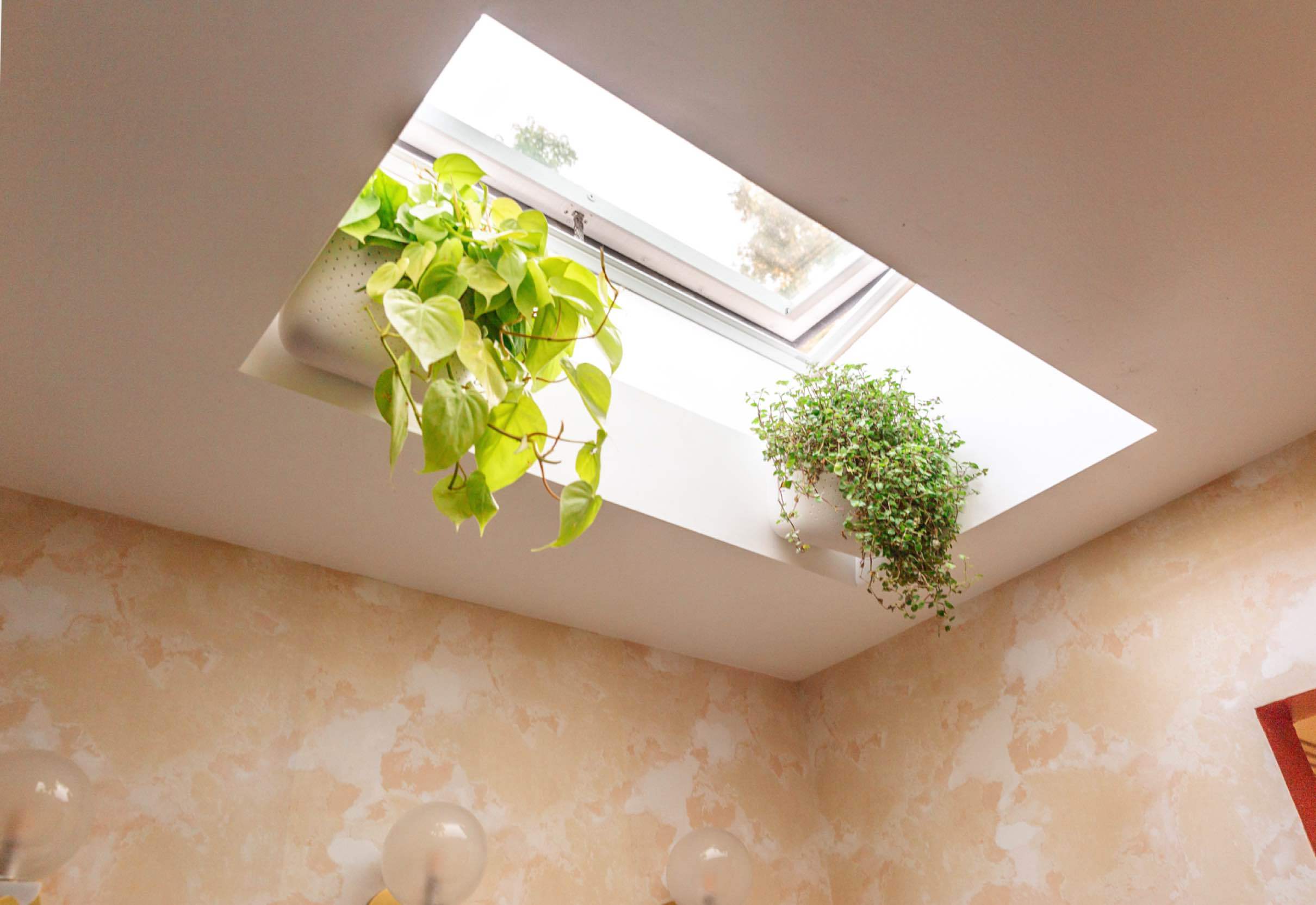 Photo credit: Nicole Dianne Photo
Add organic greenery.
Plumb's style is an eclectic mix of contrasts that balance one another. To soften the on-trend look of coordinated gold and pink, she added greenery throughout. In a clever use of the skylight shaft, Plumb hung live plants, amplifying the room's new connection to nature. In addition to the living plants, she commissioned custom moss art, which features of a variety of preserved mosses. While not a live plant, the pieces are delightful and surprising, adding a touch of organic whimsy that draws on the natural landscape surrounding the home.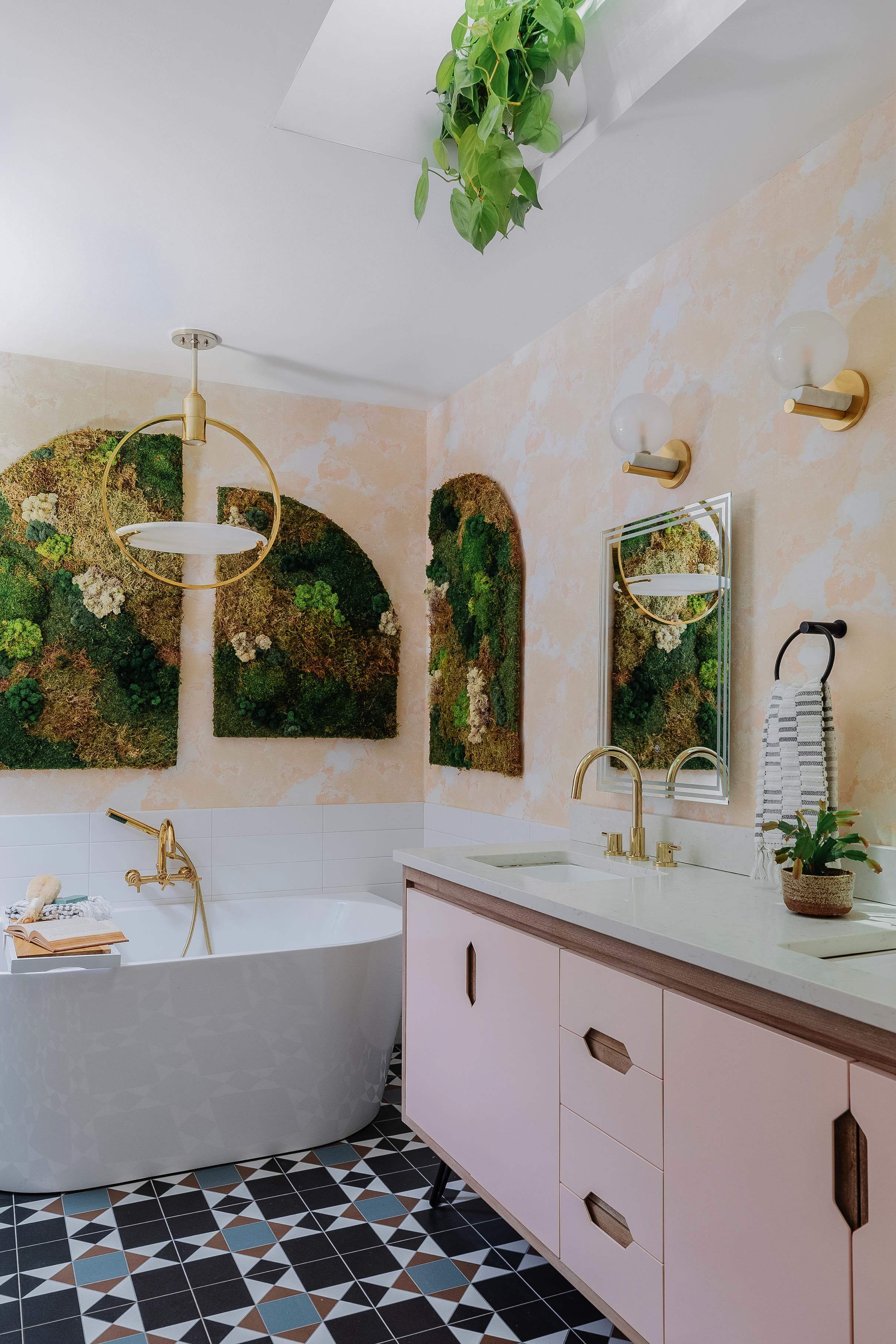 Photo credit: Nicole Dianne Photo

Whether it's an emphasis on natural landscape or a subtle acknowledgement of the era the home was built in, interior design can bring a unique and personal touch to the home and stay on trend in the process. Better yet, the look and feel of a bathroom can be totally transformed without touching the plumbing or floor.
Do you have a bathroom in need of natural light? Schedule a virtual design consultation with VELUX to learn which skylight model is best for your bathroom, whether it's large or small.