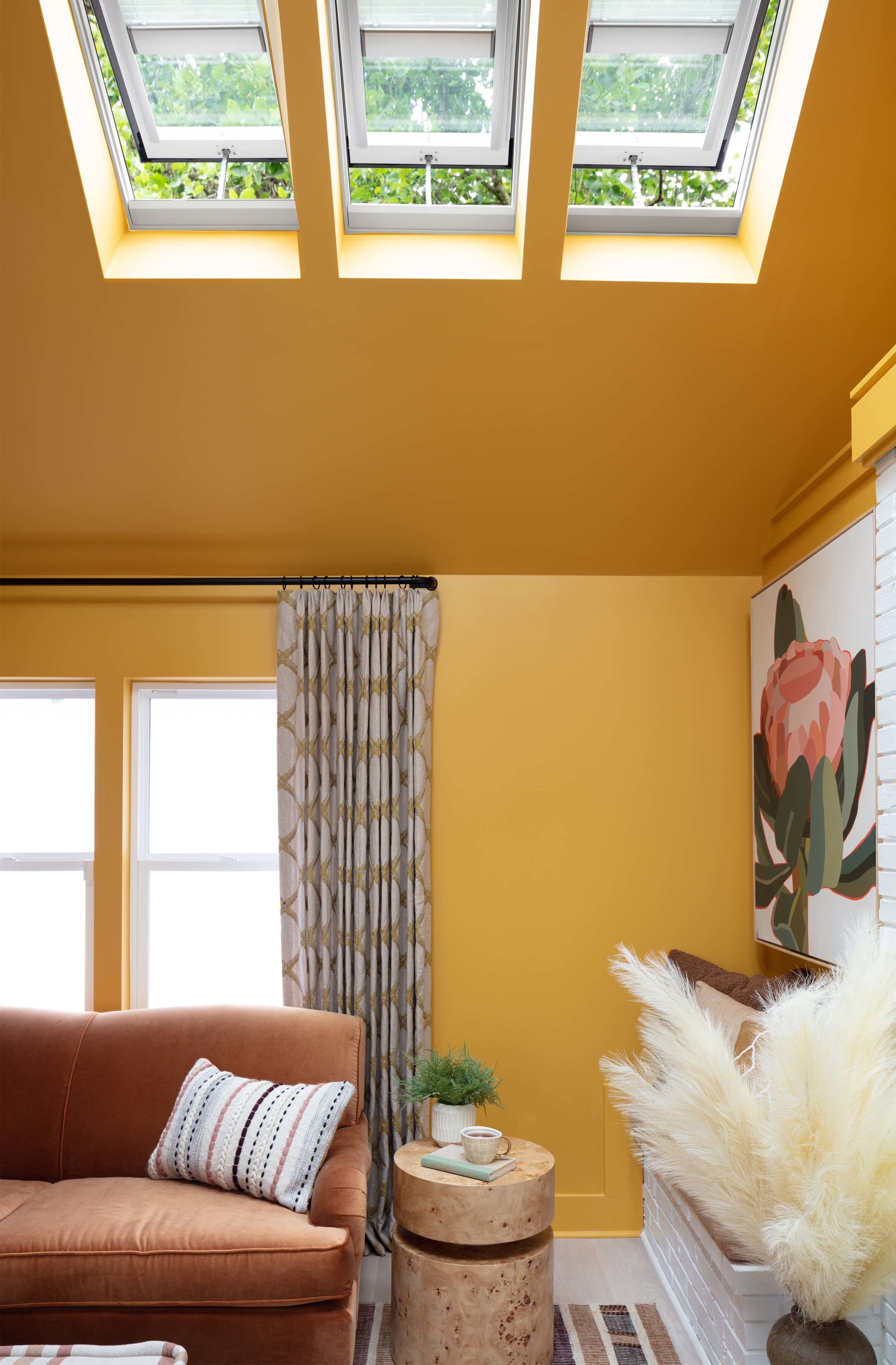 This year's HGTV Urban Oasis® interior designer Brian Patrick Flynn took inspiration from the 1970s and 1980s when disco transitioned to new wave and bell bottoms gave way to big hair. From the color palette and furniture to the skylights that bring in natural light from above, step inside our time machine as we give you a quick spin around Flynn's late-20th-century-inspired designs.
A new take on an iconic 80s color: mauve
Anyone who lived in the 1980s remembers mauve, that sort-of-pinkish, slightly purple color that covered everything from carpet and draperies to the popped collars of many a polo shirt. Flynn uses mauve as a starting point and creates a modern color palette that includes pink, terracotta, brown, mustard and grey.
In the kitchen, mauve inspired Flynn to paint the walls, ceiling and trim a very light pink. The square tile backsplash incorporates deeper shades of pink with touches of lavender, and the cabinets bring in gray for a totally modern look. Eight skylights in the open-plan kitchen and dining room provide ample natural light, so all of Flynn's color selections appear clear and true.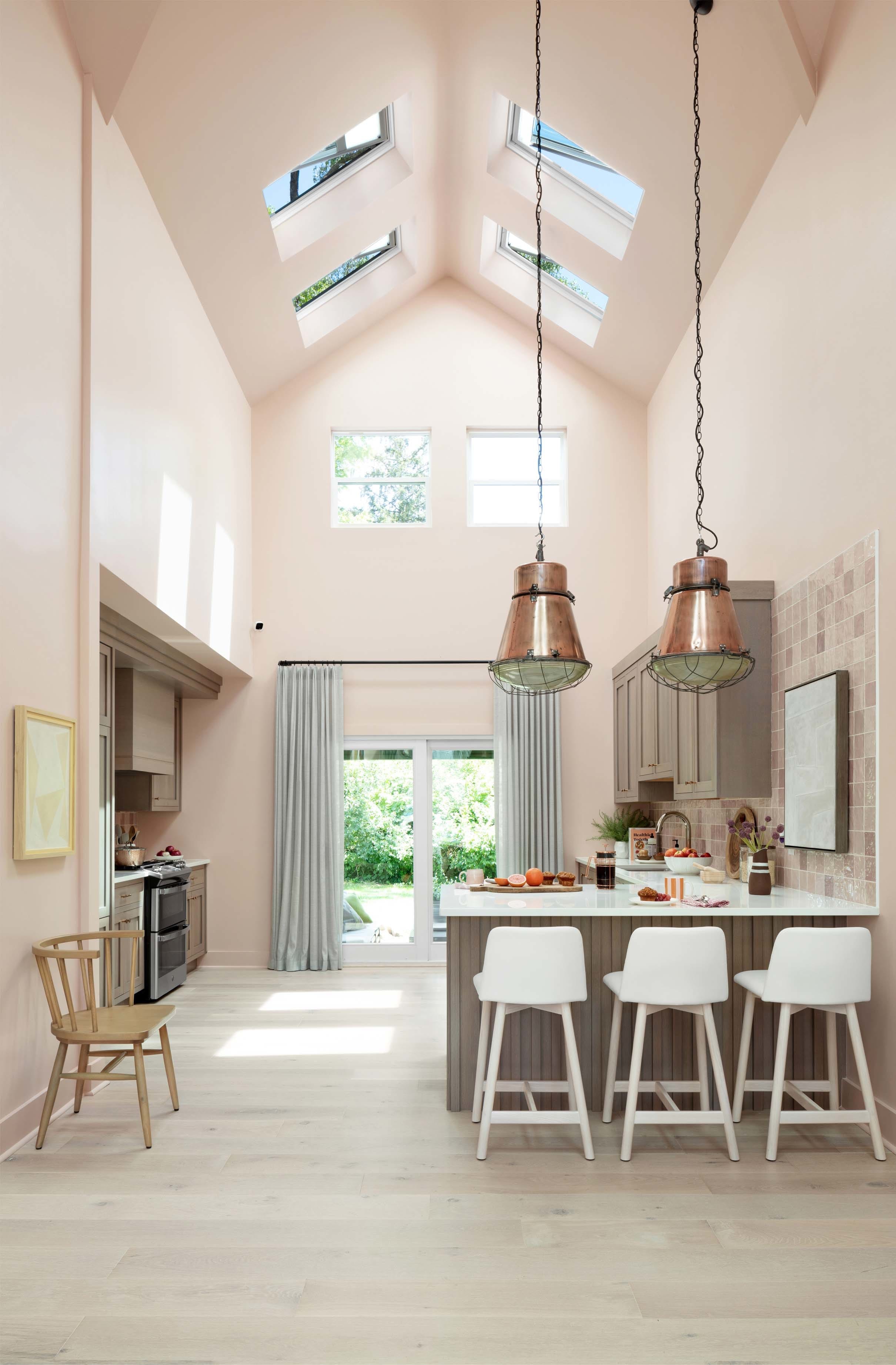 These aren't your grandparents' skylights
Just as Flynn put a fresh take on a 1970s and 1980s color palette, the 17 VELUX No Leak Solar Powered Fresh Air Skylights in the HGTV Urban Oasis® 2021 represent the latest skylight innovations.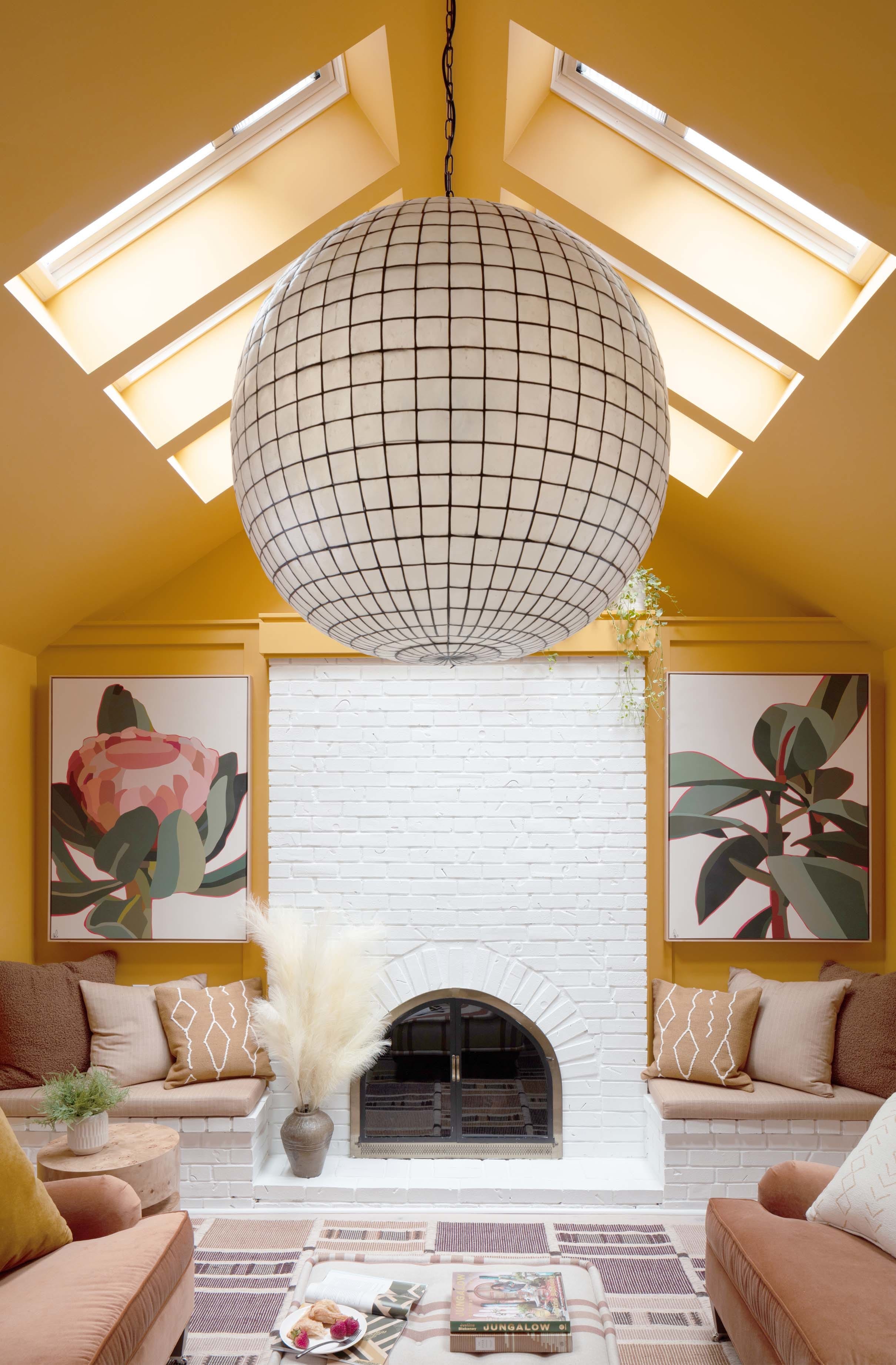 Following the energy crisis of the 1970s, many new homes featured skylights to cut down on home lighting costs. However, these plastic bubble skylights were nothing like today's skylights. They often became discolored, weren't energy efficient and were prone to leak.
The VELUX skylights in this year's HGTV Urban Oasis® are very different from the skylights of the 1970s and 1980s. The list below shows how much skylights have changed since disco reigned.
Sleek design – Forget the bubble skylights of 40 years ago. Today's VELUX skylights have a sleek exterior with flat glass and a low-profile frame that blends into the roof.
Clean, Quiet & Safe Glass – Not only will it not become discolored, this glass stays cleaner because it is made with silicon dioxide. This makes the surface smoother, so water disperses evenly to dry quicker and reduce water spotting. It also reduces up to 25% of outside noise compared with standard double-paned glass and up to 50% compared to plastic bubble skylights. In addition, it is laminated glass, which means it complies with building codes for overhead, out-of-reach installations.
Energy efficiency - VELUX skylights feature dual-paned LoE3 argon-filled glass to reduce heat gain, and most VELUX products are ENERGY STAR® qualified in all 50 states.
Fresh air – The latest skylight models can be opened with a remote control or smartphone app to generate fresh airflow inside the home.
Rain sensor – Fresh air skylight models come with a built-in rain sensor that automatically closes the skylight when it senses inclement weather.
Skylight shades – VELUX skylights can be ordered with factory-installed shades, available in light-filtering or room-darkening options in over 50 colors, so you can adjust the light to fit your every need.
No Leak Warranty – VELUX skylights are installed with three layers of weather protection: a deck seal (deck-mounted skylights or a gasket (curb-mounted skylights), all-weather underlayment and engineered step flashing. They come with an industry-first 10-year No Leak Warranty on product and installation.
Skylight automation – VELUX skylights can be automated with VELUX ACTIVE with NETATMO, the VELUX app control system that does the thinking for you. Based on your ideal climate settings, it opens and closes skylights to air out the home and operates shades for temperature control.
Schedule a virtual consultation with a VELUX daylight designer to find out how the latest skylight technology can improve the way you live in your home.
Art and accessories inspired by the 1980s
Flynn used a wide variety of artwork throughout this year's HGTV Urban Oasis®. Some pieces explicitly reference the 1980s, while others simply take inspiration from that decade. In the dining room, custom, post-modern, abstract art harkens back to Memphis style art of the 1980s and pulls in the color palette Flynn used throughout the house. In the dining room, he playfully used a massive disco ball over the dining table to take advantage of both the tall ceilings and the abundant natural light.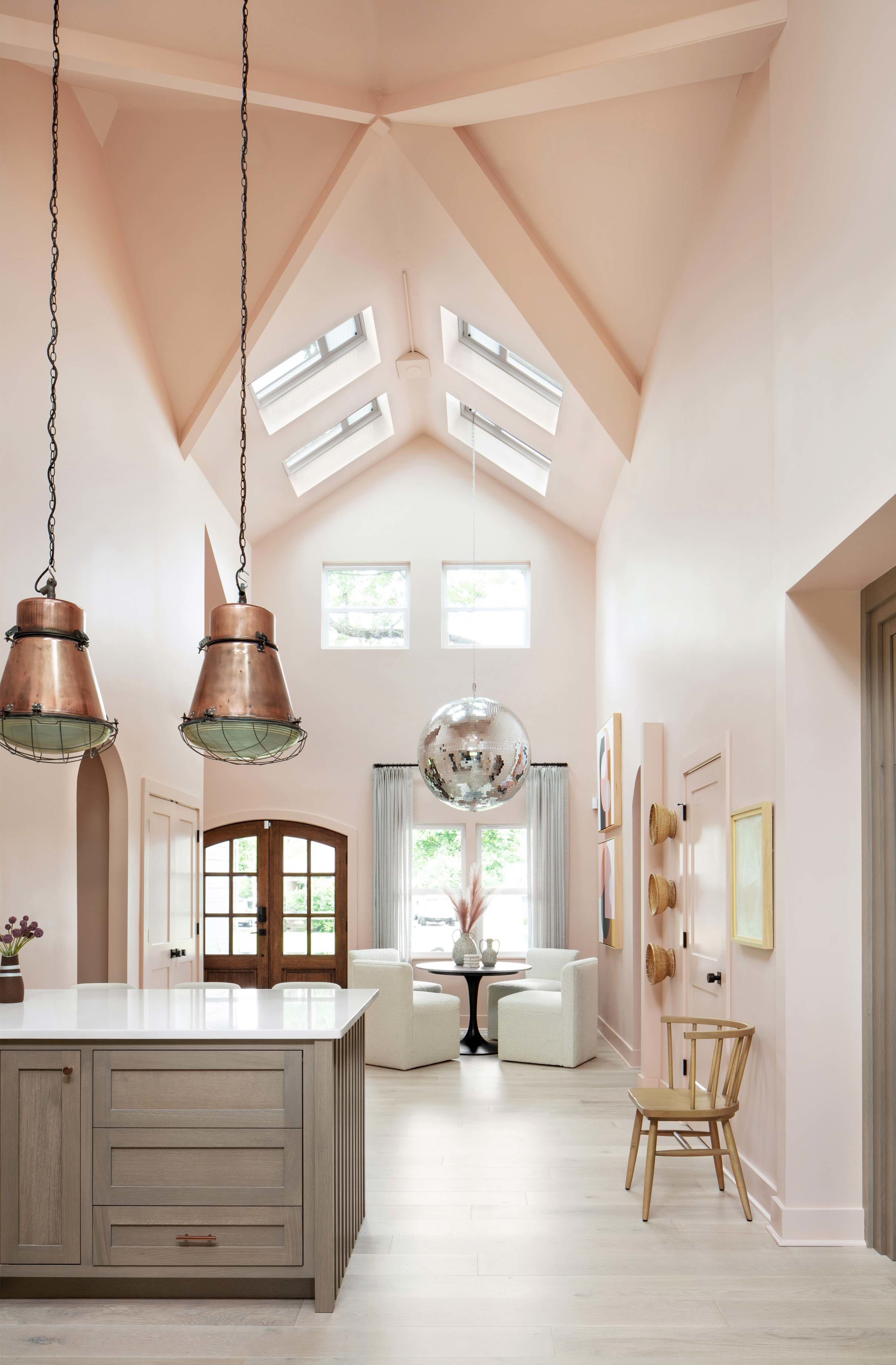 Ready to get your groove on in the HGTV Urban Oasis® 2021 dining room? Enter this year's HGTV Urban Oasis® Giveaway for a chance to win the home.

HGTV, HGTV Urban Oasis, HGTV Urban Oasis Giveaway and their associated logos are trademarks of Discovery or its subsidiaries and affiliates. All rights reserved. Photos © 2021 Discovery or its subsidiaries and affiliates. All rights reserved.
NO PURCHASE NECESSARY TO ENTER OR WIN. Open to legal residents of the 50 United States and D.C., age 21 or older. Void where prohibited. Odds of winning depend on number of eligible entries received. Giveaway ends at 5:00 p.m. ET on November 22, 2021. For full Official Rules, prize disclosures, and to enter, visit https://www.hgtv.com/sweepstak... or https://www.tlcme.com/. Sponsored by Discovery Communications, LLC, 230 Park Avenue South, New York, New York 10003.