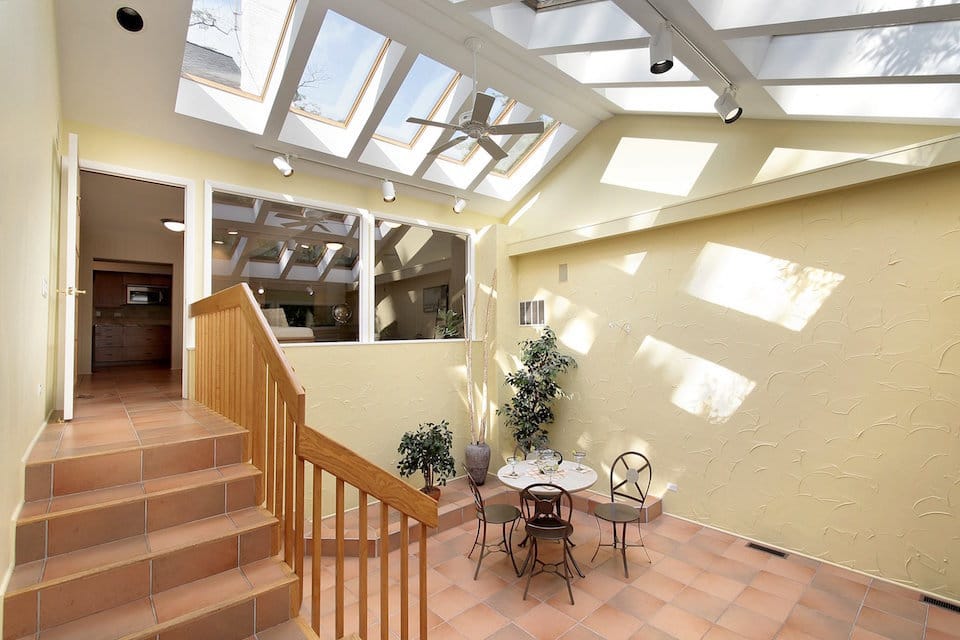 While we've built our homes to protect us from the elements and unpredictable weather, there's a lot to love about nature: the fresh air, birds chirping, and gorgeous flowers are enough to make you consider bringing in the outside.
But, if you have a skylight - or have ever considered installing one - bringing nature indoors may give you pause. Instead of imagining sunshine and daffodils, you may wonder if an unexpected rainstorm is going to seep right into your home through your skylight.
There are no two ways about it: when people think about skylights, they think of leaks.
Unless, that is, it's a VELUX skylight.
The Official No Leak Skylight
VELUX has dedicated more than 75 years to producing skylights that are synonymous with quality and reliability, not leaks. There's a reason we called them "No Leak" Skylights: it's our promise to you that if installed correctly, a VELUX skylight will not leak.
To keep this promise, we've worked for nearly a century to perfect our skylights as well as our unique installation process. At VELUX, we aim to deliver quality products you can trust with inventive and sustainable solutions that also provide you with the best value for your home.
How It Works
Each VELUX skylight comes equipped with three layers of water protection:
A deck seal (deck-mounted) or gasket (curb-mounted)
Underlayment
Flashing
In deck-mounted skylights, a pre-attached deck seal creates a barrier between the frame and roof deck for a leak-proof installation. On the other hand, in curb-mounted skylights, a pre-attached skylight gasket provides the tight seal between a standard site-built curb and the skylight to cap off a leak-proof installation. Both skylights are then equipped with an adhesive underlayment for secondary water protection against the harshest of weather conditions.
Lastly, they're finished off with engineered flashing for easy installation and primary water protection. The flashing is a crucial part of the VELUX skylight system as it's designed to shed water without relying on sealants that can break down over time. And no matter what your roof type or slope, VELUX has a variety of skylight flashing systems to ensure a weathertight fit.
And once your skylight's in place, you can trust it's installed according to the very best standards in the industry because...
The Unbeatable Warranty
Because we operate with you and your home in mind, VELUX offers one of the best warranties covering skylights, Sun Tunnel skylights, and blinds. Our skylights come with a 10-year "No Leak" warranty that covers correct skylight and appropriate flashing installations (product and labor) against leaks, no matter who installs the skylight - the first of its kind in the industry.
Furthermore, we offer 5-, 10-, and 20-year limited product warranties for specific product coverage issues. And any skylight installed with our Clean, Quiet & Safe glass is eligible for a 10-year warranty that guarantees the glass will not crack or break because of hail.
So, still think all skylights leak? Time to think again!