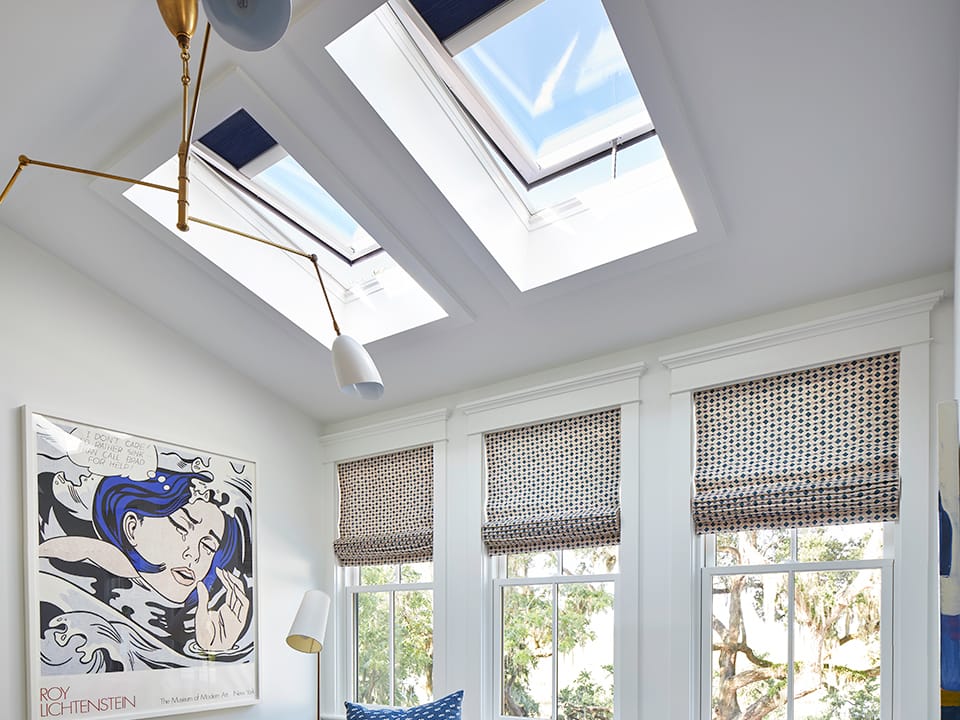 Color and pattern can make or break a space. Too much and the eye has nowhere to rest. Too little and the room begins to feel cold and museum-like. We love this sitting room because color and pattern harmonize to make it calm and comforting.
Blue overhead and underfoot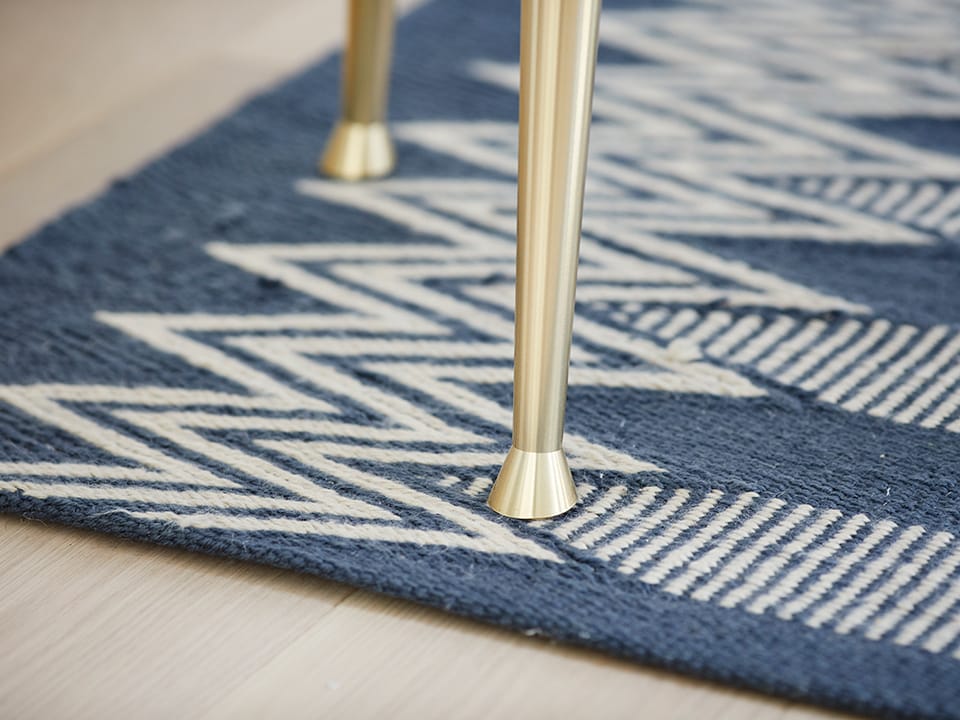 The floor and ceiling talk to each other and their language is blue. The area rug features a navy blue and cream striped pattern along its width and a zig-zag pattern along two sides. Overhead, the skylights have navy blue skylight blinds that open to reveal blue sky.
What's fun about the rug is that it incorporates large and small patterns: the large stripes are made up of smaller stripes and the zig-zags are a stacked repeat, so there's plenty of eye-grabbing interest. The skylight blinds are double pleated, so when they're extended their pleats mimic the zig-zags below.
Patterns create energy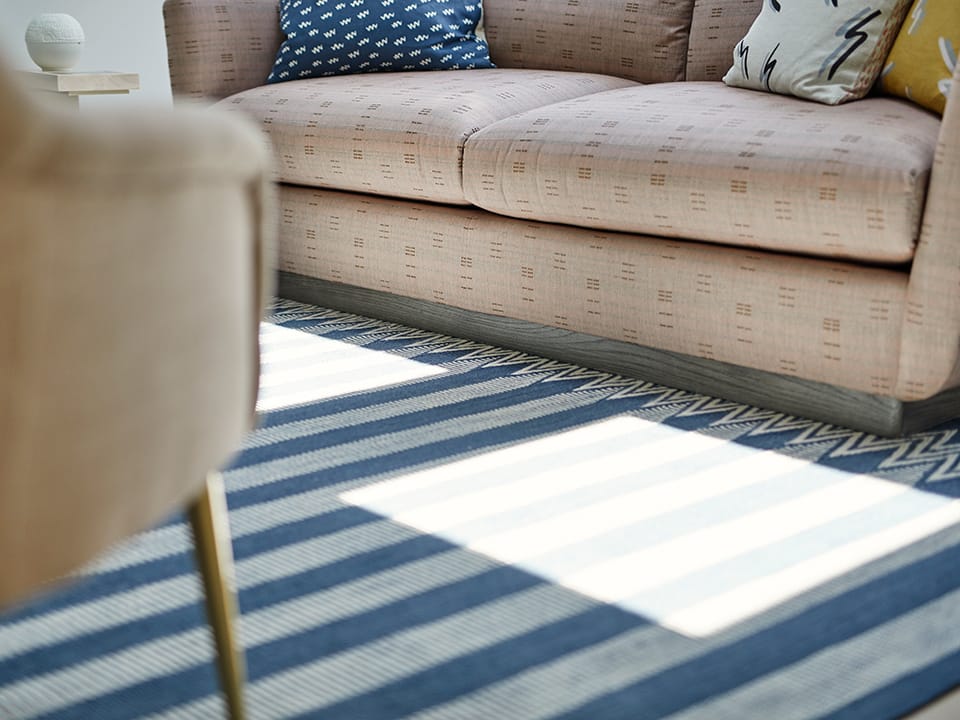 The pillows, Roman shades and upholstery all include patterns that create energy and movement. Building on the zig-zag theme, the pillow fabrics all have squiggle patterns, while the Roman shades feature a blue diamond repeat on a cream and powder pink background. It's just enough pattern to create interest, but not so much that it's overwhelming.
Layered onto the blue is dusty rose upholstery, with the sofa featuring a Morse-code-style horizontal line repeat pattern, while the club chair positioned opposite is covered in linen. Natural light from the skylights creates a pattern of its own: as the sun traverses the sky, sunlight patterns move across the room.
Bold bookshelf colors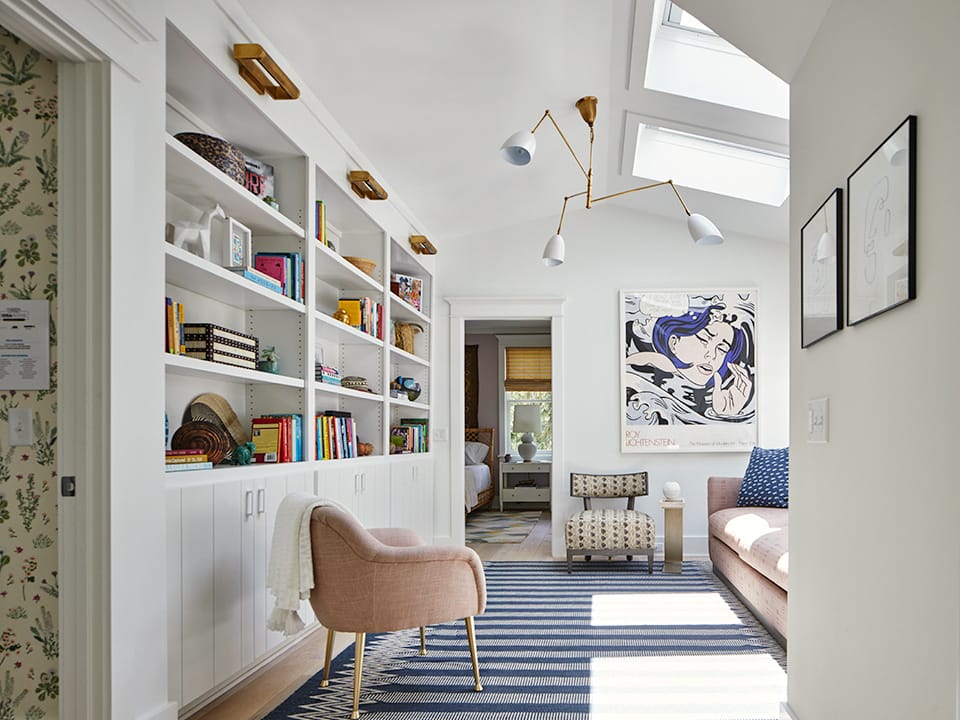 Art and bookshelf styling include blue and pink, but intensify the hues. Book covers in aqua and hot pink are interspersed with plants and collected pieces, including woven baskets, stone animal figurines and a vintage camera.
On the wall, the artwork – a graphic poster – combines blues, creams and pinks without feeling overly matched.
Achieving the right balance of color and pattern to capture the vibe you desire takes practice. To get started, collect your favorite images on a Pinterest mood board where you can shape your inspiration into a final vision for your home.
Find out how natural light from skylights can make your bold color pattern combos really pop! Schedule a virtual design consultation with a VELUX daylight designer today.